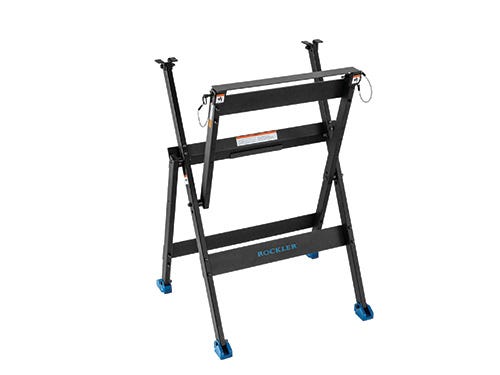 Here's a way to create a rugged yet ready-to-travel full-size router table — or any other shop table you need.
When you think of a folding leg base, your mind might wander back to those rickety, light-duty TV trays from the 1970s that were barely strong enough to support their own weight. But their folding design sure saved space and made them awfully handy to have around anyway.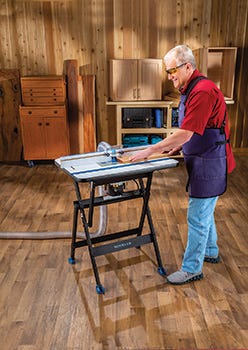 If you've always wanted a full-size router table but couldn't justify the floor space for a fixed-leg stand or cabinet base, Rockler's new Rock- Steady Folding Steel Stand can provide the solution.
Well, erase that notion from your mind with Rockler's new Rock-Steady Folding Steel Stand, because it offers the best aspect of folding legs — space-saving stow-ability — plus the sturdiness of 14-gauge rectangular steel tubing. The end result is a made-for-the workshop stand that offers an impressive load-bearing capacity of up to 200 lb. but can stow in a 3"-deep space against a bench or wall when folded up.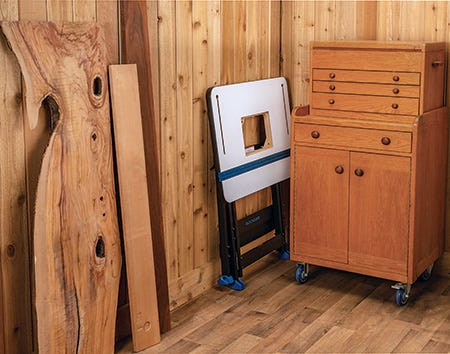 Thick-gauge steel, combined with ample anti-racking supports and strong pivot points, are what give this stand its ruggedness. When propped open for use, the stand has a working height of 35-1⁄2", making it suitable for a router tabletop, a T-track table or any other work surface of your choosing. Rockler recommends a maximum table size of 24" wide x 32" long and a minimum table size of 20" x 26". Tabletop material should be at least 3/4" thick.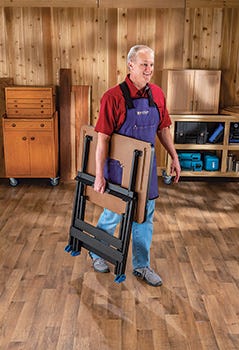 If you have a space-challenged shop, this stand opens up real potential for the fullsize router table you've always wanted but could never justify, based on floor space limitations. Here's a way to have a large work surface to support any heavy-duty routing task without having to resort to a cabinet base or fixed-leg stand underneath it
When set up for use, the stand's open footprint measures 22-1⁄2" deep and 26" wide. Four plastic feet feature non-slip pads that help to provide solid stance on a shop floor or wherever your jobsite happens to be. They pivot for added adaptability.
Stone-simple Setup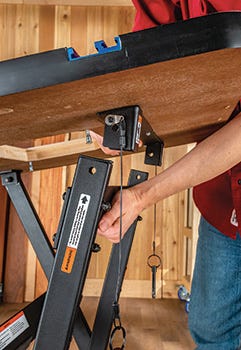 The stand's front table bracket with angled sockets attaches beneath the tabletop. It captures the top front legs that hold the table upright.
Once assembled, the Rock-Steady Folding Steel Stand is easy to prop up for use. Just position the folded stand upright, and swing out the lower rear legs until they stop.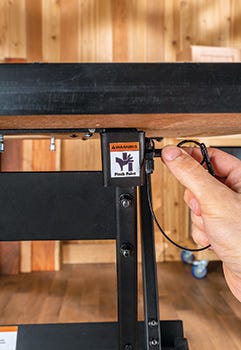 A pair of steel safety locking pins are tethered with cables to the front table bracket.
Tip the stand backward slightly so its rear feet touch the floor. Then, the front of the tabletop can be swung upward in order to engage the stand's short upper legs in a pair of angled sockets — they're on a bracket mounted under the tabletop.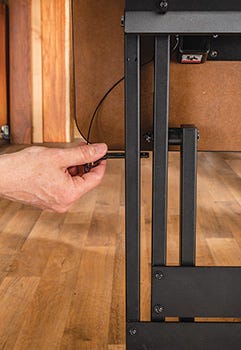 They lock the top front legs in position during use as well as secure the legs when the stand is folded up.
Two steel safety locking pins, tethered to the stand, secure the upper connection points, and a pair of locking flip stops prevent the lower legs from folding forward if the erected table is lifted up.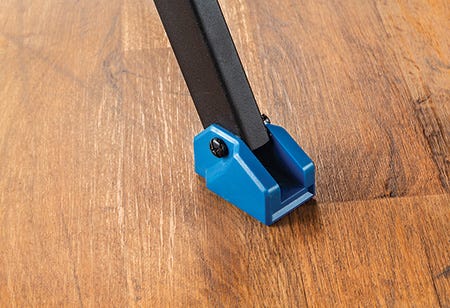 Pivoting feet equipped with non-slip pads help to provide stable footing on your shop floor or the ground.
Reversing the process, of course, folds the stand flat again for storage. When collapsed, the 33-lb. stand (not including the tabletop) has a closed footprint of 2-3⁄4" x 26".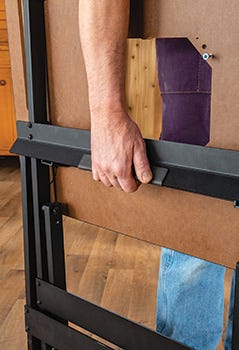 A built-in handle makes the 33-lb. stand easier to lift and carry around when folded up.
A handle on the stand's center angle brace makes your folding router table or other work table easier to lift and carry where it's needed. A powder-coated finish gives the stand added durability.