Looking for value? How about a drill press that not only provides a big 3/4hp motor and 5/8" chuck but also the versatility of morphing into an oscillating spindle sander? Shop Fox packs two tools in one in the mid-priced W1668.
When you're done drilling, the Shop Fox drill press can quickly convert into a solid spindle sander. Useful indeed!
Shop Fox W1668 Drill Press Technical Specs
Swing: 13-1⁄4"
HP/Amps: 3/4; 9
Speed Range: 250-3050
Table Size: 12-3⁄8" Diameter
Spindle Travel: 3-1⁄4"; Chuck: 5/8"
Weight: 130 lbs.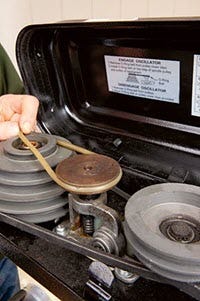 As a drill press, this machine's nice fit and finish and solid performance in testing left me with no real gripes. I like the double-hex nut depth stop. The tool could use a task light and lever handle for speed changes, but those aren't deal breakers.
The three pulley gear change system allows the press to be converted for different uses without much trouble for the user. A third pulley between the two main clusters activates the 3/4" oscillating motion to turn the press into a sander. Installing a third drive belt makes the changeover easy.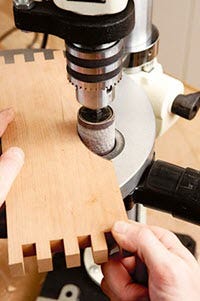 The table has a through hole for sanding drums, and a set of them with sandpaper comes standard. A dust port helps contain sanding debris. The On/Off switch placement was unusual, but I see no particular safety issues with the side location.