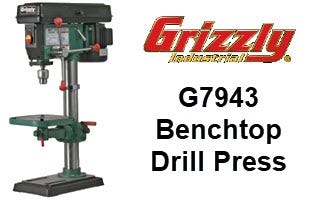 Grizzly brings professional grade power and many of the same elements that come standard with more industrial drill presses with a price tag that's astoundingly low. In fact, it has the same feature set as the floor mounted model.
Grizzly G7943 Benchtop Drill Press Technical Specs
Swing: 14"
HP/Amps: 3/4; 9
Speed Range: 140-3050
Table Size: 11-3⁄8" x 11-3⁄8"
Spindle Travel: 3-1⁄4"; Chuck: 5/8"
Weight: 142 lbs.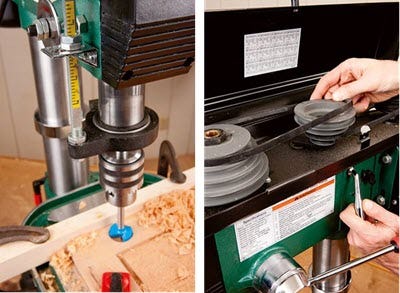 The G7943 has a "big" drill press pedigree since, save the shorter column, its specs match the floor model 14" G7944. It comes with a huge 3/4-hp motor for heavy-duty work, a 5/8" chuck and the largest square table of the group. At a hefty 142 lbs. this machine's cast iron soaks up vibration well, making it pleasant to operate hole after hole. No "diet" features here.
Although switching between the tool's 12 speeds is a manual task, the motor slides back and forth with a lever — a detail that makes the job easier than other tools with motors that shift on spring-tensioned rods (Craftsman, General International and Shop Fox).
The levered motor adjustments on Grizzly's drill press make changing out the belts quite easy. Twin hex nuts lock depth settings securely — the best stop system in my book — and overmolds on other controls make routine adjustments more comfortable.
A built-in light socket takes up to a 60-watt bulb to keep the drilling area bright. There's a lot to like about this "brass tacks" driller, and its combination of no-nonsense features should deliver a sound investment.