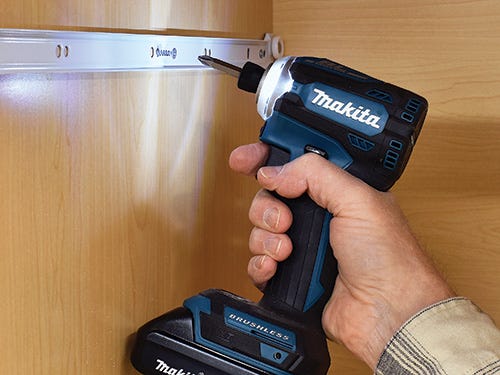 No matter how much light you have in your shop, there are times when just a bit more illumination right where you're working makes all the difference in how efficient your work is, and how safely you perform a particular task.
Whether it's needing a better look at what's going on while running a machine, being able to closely examine a process that's just not that easy to see, or even working in a darker area your regular shop lighting just can't normally reach, having adequate lighting for the task at hand will always "lighten" the load for the better.
Even if you have a brightly lit shop and have followed all the guidelines for estimating the number of ceiling fixtures and lighting intensity you need, there are probably still a few instances where a lighting boost here or there yields better visibility to individual tasks. The best way varies with the task, of course.
Let's take a look at five typical areas where a bit of extra lighting goes a long way to achieve better and safer woodworking.
Machines and Tools
Most powered woodworking equipment involves dangerous cutting edges, so it only makes sense to have the best view possible of what's being cut. Unfortunately, some stationary equipment such as band saws or drill presses — and your own body in the case of handheld power tools — can block direct light during use.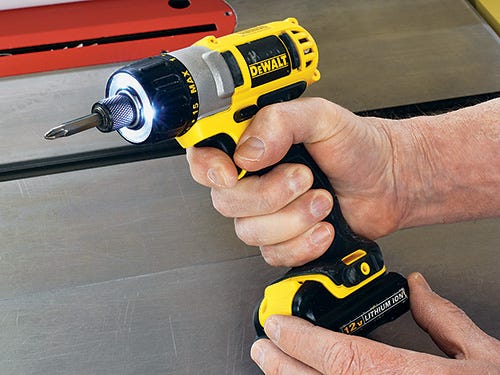 Manufacturers have addressed this in recent years, most notably by providing LED lights on drill/drivers and impact drivers. Some cordless nailers are now outfitted with LED lighting, too. In addition to being a general aid for any assembly or drilling task, these lights, although small, are a huge benefit when working in or under something. Doing a cabinet install, securing tabletop clips, hanging shelves — all are typical jobs ambient light doesn't reach. If you're still using a drill or impact driver without a built-in light, it's time for an upgrade.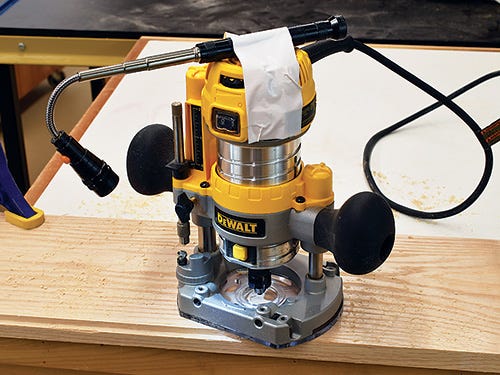 Not a lot of other tools include lighting yet, but until then you can still brighten things up. Any small light can be added to a tool using that shop standby: duct tape.
When routing, the tool itself can block light, but affixing a small flashlight angled toward the bit highlights the contact point. You can do the same thing with a jigsaw, recip saw, oscillating tool ... anything, really.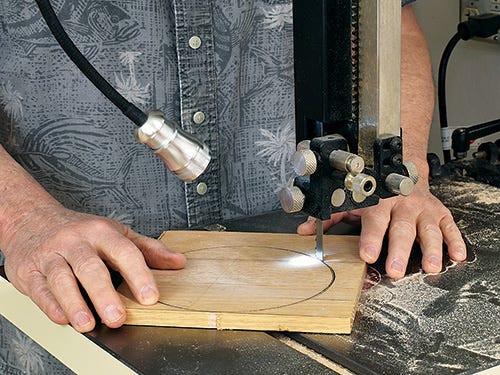 The same idea works for stationary tools too, and manufacturers offer a variety of add-on lights. Featuring magnetic or clamp-on bases, just attach the light and aim it to where the action is. Tool lights come as both corded and cordless, and they typically are inexpensive enough to add one to every machine that needs a bit more light.
Better Visibility — at the Bench or on Your Person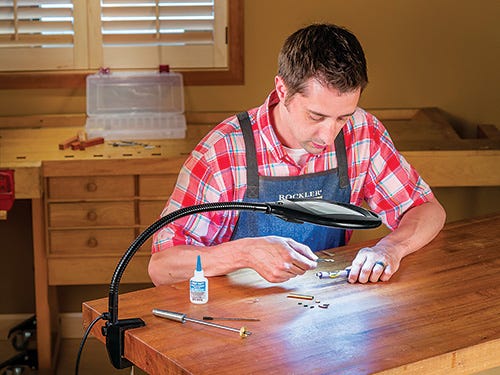 Benches and worktables are typically in brighter areas of the shop, but there can still be visibility issues. When doing precision work — carving, detailed drawings, small components, dovetails — an adjustable light brought to bear directly over the work helps tremendously. Combine the light with a magnifier, and even the smallest aspects of a task will be easier to see.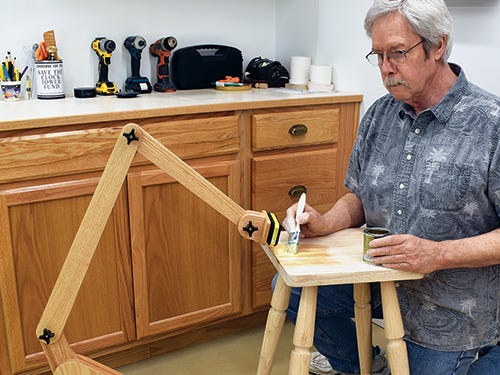 When brushing a final finish on projects at the workbench or anywhere else, a beam of "raking light" reflected off wet finish readily shows missed spots. Setting a light just right can be tricky, but a dedicated light with an articulated arm pivots to any angle. Add wheels, and not only can the raking light move easily from workbench to shop floor, but it'll also provide light for anything, anywhere you want to aim it.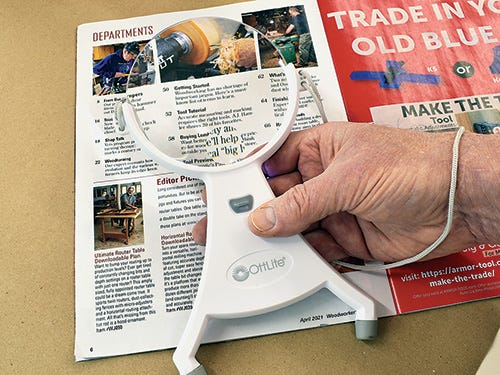 Sometimes it's most efficient to have extra lighting right on your person. Remember that magnifying light described earlier? A smaller version, easily looped around your neck, allows you to move around with the light. Whether leaning in close to check details on a project or relaxing after a hard day in the shop with your favorite woodworking magazine, you'll never have to strain your eyes again.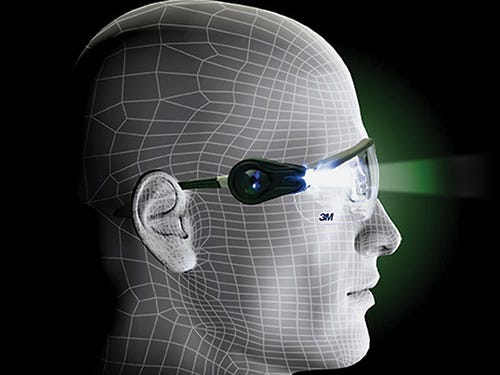 Speaking of your eyes, you already wear vision protection while working, so why not add light right to your shop glasses? With tiny, battery-powered LEDs on each side, you'll direct a soft glow anywhere you look. Illuminated shop glasses like these are typically available two ways: plain for those with 20/20 vision, and versions with a range of diopters for woodworkers needing minor vision correction.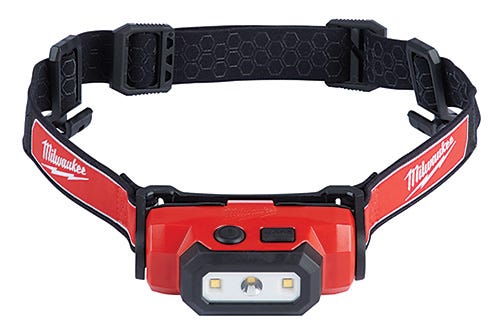 And if you need to use tools in a dark spot — like repairs under a sink, say, or out on the deck at night — an old-fashioned headlamp is a perfect hands-free solution. Unlike what an old-timey coal miner may have used, these modern headlamps are battery-powered or rechargeable, and they sport ultra-bright LEDs.
Under-cabinet Lights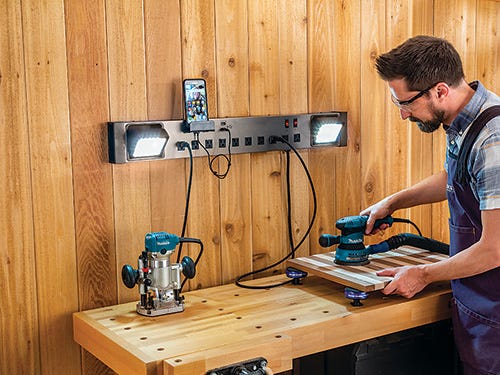 By their nature, cabinets block light. Ordinary under-cabinet lighting available at any home center can help, but consider a specialized version that incorporates other useful features. The pictured power station has two separate lights than can be individually aimed. More outlets than you'd ever need, plus a pair of USB ports for charging other devices, make these true multitaskers.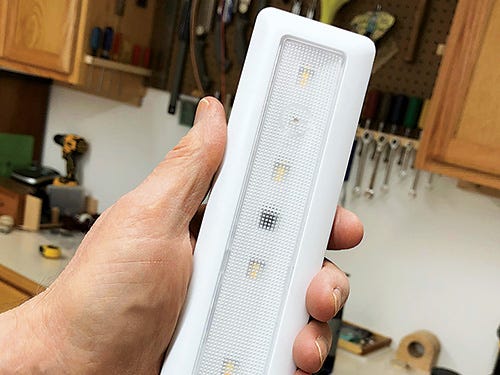 LEDs and cordless technology have exploded in this category, creating numerous inexpensive lights in sizes that can be mounted anywhere. I use a 9" light inside the shop cabinet where my 3-D printer lives. It's just the right size, and it has a small remote that controls three light levels and even toggles between "warm" light and "daylight" temperatures.
Banish Dark Corners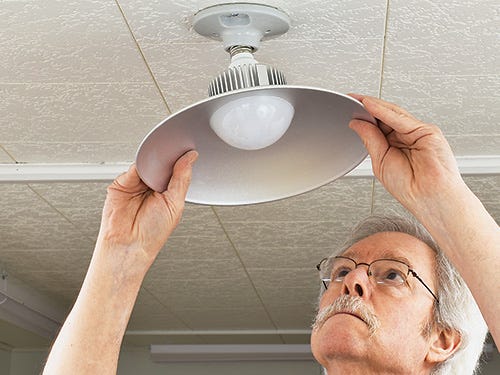 Finally, let's shine a light on the dark nooks every shop seems to have. Whether in storage areas, around corners or over solitary tools (like my drill press) that seem to get marooned in the shadows, sometimes a quick solution is best.
Super-bright individual lights are increasingly available, again thanks to LED tech. These usually take the form of sci-fi-looking screw-in fixtures needing only a regular socket to shed amazing amounts of light, making them perfect for underserved areas.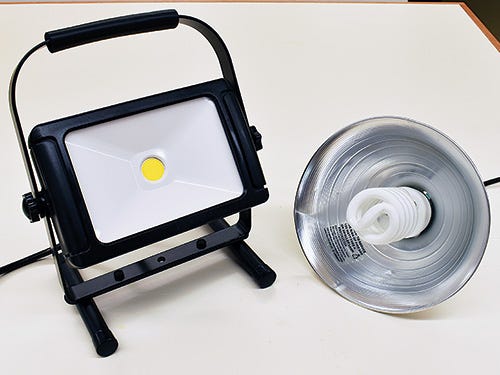 Finally, don't forget about task lighting that's been around for decades in the form of plug-in "work" lights. Some use the latest in LED light sources, while others have a simple socket for a regular or compact fluorescent bulb. Wherever you need temporary directed light, these provide it in a hurry. Best of all, they're the cheapest lighting around and you'll find them anywhere, from the largest home center to the smallest dollar store.