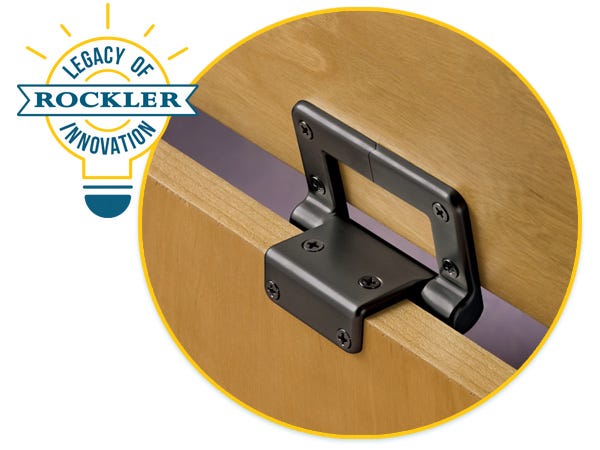 A torsion hinge is a combination hinge and lid support that provides constant support for the lid in any position just like on a laptop computer. This guide will help you select the perfect torsion hinge, including how to calculate based on the weight and depth of the lid.
What Is a Torsion Hinge?
Simply put, a Torsion Hinge is a lid hinge that won't slam shut. On trunks and chests, they control the descent of the lid, helping to prevent bruised fingers and rattled nerves. Thanks to the Torsion Hinge, the lid opens smoothly, holds itself in the open position while you search for the items you need, and closes gently. Since it doubles as both a hinge and a lid stay, torsion hinges represent a great value, saving you the money spent on additional hardware, time in installation, and leaving your project with a clean, uncluttered look.
Why Not Just Buy a Lid Stay?
Although pairing lid stays or lid supports with separate hinges is an option, Torsion Hinges offer an easy, all-in-one solution that looks fabulous. Separate lid stays need to be finish matched with the hinges. They also often require precise measuring, and sometimes even trial and error, to get the installation right. Installing a Torsion Hinge, on the other hand, is dead simple. They are surface-mounted, so no mortising is required. Plus, the chest-side leaf has a wrap-around design that straddles the 3/4'' back of your chest. This means that minimal measuring is required—just set the hinge in place, drill, and secure with the included screws. The lid-side leaf has a variable overlay design that lets you decide how much the lid overhangs the rear edge. Securing this leaf will require some quick measurements (see our tip below), but again, the surface-mount installation makes it a breeze. And for the life of the chest, you'll enjoy opening it and admiring the interior without being distracted by the hardware.
---
Hinge Tip

Check out our Torsion Hinge Jig-It which provides an easy-to-use drill guide for lids that are either flush with, or overhang the rear edge. Always use a self-centering bit to ensure perfectly centered holes - whether you use our Jig-It or the hinge holes themselves as your guide..
Which Torsion Hinge Should I Buy?
Rockler offers torsion hinges to support a wide range of different lid weights, each in your choice of finish. The easiest way to determine which hinges to buy is to use our Torsion Calculator. Just punch in the lid weight and lid depth and it will instantly tell you exactly which number and combination of hinges will support your lid. If you prefer, you can also use this easy formula: (Lid Depth x Lid Weight in Pounds) / 2 = Suggested Inch-Pounds of Support. Whichever method you pick, you'll first need to measure the depth of your lid (from front to back) and also weigh it in pounds.
There is almost no limit to the size of lid you can support with Torsion Hinges. That's because you can always add another hinge if needed. With traditional lid supports, two is typically the maximum you can fit on a chest. With Torsion Hinges, you have much more flexibility, and the inside of your chest will be unobstructed by moving parts.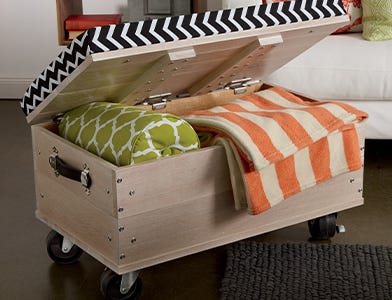 Rolling Ottoman with Lid-Stay Torsion Hinges
---
Hinge Tip

An easy way to weigh the lid is to hold it while you stand on the scale. Then weigh yourself without the lid, and subtract your weight from the first weight. If you're building a storage bench and the lid will have a cushion, be sure that you weigh the cushion materials along with the lid.
That closes out our quick guide on Torsion Hinges! Don't forget that we have expert staff in our stores stores, online and available by phone to help out if you have a question that's not answered here.