You'll find many different types and styles of veneer sold in packages that are practical for experimenting and for small project applications.
Pick a Pack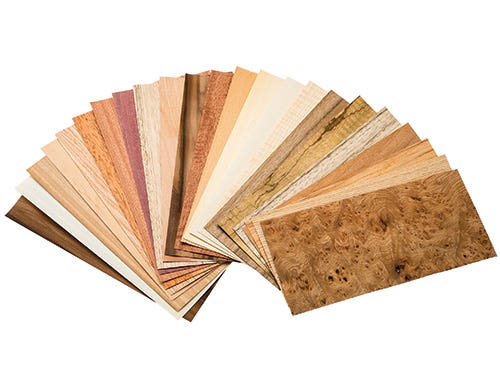 One of the most practical options is flitch packaged veneer in three-square-foot selections. There is a nice range of species and grain orientation in this product. The veneer comes in pieces from 4-1/2" to 7" wide and 24" to 48" long. The edges of the veneer are trimmed straight so they are easy to join together. Best yet, they are 1/16" thick, providing plenty of thickness for sanding after they are laid up on a piece of furniture. This veneer size is great for tabletops, side cabinets and other small furniture.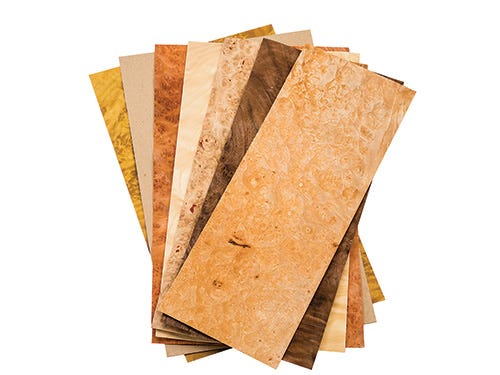 Many woodworkers find themselves deciding to try veneering when they want to add interest to a small project like a jewelry box or the like. For that sort of task, Rockler has a couple of great options: a package of mixed domestic and exotic veneer or a mixed burl veneer pack. This veneer is 4-1/2" to 6-1/2" wide and 12" long. It's great for mixing and matching for a box top or sides. These options are often chosen by people doing marquetry.
More Options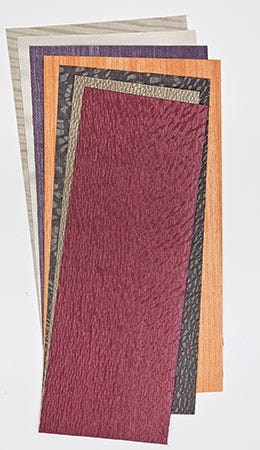 Pressure-sensitive veneer, with peel-and-stick adhesive applied to one face, is another choice. Pre-colored veneer and more durable, thicker two-ply veneer are also available through Rockler.
Veneering can add exquisite grain and variety to your projects. Give it a try!