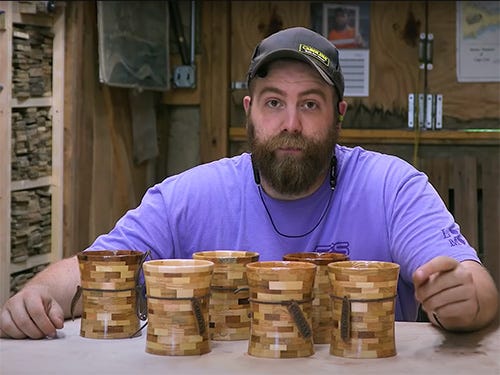 In this video, Paul Jackman uses 7,000 small pieces of pallet wood to create 600 rings for candle holders.
In total, Paul Jackman made around 50 candles to sell or give as gifts, including making the candles for the holders. Each piece is intricate and unique.
You can find more great projects and techniques from Paul Jackman at his website.
Featured Tools:
Paul Jackman: Final thing I have to do before I'm ready to apply the varnish is to finish up the bottom hole. The rim of the hole will get cleaned up on a spindle sander, and then the inside bottom of the candle, I'm going to take a final pass with the Forstner bits just a little nibble this time to leave a clean cut. Then I'll be able to flip this around, sand the bottom of the candle, stamp my name, the Carolina logo, some other stuff on there. Then I'm done except for the finish, and, well, the whole candle part of the candle.
It's finally the actual candle-making part of my candle process. This is my workstation where I have no idea what I'm doing, but such as life, everything's made up in the points that don't matter anyways. For tools, I have a scale, thermometer, a double boiler on a hot plate. For supplies, a big old bag of wax, soy wax, wood wicks, wick holders, wick stickers, fragrance oil, Port Orford Cedar, candle dye, Carolina shoe yellow, a bunch of cups to hold the candles, all to make this, or a bunch of those to be fair. Yes.
That was almost 7,000 pieces turned into about 600 rings, which became 50-ish candles. I might take a break from pallet wood for a while. Jokes. You know how a foot-candle is a unit of measurement for light intensity. Here instead we have Carolina shoe candles. I know that pun's kind of pushing it a little bit.