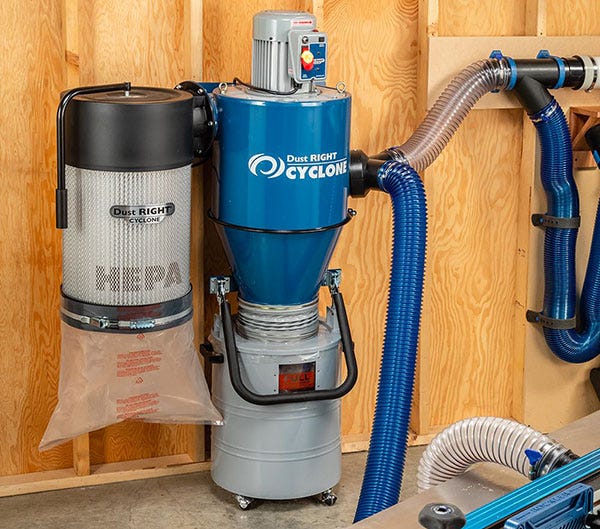 Now you can have the capacity and efficiency of a cyclone dust collector that doesn't take up a lot of space. The Wall-Mount 1250 CFM Cyclone Dust Collector . Thanks to its wall-mount design, it consumes a minimum area of floor space. HEPA filtration ensures that the air in your shop is clean, and 2-stage dust separation keeps the filter clean for longer, and minimizes the need to empty the drum. The filter is easy to clean by rotating the top handle to agitate the pleats inside the filter. When the time comes to empty the drum, simply raise the lower handle and roll the drum away on its casters. This dust collector also includes a remote that makes it easy to activate the collector from anywhere in your shop.
Watch: Check Out the Wall-Mount Cyclone Dust Collector with HEPA Filter
The Dust Right 1250 CFM HEPA Cyclone Dust Collector features a wall-mount design that conserves floor space, and anti-vibration pads that reduce noise and vibration. The built-in cyclone provides two-stage dust collection, separating fine dust from larger particles and chips to prevent loss of airflow caused by a prematurely full bag.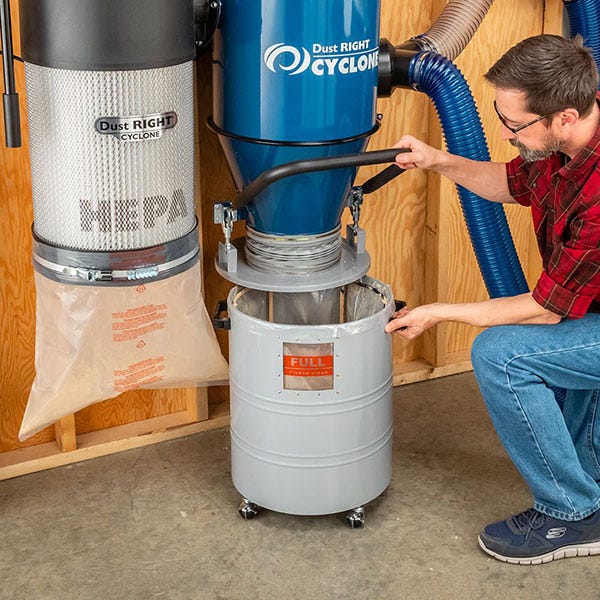 Larger particles and chips are captured by the cyclone air flow and fall into 20-gallon drum that engages and disengages with large lever handle. The drum rolls on casters for easy access; interior plastic dust bag is supported by interior frame and empties easily.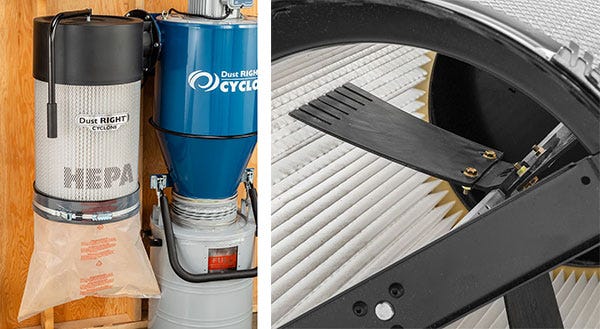 Premium HEPA canister filter captures 99.97% of dust particles down to 0.3 microns in size. The canister filter features a crank-style handle to clear dust off the pleats, and a removable, reusable plastic bag for easy emptying.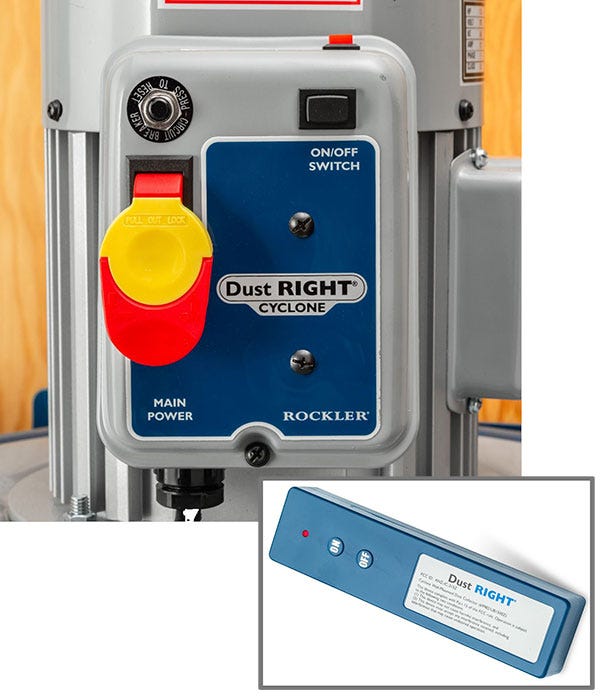 The Dust Right Cyclone Dust Collector features a powerful 1-1/2HP motor that generates 1250 CFM of suction and plugs into a standard 120V outlet. An included remote provides easy on/off from anywhere in your shop.