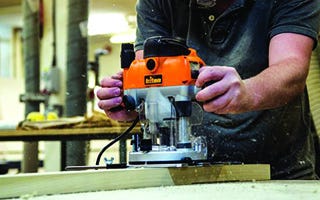 Nothing makes a person feel more like a pro than chiseling out a nice, crisp, tight-fitting hinge mortise by hand, but is there a better method? A Woodworker's Journal reader asks this:
Woodworking Question - Is there a better way to cut hinge mortises than with a chisel and mallet?
Here's what three woodworking experts have to say.
John Brock: I suppose that depends on how good you are with a chisel and mallet, and how many mortises you have to cut. If I have just a few to do I'll use a chisel. If I have a bunch to do, I'll set up or make a router jig and use my router.
Richard Jones: A handheld router can often be used with a straight bit and a side fence. This will remove the bulk of the waste, just leaving rounded corners to square out if necessary. There are jigs out there all set up for doing this particularly for architectural doors if that's the kind of hinge mortising you need to do on a daily basis, but for occasional use, the router, straight bit, and side fence can be very handy.
Carol Reed: Rout them. Make a jig that fits the hinge, then use it with a short trim bit that has the bearing on the shank end. Rockler carries one. They also carry a ready-made jig that works.
Wrap Up
The jig Carol mentions is the Rockler Jig-It Mortising System. With it, you'll be able to cut every size of butt hinge mortise you'll ever need – in a fraction of the time it would take you to chisel them out by hand. And with a few optional inserts, you can add butler tray hinges and sewing machine hinges in a various sizes to the list. If you have more than a couple of mortises to cut, we think you'll be glad you made the investment.
For butt hinges, consider also picking up a corner chisel to square off the mortises. A Corner Mortising Chisel designed for hinge mortising will do the job nicely. Or, for a more versatile tool, treat yourself to a classic Sorby corner chisel.