When I built my workbench many years ago, I installed a vise on the front. I keep seeing tail vises in the projects shown in woodworking magazines. I never installed a tail vise, and have never seemed to understand why it is that I need one. Can you enlighten me on what a tail vise is really for, and why it is necessary? - Rich Matselboba
Chris Marshall: A tail vise is usually mounted on the right-hand end of a workbench with a jaw that notches into the corner of the benchtop. It has one large control screw, and its moveable wooden jaw has a series of bench dog holes along the top that line up with the front row of dog holes on the bench. The alignment of these bench dog holes enables a tail vise to secure workpieces or panels that would be too long to clamp across the benchtop using a front vise and dogs. The inner end of the jaw also allows shorter workpieces to be clamped vertically between it and notch in the benchtop. Is a tail vise absolutely necessary? That will depend on who you ask and the kind of work you do, but in my opinion, the more options you have for clamping workpieces securely and easily to your bench, the better.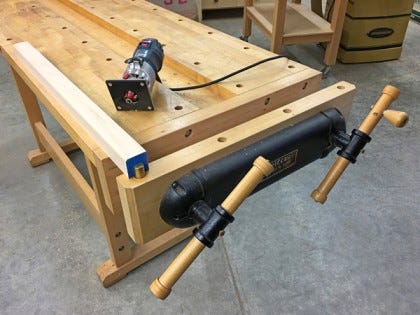 My workbench doesn't have a traditional tail vise. I have a twin-screw vise on the end instead. It stretches across the full end of my bench and doesn't notch into the benchtop. But I use it the same way as I would a tail vise - to clamp long workpieces or large panels to the benchtop or to secure pieces like rails and stiles vertically. I prefer it over a traditional tail vise, because the added jaw length makes it more versatile for me. But I'm sure other readers have great uses for their tail vises and wouldn't trade them.