Powermatic 3520C Lathe with Legs and 6'' Riser Blocks, 2HP, 220V, 1-Phase
Over 720 pounds of precision machined iron and steel, plus premium features like a moveable magnetic control box, DRO and adjustable riser blocks.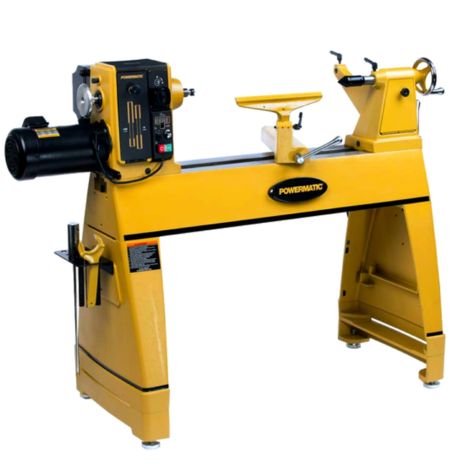 Additional Shipping and Handling Charge: $350
The Powermatic® 3520C adds numerous innovative features to the already well-loved 3520 lineup. New features include an easily moveable magnetic control box that can be attached almost anywhere on the lathe for the most convenient access, adjustable riser blocks for 6'' or more of height adjustment and an increased weight of 726 pounds for maximum rigidity and minimal vibration. The easy-to-read digital indexing speed readout makes adjustments as easy as turning a dial. Electronic variable speed with low and high speed ranges ensures excellent versatility, and since the lathe is capable of maintaining an incredibly low speed of 15 RPM, it is ideal for large turnings. Other features include the new ergonomic spindle lock design, an anti-rotation tailstock key, a set of dead centers that hold a spindle for visual comparison, a two position mount for the optional bed extension, and a sliding hammer knockout rod with brass tip.
Features:
Moveable control box for easy access in a variety of turning positions
Main power disconnect switch located on rear of headstock
Self-locating ergonomic spindle lock for easy, one handed operation
Upgraded banjo with non-marring, pinch style clamp for solid tool rest placement
Extended spindle nose for better access to the workpiece
Adjustable risers blocks provide 6'' of height adjustment, providing maximum comfort for users, regardless of their height
Tailstock with anti-rotation key and Acme threads for smoother operation and increased longevity
Digital indexing readout simplifies the indexing process for added precision
Fully enclosed VFD for increased user protection
Able to maintain speeds as low as 15 RPM
Increased weight of 726 pounds (814 pounds with bed extension) for the most stable turning experience possible
Increased working capacity to a full 35'' between centers
Meets strict guidelines and electrical requirements for CSA certification
(1) Powermatic 3520C 2HP Lathe
(2) Leg castings
(2) 6'' riser blocks
More Information
Brand
Powermatic
Manufacturer Part Number
1353001
Weight
770.000000
Tech Spec

Size (In.): 20
Swing Over Bed (In.): 20
Swing Over Tool Rest Base (In.): 15-3/4
Distance Between Centers (In.): 36 w/dual bearing center
Headstock Movement: Full Length of Bed
Spindle Bore (In.): 5/8
Tailstock Bore (In.): 3/8
Spindle Taper: MT-2
Quill Taper: MT-2
Ram Travel Quill Travel (In.): 4-1/2
Spindle Threads (In. x TPI): 1-1/4 x 8
Outboard External Threads (In. x TPI): 1-3/16-18UNC
Spindle Speeds: Low 15-1200/High 40-3200
Speed Range: 15-3200
Number of Indexing Positions: 48
Centerline of Spindle to Floor (In.): 40-5/8 without Risers
Outboard Turning: Yes
Bed Construction: Cast Iron
Motor Power (HP): 2
Motor Phase: 3
Motor Voltage (V.): 230 Only
Prewired Voltage (V.): 230 Only
Wiring Remarks: Single Phase ONLY
Motor Current (Amps): 6.2
Recommended Circuit Size (Amps.): 20
This item will ship directly from the manufacturer.
Must be shipped within the 48 contiguous United States.
Please allow up to 7 business days for your shipment to be prepared.
Additional shipping charges may apply and will be noted below the price.
Items shipped by truck are delivered to the curbside only.
25% restocking fee on all returned merchandise.
Please call customer service before returning product.