Rockler Traditional Turning Tool Holder
Provides quick, convenient access to your traditional, non-insert turning tools—distance between brackets can be varied for tools of any length.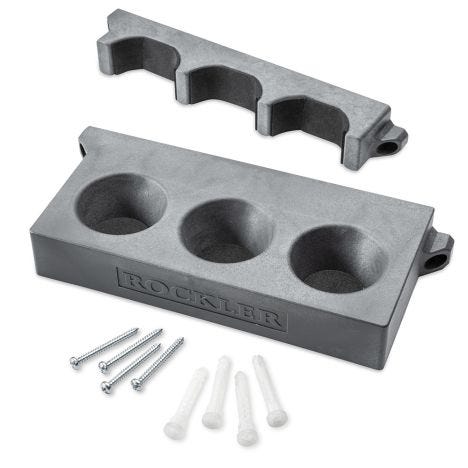 Shipping Restrictions: Ground Transportation Only.

Quick, convenient access to your turning tools makes the work go faster and ensures that you'll always use the right tool for the job. Our traditional turning tool holder keeps up to three tools conveniently at hand. Rare-earth magnets hold the shanks securely in place, making it easy to remove and insert each tool, regardless of the shank diameter. Just set the heel end into the recess on the shelf and lean it back—the magnets take over from there. You can line up as many holders as you need to accommodate your turning tool collection. It accepts our Traditional Ergonomic tools and most other traditional tools as well. Since the top and bottom sections can be installed at any distance from one another, the maximum turning tool length is essentially unlimited.
Features:
Provides an affordable, easily expandable solution for organizing, storing and protecting traditional lathe tools
Mounts to wall or panel to hold up to three tools from the Rockler HSS Turning Tool Set (#67614, sold separately) or other brands of traditional turning tools
Top bracket features non-marring foam and integral rare-earth magnets to provide secure hold on tool shafts
Padded recesses in bottom bracket capture tool ends and angle tools back toward top bracket to help prevent tipping
Vertical distance between brackets is easily customizable to fit tool length
Screw mounts are spaced 8" on center and offset so sets of Turning Tool Holders can be chained to hold more tools
Traditional Turning Tool Holders can be mounted in a series with Carbide Turning Tool Holders (#57556, sold separately)
Made from durable ABS plastic
Mounting screws and wall anchors are included
Note: Not for use with carbide turning tools, which have stainless steel shanks. Stainless steel is not magnetically attractive enough for a secure hold. To hold carbide tools, see our Carbide Turning Tool Holders (#57556, sold separately).
Rockler Traditional Turning Tool Holder
(1) Upper Bracket with integral magnets
(1) Base Bracket
(4) #6 x 2-1/2'' mounting screws
(4) Wall anchors
More Information
Brand
Rockler
Manufacturer Part Number
TA67161
Weight
0.750000
Tech Spec

Brand: Rockler Innovation
Manufacturer Part Number: TA67161
Material: ABS plastic with EVA foam inserts
Bracket Length: Just over 8'' long
Mounting Hole Spacing: 8'' on center
Bottom Bracket Projection: 3-5/8''