Rockler Precision Brass Setup Bars-Master Set
These brass height gauges give you a foolproof way to set your depth of cut, fence-to-cutter distance and much more—includes 11 sizes from 1/8'' to 3/4'' in 1/16'' increments!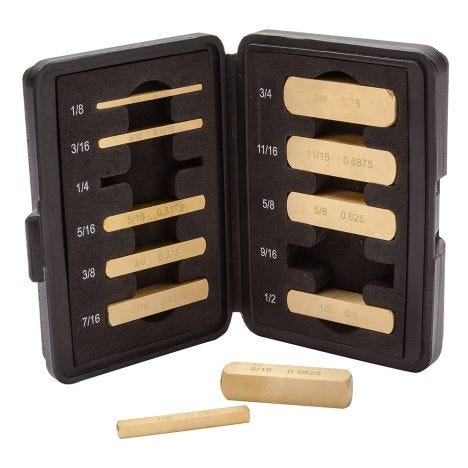 Trying to set your bit height or blade height with a tape measure can be an exercise in frustration. The graduations on the first six inches of your tape are often worn out, the first 1/4'' is obscured by the hook, and the wobbling of the hook can affect your accuracy. Therein lies the beauty of our Deluxe Brass Setup Bars. With an expanded range of eleven dedicated sizes from 1/8'' to 3/4'' in 1/16'' increments, you can save yourself a lot of squinting, and also minimize math errors from needing to stack bars. Of course, the bars can be stacked if needed to achieve sizes larger than 3/4''. No hands are required—simply set the bar on the table surface and raise the bit or blade to match. The dimension of each gauge is laser-etched into the brass and screen-printed onto the included molded case. Use the bars to check dados and rabbets, set up jigs and fixtures and much more! With convenience, accuracy and a large range of sizes, you can rest easy knowing that your setups are spot-on.
Features:
Solid brass machined to an accuracy of +/- 0.005''
Easy-to-read laser etched labels in both fractions and decimals
Durable plastic case with molded high-density foam insert for protection
(1) 1/8'' Brass Setup Bar
(1) 3/16'' Brass Setup Bar
(1) 1/4'' Brass Setup Bar
(1) 5/16'' Brass Setup Bar
(1) 3/8'' Brass Setup Bar
(1) 7/16'' Brass Setup Bar
(1) 1/2'' Brass Setup Bar
(1) 9/16'' Brass Setup Bar
(1) 5/8'' Brass Setup Bar
(1) 11/16'' Brass Setup Bar
(1) 3/4'' Brass Setup Bar
(1) Plastic Case with Fitted Foam Liner
More Information
Brand
Rockler
Weight
2.300000
Tech Spec

Material: Solid brass
Widths Included: 1/8'', 3/16'', 1/4'', 5/16'', 3/8'', 7/16'', 1/2'', 9/16'', 5/8'', 11/16'', 3/4''
Length of Bars: about 2-1/2''

WARNING:
This product can expose you to chemicals including lead, which is known to the State of California to cause cancer and birth defects or other reproductive harm. For more information, go to
www.P65Warnings.ca.gov