SawStop Industrial Cabinet Saw, 3HP, 1-Phase, 230V, 36'' Fence
These are the heaviest, most powerful SawStop table saws available—the gentle giants.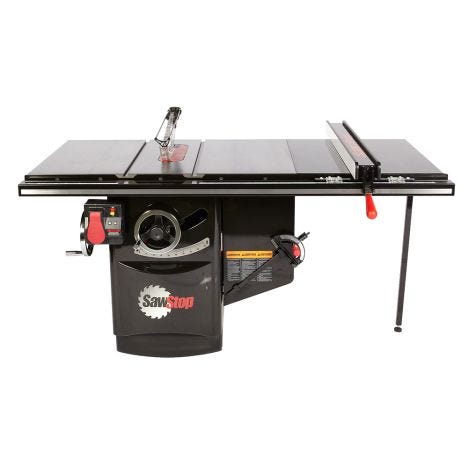 Additional Shipping and Handling Charge: $425
One cut through a thick piece of hard maple is all it takes to feel the massive power of the SawStop Industrial Cabinet Saw. That said, it's amazing to think that it literally wouldn't harm a hot dog, or your finger, if the worst were to happen. With the utmost in precision and heavy-duty construction, plus the revolutionary safety feature that's made SawStop famous and a dust collection system that's second-to-none, it is, simply put, the finest SawStop table saw ever made. It offers the widest range of motor and power options on the market, including an available 7.5hp motor. No other production 10'' cabinet saw offers that much power!
Features:
SawStop feature automatically stops and retracts the blade on contact with skin
Low profile blade guard collects above table dust and minimizes blade exposure
Make fast and easy transitions between blade guard and riving knife with no tools required
Zero-clearance insert has quick-release mechanism for tool-free access to the saw cavity
99% Efficient Dust Collection: Advanced control of over-and-under table airflow captures dust at the blade and directs it out of the saw
T-Glide rail system and widely spaced glide plates provide smooth travel along the length of the table
Premium craftsmanship and rigorous engineering combine to create a saw you'll love to use
Precision alignment system lets you adjust the blade and table alignment with precision not found on other saws
Industrial Cabinet Saw vs. Professional Cabinet Saw:
200+ more pounds of iron and steel for maximum stability and precision
Thicker cast iron table absorbs even more vibration
Deeper table (30'' vs 27'') provides about 2-1/2'' more room in front of the blade
Thicker gauge steel in the cabinet, rails, tube and fence
Larger, deeper fence tracks smooth and locks down solid with absolutely no deflection
Massive cast iron trunnion delivers smooth, precise operation year after year
Bigger hand wheels for easy adjustments
Larger metal motor access door for quick access
Second access door for easy maintenance
Industrial lock-out/tag-out switch
Interrupt switches on all access doors disable saw when opened
5-year motor warranty
(1) SawStop Industrial Cabinet Saw
(2) Extension Wings (the right extension wing is pre-installed)
(1) Blade guard and spreader with anti-kickback pawls
(1) Riving Knife (pre-installed)
(1) 10 inch saw blade
(1) Zero-clearance table insert (pre-installed)
(1) Brake Cartridge for a 10 inch blade (pre-installed)
(1) Brake cartridge key (pre-installed)
(1) Miter gauge
(2) Blade Wrenches
(3) Hex key wrenches
(1) plastic bag containing assembly hardware
(2) Bypass switch keys
(1) Owners manual
(1) Handle for the tilt hand wheel


With the Rockler Protection Plan you'll get accidental damage coverage immediately upon purchase of your tool. Plus we will extend the manufacturer's warranty for your choice of an additional 1 or 2 years. We'll take care of all parts and labor for any repairs with no deductibles and no hassles. If your tool can not be repaired we'll gladly replace it. Available in the US only. Click here to learn more.
Standard Manufacturer's Warranty: 24 months on saw 60 months on motor
More Information
Brand
SawStop
Tech Spec

Motor: (all 60Hz, TEFC): 3.0, 5.0 & 7.5hp available
Cabinet footprint: 20'' w x 25'' d
Cast iron table: 24'' w x 30'' d
Cast iron table (w/ extension wings): 44'' w x 30'' d
Extension wings: 10'' w x 30'' d each
Extension table (36 in rails): 24'' w x 30'' d
Extension table (52 in rails): 40'' w x 30'' d
Weights - table saw only: 530 lbs
Weights - w/ 36 in fence systems: 635 lbs
Weights - w/ 52 in fence systems: 685 lbs
Shipping weight (approx.): 640 lb (table saw only)
Blade: 60-tooth, prof. grade, 5/8'' arbor
Blade diameter: 10''
Blade tilt: Left
Blade kerf: 0.118'' (3mm)
Blade plate thickness: 0.078'' (2mm)
Max. depth of cut, blade at 0º: 3-1/8''
Max. depth of cut, blade at 45º: 2-1/4''
Max. rip, right of blade - 36 in: 36-1/2'' (w/ optional 36'' rails)
Max. rip, right of blade - 52 in: 52-1/2'' (w/ optional 52'' rails)
Max. rip, left of blade: 12-1/2''
Dado diameter: 8'' (requires a separate brake cartridge and insert)
Dado max. width: 13/16''
Arbor diameter at blade: 5/8''
Main bearing size: 62mm OD x 30mm ID
Second bearing size: 52mm OD x 25mm ID
Table in front of blade (max. elevation): 11''
Table behind blade (max. elevation): 9-3/4''
Arbor Runout: 0.001'' Maximum allowable runout
Table flatness measured diagonally: 0.010'' Maximum gap
Blade alignment with miter slot: 0.010'' Maximum displacement
Deviation of miter gauge indexing stops from actual: ±0.25º
Alignment between splitter and blade: 0.010'' Maximum difference
Miter slots T-shaped: 3/4'' at top, 1'' at bottom, 3/8'' deep
Miter slots center: 11-1/8'' center-to-center
Miter slots info: 5-1/2'' (arbor flange to center of right slot)
Dust collection port diameter: 4''
Riving knife / splitter thickness: 0.090'' (2.3 mm)
Blade guard (dust collection): PC, extends 1-3/16'' to right of blade
Blade guard (micro guard): N/A
Insert: zero clearance, phenolic core, melamine surfaces
Hand wheels: 8'' diameter, cast iron w/ chrome handle
Belts: 2 V-ribbed belts
Overall saw dimensions (saw only): 44'' w x 34'' d x 34'' h
Overall saw dimensions (with 36'' fence option): 69 1/4'' w x 36 1/2'' d x 34'' h
Overall saw dimensions (with 52'' fence option): 85 1/4'' w x 36 1/2'' d x 34'' h
This item will ship directly from the manufacturer.
Must be shipped within the 48 contiguous United States.
Please allow up to 7 business days for your shipment to be prepared.
Additional shipping charges may apply and will be noted below the price.
Items shipped by truck are delivered to the curbside only.
Please call customer service before returning product.