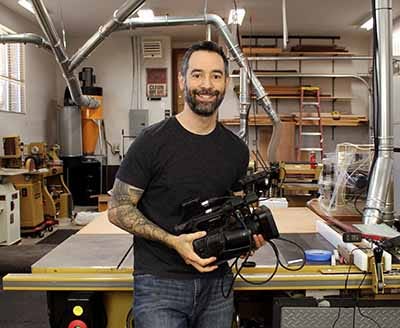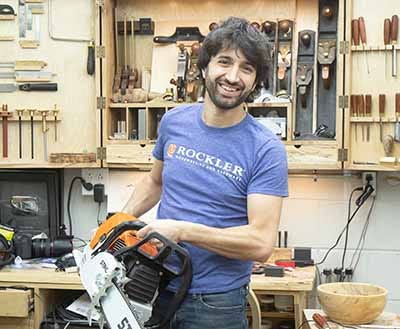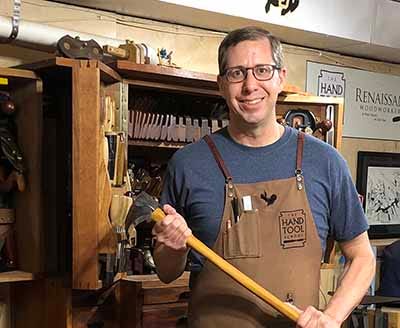 Listen to the Wood Talk Podcast

Wood Talk is hosted by Marc Spagnuolo, Shannon Rogers and Matt Cremona. Wood Talk produces two shows each month covering a wide variety of woodworking topics that appeal to both beginner and advanced woodworkers. The hosts also answer questions submitted by listeners.

We're proud to support the podcast since February 2020.
Rockler Wood Talk Giveaway
Win a $250 Rockler Gift Card!
Previous Giveaway Winners
June - July 2023 Wood Talk Giveaway
Giveaway Dates: 6/1/2023 - 7/31/2023
Winner: John Glick, CA
April - May 2023 Wood Talk Giveaway
Giveaway Dates: 4/1/2023 - 5/31/2023
Winner: Jeffrey Adams, MO
February - March 2023 Wood Talk Giveaway
Giveaway Dates: 2/1/2023 - 3/31/2023
Winner: Stephanie Tran, AZ
November - January 23 Wood Talk Giveaway
Giveaway Dates: 11/1/2022 - 1/31/2023
Winner: David Kunkel, PA
August - October 2022 Wood Talk Giveaway
Giveaway Dates: 8/1/2022 - 10/31/2022
Winner: Kelly Lally, IL
May - July 2022 Wood Talk Giveaway
Giveaway Dates: 5/1/2022 - 7/31/2022
Winner: Justin Sikes
February - April 2022 Wood Talk Giveaway
Giveaway Dates: 2/1/2022 - 4/30/2022
Winner: Cameron White, KY
January 2022 Wood Talk Giveaway
Giveaway Dates: 1/1/2022 - 1/31/2022
Winner: Gary Weaver
December 2021 Wood Talk Giveaway
Giveaway Dates: 12/1/2021 - 12/31/2021
Winner: Devin Widrick, FL
November 2021 Wood Talk Giveaway
Giveaway Dates: 11/1/2021 - 11/30/2021
Winner: William Gautreau, LA
October 2021 Wood Talk Giveaway
Giveaway Dates: 10/1/2021 - 10/31/2021
Winner: Joel Ortman, WI
September 2021 Wood Talk Giveaway
Giveaway Dates: 9/1/2021 - 9/30/2021
Winner: Jacob Reich, WI
August 2021 Wood Talk Giveaway
Giveaway Dates: 8/1/2021 - 8/31/2021
Winner: Seth Dawson, KY
July 2021 Wood Talk Giveaway
Giveaway Dates: 7/1/2021 - 7/31/2021
Winner: Justin McMurtrey, AR
June 2021 Wood Talk Giveaway
Giveaway Dates: 6/1/2021 - 6/30/2021
Winner: Steve Schelling, MN
May 2021 Wood Talk Giveaway
Giveaway Dates: 5/1/2021 - 5/31/2021
Winner: Michael Tidwell, GA
April 2021 Wood Talk Giveaway
Giveaway Dates: 4/1/2021 - 4/30/2021
Winner: Brendan LeTissier, MI
March 2021 Wood Talk Giveaway
Giveaway Dates: 3/1/2021 - 3/31/2021
Winner: Eric Mickelson, CO
February 2021 Wood Talk Giveaway
Giveaway Dates: 2/1/2021 - 2/28/2021
Winner: Chris Taylor, WV
NO PURCHASE NECESSARY TO ENTER OR WIN. MAKING A PURCHASE WILL NOT IMPROVE YOUR CHANCES OF WINNING.
2. Sponsored by Rockler Companies, Inc., 4365 Willow Drive, Medina, Minnesota, 55340 ("Sponsor" or "Rockler"). Sponsor's decisions concerning all matters related to this contest are final. This contest begins on August 1, 2023. One entry is allowed per person. Use of any robotic, automatic, programmed, or similar entry method or entering more than the number of times permitted will void all entries and result in disqualification. You may not enter more times than indicated by using multiple email addresses, identities, or devices to circumvent the rules. Entries must be received by September 30, 2023 ("End Date").
The winner will receive a $250 Rockler Gift Card! No cash substitution, transfer, or assignment of prizes allowed, except by Rockler, which reserves the right to substitute prizes of equal or greater value. Limit of one (1) Prize per person.
Winners will be selected on or around September 7, 2023, and notified by e-mail. If attempted notification is returned as undeliverable, if a potential winner cannot be verified, or if a potential winner is otherwise unable or unwilling to accept the prize, then prize will be forfeited and may be awarded to an alternate winner provided sufficient time remains, in Rockler's sole discretion. Winners will be responsible to pay all taxes related to a prize valued at over $600.
Open to U.S. citizens, residing in the United States. Void in PR and where prohibited by law. Winner must be at least eighteen (18) years old on August 1, 2023. Rockler employees and their immediate family members are not eligible to win.
6. Each potential winner and must sign and return any required forms including, for example, Affidavit of Eligibility and Release no later than the date required. Failure to respond by the applicable deadline will result in forfeiture of Prize and the Prize may be awarded to an alternate winner. All taxes, fees, and costs (other than those specifically referenced in the Prize) resulting from acceptance of Prize are the responsibility of the winner. By entering this contest, entrant accepts and agrees to these Official Rules.
By accepting the Prize, the winner authorizes the Sponsor to (a) use winner's name, likeness, and biographical information for marketing purposes without further compensation or right of approval, except in Tennessee or where prohibited by law, and (b) divulge the name of the winner.
8. By entering this contest, entrants waive all right to, and hold Rockler harmless from, any claim, liability, loss, damage (including punitive, incidental, and consequential damages), or expense (including attorneys' fees) arising out of or in connection with participation in this contest or the acceptance, use, or misuse of any Prize. SOME JURISDICTIONS DO NOT ALLOW THE LIMITATIONS OR EXCLUSION OF LIABILITY FOR INCIDENTAL OR CONSEQUENTIAL DAMAGES, SO THE ABOVE MAY NOT APPLY TO YOU. Sponsor will not be responsible for: late, incomplete, misdirected, or incorrect entries; an entrant's failure to receive Prize notices due to entrant's spam, junk e-mail, or other security settings or for entrants' provision of incorrect or otherwise non-functioning contact information; technical, hardware, or software malfunctions, lost or unavailable network connections, or failed, incorrect, inaccurate, incomplete, garbled, or delayed electronic communications whether caused by the sender or by any of the equipment or programming associated with or used in this contest; by any human error that may occur in the processing of the entries in this contest; or any typographical, technological, or other error in the publishing of the offer, administration of the contest, or announcement of the Prize. If, in the Rockler's opinion, there is such an error, or there is any suspected evidence of tampering with any portion of the contest, or if technical difficulties (including viruses and bugs) compromise the integrity of the contest, Rockler reserves the right, in its sole discretion, cancel or modify this contest in any manner it deems appropriate. In the event of termination, winners will be selected from among all eligible entries received as of the End Date. In the event a dispute arises as to the identity of a potentially winning entrant, entries will be declared made by the name on the online entry form.
Winner may receive a prize that is subject to California's Proposition 65 ("Prop 65") labelling and warning requirements. By registering for the giveaway and as a condition of receiving a prize, the entrant acknowledges and consents to receipt of prize(s) that may be subject to Prop 65. See actual prize for any applicable warnings. WARNING: Drilling, sawing, sanding, or machining wood products can expose you to wood dust, a substance known to the State of California to cause cancer. Avoid inhaling wood dust or use a dust mask or other safeguards for personal protection. For more information go to www.P65Warnings.ca.gov/wood.
10. Entrant agrees that all matters arising out of or relating to this contest and these Official Rules are governed by, and construed in accordance with, the laws of Minnesota, without giving effect to any of its conflict of laws provisions. Entrant further agrees that any legal suit, action, or proceeding arising out of or relating to this contest and these Official Rules shall be brought exclusively in the applicable federal or state courts located in Minneapolis, Minnesota. Information submitted with an entry is subject to the Privacy Policy stated on https://www.rockler.com/privacy. To read the Privacy Policy, click here.