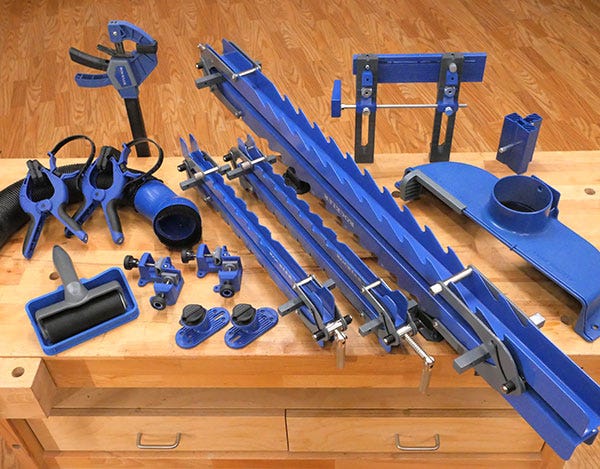 Innovation is a core part of what make Rockler stand out. We develop and launch a lot of new and innovative tools every year. And, we do our best to keep you in the know on all the latest tools, but we understand that once in a while a new tool might get missed. Here are ten new and innovative Rockler tools from the past year that we don't want you to miss.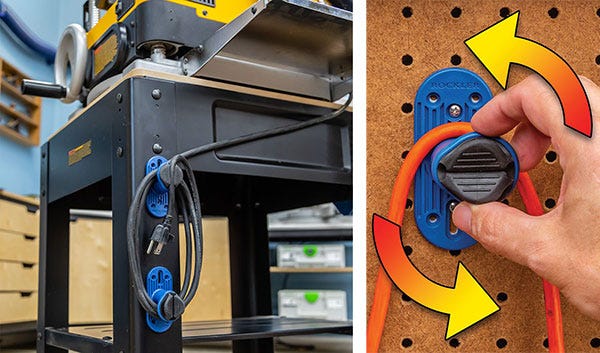 Whether it's an extension cord or the power cord to one of your tools, this set of Cord Winding Brackets will keep it off the floor and out of harm's way. When it's time to use the cord, just give the knob a twist to release the whole cord at once. After you wind it back up, the flexible rubber cord keeper means there's no need to tie it off.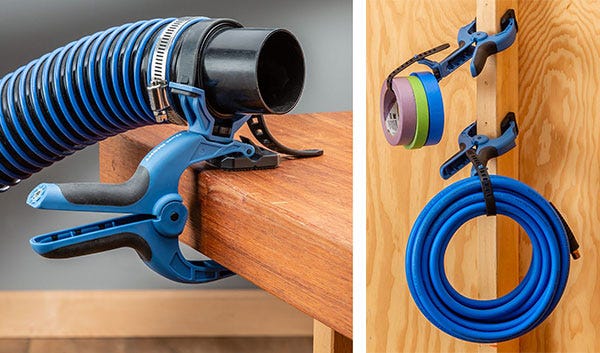 The Dust Right Clamping Hose Holder is a spring clamp with a rubber strap that holds any hose up to 2-1/2'' in diameter. Just give it a quick squeeze to clamp it to table tops over 2'' thick. If you want overhead dust collection, clamp it to a rafter or high up on a stud.

The Rockler Fence Port Dust Brush does double-duty as both a cleanup brush and the hose to the dust port on your fence. Just pull it off the port to clean up stray dust and chips that collect on your router table or drill press. No need to pull out the shop vacuum — the included hose expands in length up to 50'' so you can reach all parts of even the largest tops.
The Dust Right Floor Sweep with Blast Gate" is a specialized dust collection port that captures any dust and debris that you sweep into it with a broom, eliminating the need for a shop dust pan. It incorporates a foot-activated blast gate so you can easily open it for use, then close it to maximize suction elsewhere in your shop.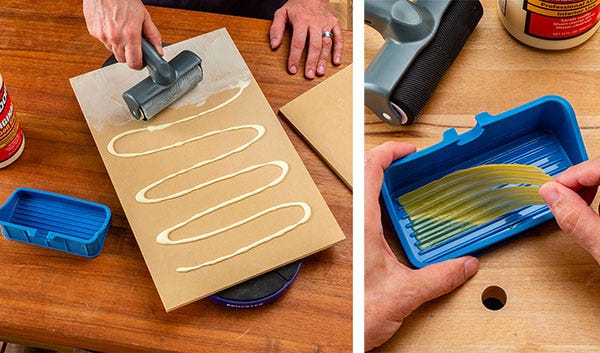 The Rockler 5'' Glue Roller with Silicone Rest" evenly spreads glue on wide boards, veneers and laminations. When it comes time to clean up, the roller detaches from the handle for easy rinsing. Plus, if you forget to rinse, no worries, the glue will peel right off once dried.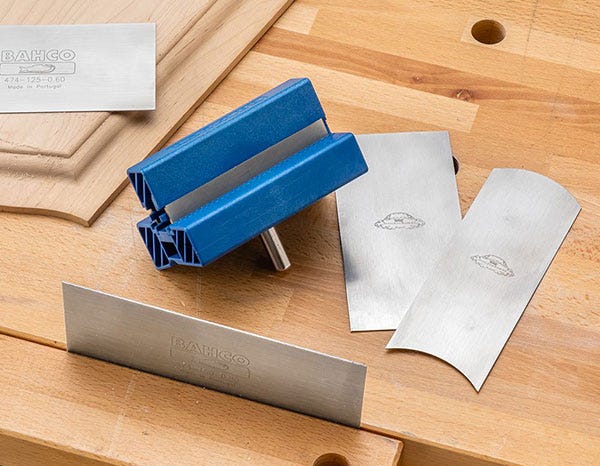 The Rockler 3-in-1 Cabinet Scraper Sharpening Tool" is the only tool on the market to combine a file, 2500-grit diamond hone and hardened steel burnishing rod into one tool to cover the entire process of sharpening a card scraper. It simplifies the multi-step process of restoring a sharp edge to card scrapers and cabinet scrapers.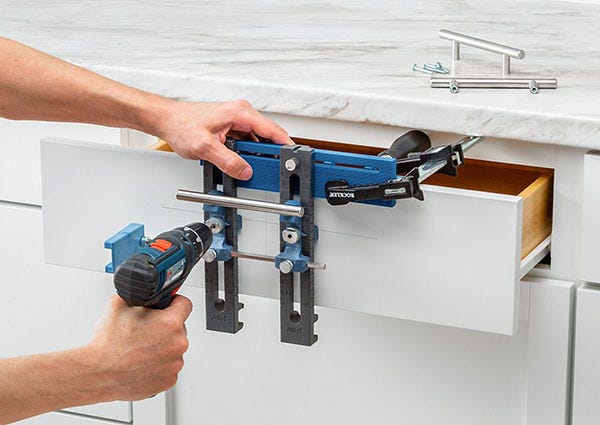 The Rockler Jig-It Knob and Pull Pro Drilling Guide is the top pick for installing hardware on anything from kitchen cabinets to fine furniture. Since you use the actual pull to set the hole spacing, measurement errors are eliminated. Simply attach the pull to the two drilling guides, tighten the knobs, and drill. The guides are fully left and right, as well as up and down, and an extendable stop can be set for repeatable drilling.
You'll never experience a faster, more versatile bar clamp than the Rockler Spring-Loaded One-Handed Bar Clamps". Just squeeze the trigger of this bar clamp and the spring mechanism closes the jaws in an instant! No repetitive pumping of the trigger and no need to use your other hand to close the jaws. Fast and efficient, the one-handed action leaves your other hand completely free to position parts and hold them in place.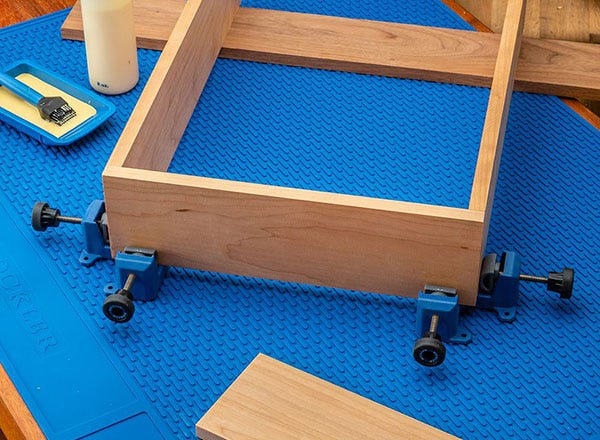 The Rockler Clamp-It Small Corner Clamping Jigs" hold thin boards at a perfect right angle, helping you achieve tight corners with minimal fuss. You can use them to clamp glued miters (with no fasteners), or as third hands to hold the joint closed while you drive brads or pins. They hold material from 1/4'' to 1/2'' thick — great for building drawer boxes, jewelry boxes and other small decorative boxes.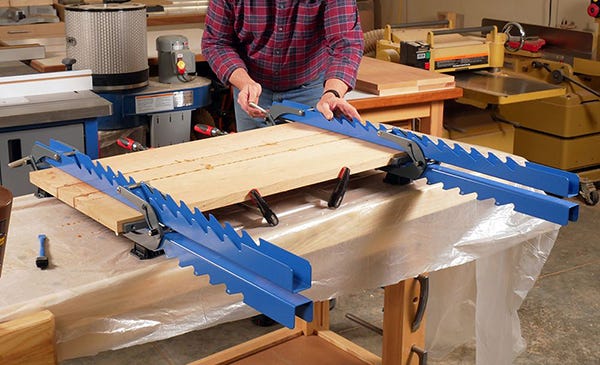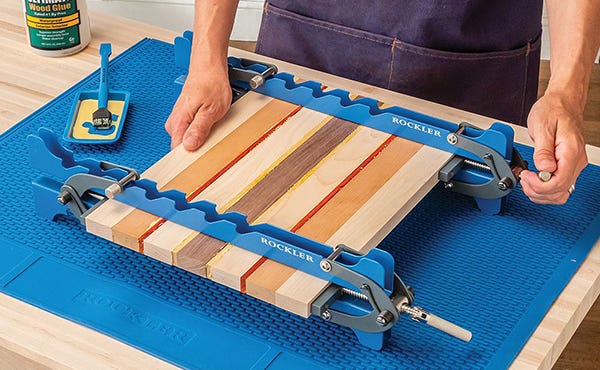 Flat panels and flush joints are easy to achieve with our Deluxe Panel Clamps (top photo). The larger size clamp is sold individually. Each clamp sandwiches your panel between two rigid steel cauls, forcing the joints flush and ensuring flat results. Our Mini Deluxe Panel Clamps (bottom) are sold as a pair. They bring you all the benefits of our popular larger clamps, but in a smaller package optimized for scaled-down projects like cutting boards, small- to medium-sized panel glue-ups and assembling frame-and-panel doors. Use to join panels from 1/2'' to 1-1/2'' thick and up to 16'' wide.