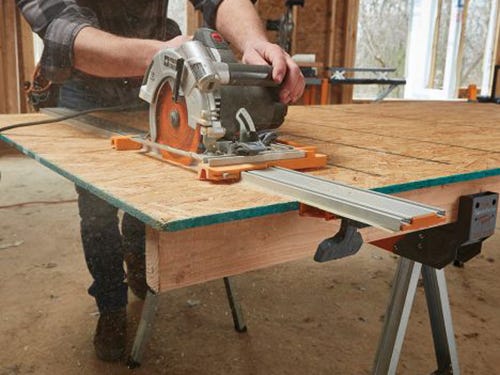 If you're a home-shop woodworker and don't have access to a panel saw or a cabinet saw equipped with a 50" fence and extension tables, how do you deal with material that comes in 4' x 8' sheets?
If you've ever tried to run a piece of plywood through a small portable table saw, or freehand a straight line with a circular saw, you know just what we mean. For a hobbyist who's on a budget and short on space, buying a clamp guide is an affordable and workable solution.
If you're not familiar with the term, a "clamp guide" is a tool that clamps onto a workpiece form one edge to the other and provide a straight guide for circular saw cuts and router-cut dadoes, providing an especially compact way to accurately work with sheet materials. What you might call a "standard" clamp guide is comprised of an aluminum guide edge that houses an adjustable clamping mechanism. One end of the clamping mechanism can be adjusted to any position along the length of the guide, allowing you to secure the guide to a variety of widths of material.
A better clamp guide adds features to the basic design: It has a measuring scale on each edge to help you do layout work, such as marking off partial cuts. It's wider and built of heavier gauge material for more rigidity, and has more substantial clamp jaws for a more secure hold. That's an important point. The last thing you want an edge guide to do is bow or slip off the mark in the middle of a cut – especially if the cut happens to be in an expensive piece of hardwood plywood.
Some clamp guides have an integrated "T-track" along their tops. The T-track lets you attach shop made jigs and stops to the guide, or store-bought accessories, like a router plate or saw plate, which have the purpose of keeping the saw or router up tight against the edge of the guide while you concentrate on other things, like controlling the cut speed or finishing a stopped cut in the right place.
If you want to build cabinets, or anything else that involves plywood and other difficult to handle materials, but you're not exactly set up with all the amenities of a production cabinet shop, a clamp guide is good way to go. And if you team accessories up up with a clamp guide, you'll have an accurate, versatile and reasonably fast set-up for sawing and otherwise working with a variety of unwieldy materials.