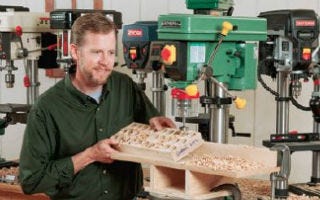 Whether you're drilling hinge cup recesses, hogging out a mortise, cutting a batch of wood plugs or countersinking some pilot holes, a drill press makes easy work of it all. Here's a versatile, accurate tool every shop should have. The question is, how much drill press do you really need? After testing eight benchtop models, I'll argue that it's less than we may think. Chris Marshall took the top benchtop drill presses on the market to task, and picked his favorite out of the bunch.
Case in point: I have a huge floor-standing drill press with a 3/4" chuck and a 1-hp motor. This behemoth drills to the center of a 20" workpiece (drill presses are sized by the distance from the column to the center of the chuck, times two). It's a tank of a tool. 

Even so, my drilling needs for projects are pretty typical. Rarely do I bore a hole larger than 2" or deeper than the thickness of 8/4 stock. Ordinary mortising and plug-cutting just don't require knuckle-dragging torque either. I've never chucked a bit shank larger than 5/8" in it — and even that size is unusual. Truthfully, aside from its nice big table, this drill press is just plain overkill.
While my machine is extreme, there's still a need for larger machines sometimes. Deeper reach (called "swing") could be useful for centering holes on wide panels. If you want to drill down into workpieces taller than about 14", you'll need a floor model's long column. But for most bread-and-butter shop tasks, I think a benchtop drill press is plenty. These tools can save you floor space and cash without sacrificing performance.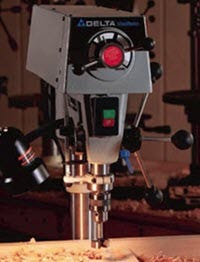 Test Tool Playing Field
Though they're shorter than their freestanding cousins, benchtop drill presses still pack plenty of punch and take up less space in your workshop. When whittling down the list of possible test models, I asked for machines with at least 1/3-hp and 12" swing.
Manufacturers made their choices. That helps explain our slew of sizing, pricing, horsepower and features. Still, every one of these drill presses endured a torturous battery of hole-drilling in hardwood with big bits. All eight tools delivered clean results without stalling. It impressed me, especially those with modest motor sizes. So, picking a "Best Bet" tool really came down to which model offers the best combination of helpful features and overall ease of use for the money. Here's how each tallied up for me and which one deserves our "top dog" billing.
And the Winner is...
Shop Fox. I use a spindle sander as much as a drill press, and maybe more. There are several solid buys in this test, but a tool that provides real dual functionality wins my "Best Bet" accolades.