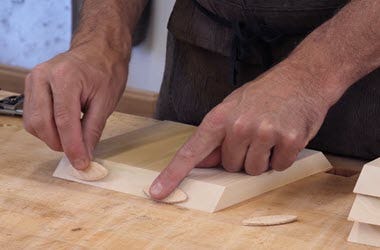 A carcase miter is a miter that has been cut on a box or case. This joint may be reinforced in a variety of ways, one of the most straight forward is using biscuits. A biscuit is like a little cookie made of compressed wood manufactured to be used in conjunction with a tool that cuts the slot for the biscuit called a biscuit joiner.
How to Join Carcase Miters with Biscuits with Tim Rousseau
In this video, Tim Rousseau, an instructor at the Center for Furniture Craftsmanship, demonstrates how to put a biscuit joint in a carcase miter. Biscuits come in different sizes, but #10 size biscuits and #20 size biscuits are used most. The cutter in the biscuit joiner remains the same but protrudes into the stock at different set depths based on the biscuit size.
The first thing to think about is does the case have any areas where material will be removed such as a rabbets or grooves for a back panel, and if so mark off where will run so as not to cut through the biscuit joint later. Another consideration in layout is the biscuit jointer cuts the slot perpendicular to the mitered face, so it needs to be placed where there is enough space in the stock.
When laying out the biscuits, simply place them on the stock to see how many are a good fit for the joint and to make sure there is at least a half inch from each edge, remembering the biscuit slots will be slightly larger than the biscuits. Mark the center lines for each biscuit to align with the biscuit joiner. Most biscuit joiners have a variety of fence positions; on a 45-degree miter, the fence should be on the 45-degree setting. After test cuts, it is a very fast operation!
Check out the video above for a step-by-step walk through of how we join carcase miters with biscuits at the Center for Furniture Craftsmanship.
Related Product Categories