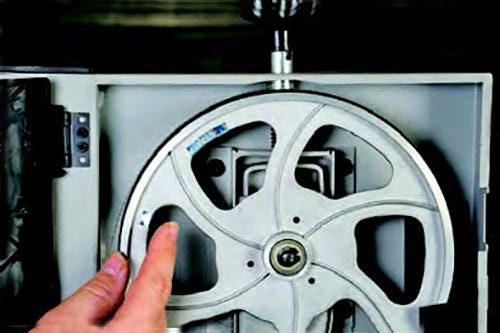 Here you have a great opportunity to improve your woodworking and help your tools age gracefully at the same time.
Power tools - at least good ones - are designed to stand up to heavy use, but if you want them to stay that way for a lifetime, you have to take care of their mechanical parts. To protect your investment, make sure that all of your tools and machinery are kept in good working order and properly lubricated. Along with the basic considerations, there are a few mechanical upgrades that, in many cases, will improve a power tool's performance beyond like-new condition.
Lubricating Bearings and Moving Parts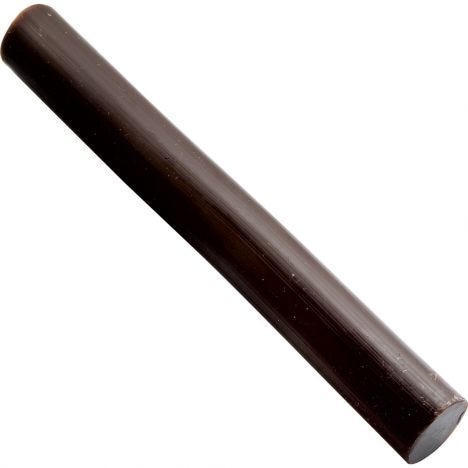 The lubricant you use to keep your tools' moving part and bearings in top condition should be designed for the job. Bearing lubricant penetrates bearings to protect and seal internal parts, reduce heat buildup and extend the life of the tool. For long, trouble-free service from all of your stationary and handheld power tools, lubricate all bearings and moving parts on a regular basis. You can also improve the performance of your band saw, scroll saw and coping saw blades with a Blade Lubricant Stick. Made with a special blend of wax and oils, the lubricant stick extends blade life and helps prevent clogging.
Mechanical Upgrades for Power Tools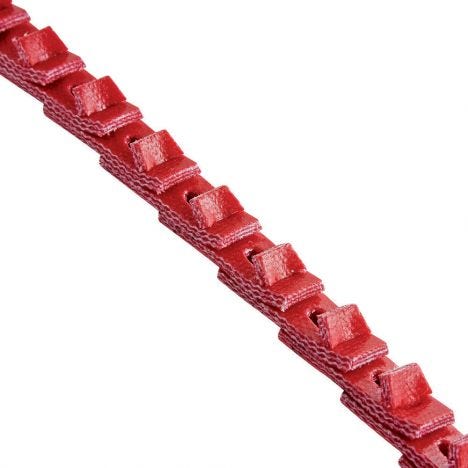 Worn out drive belts cause increased vibration and slippage - not to mention the tendency they have to break at the most inopportune times. When it's time to change belts, you have an opportunity to increase the performance of most tools by upgrading to a Power Twist Link Belt. The Power Twist belt is made up of interlocking segments of tough polyurethane elastomer and multiple plies of polyester fabric. The unique feature of the belt is its removable link design, which allows the belt's length to be adjusted to provide optimal tension for a variety of tools. The Power Twist also hold its shape far better than standard drive belts The result is greatly increased belt life and reduced tool vibration of up to 35%.
Band saw tires are one of the most neglected mechanical components in woodworking. The usual rubber band saw tires are often left on long after they've lost flexibility and begun to crack. The cost in tool performance is increased vibration, reduced blade life and poor tracking. Unlike rubber tires, Urethane Band Saw Tires never dry out, meaning that you'll retain the exceptional, vibration-free blade tracking of a new tire for a long time. The tires retain their shape and fit tight to the wheel. You don't need to glue them down, so if they ever do wear out, changing them is quick and easy.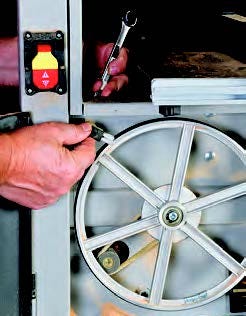 While you're servicing your band saw, check to see if it is equipped with an integral wheel brush. If it isn't, do yourself a favor and get an add-on Wheel Brush to keep your new band saw tires free of the dust and debris that can have a serious effect on blade performance. For the money, a wheel brush is one of the most cost effective tool improvements you can make.
Anything you can do to limit vibration is worth the effort. Vibration shows up in poor tool performance and less than desirable cut surfaces - and it takes its toll on moving parts and bearings. Adding a blade stabilizer to tools that use circular saw blades is one more step in the right direction. Blade stabilizers, which can be used on most stationary tools that use 7' and larger circular blades, reduce blade rim vibration and increase blade life while limiting the level of vibration that would otherwise be transmitted to your saw's arbor bearings.
Staying on Top of It
In the long run, it's a lot easier to develop a tool maintenance program and stick with it than it is to rescue and replace tools that have been neglected. Establish a maintenance schedule and stick with it.