Sure, there are manual and analog options for taking careful measurements in the shop. Digital technology has only been around for the blink of an eye compared to woodworking! But if you've ever scratched your head trying to figure out the exact angle at the end of a part, or how best to raise your router bit to precisely 13/32" or even what the decimal equivalent to 1/64" is without a calculator, you'll appreciate the precision and convenience of this 4-Piece Digital Measuring Kit from Rockler.
Each of the four battery-powered instruments offers easy-to-read displays and accurate repeatability, plus the ability to switch between Imperial or metric and either decimal or fractional readout. A foam-lined plastic storage box protects the set.
Level Box
| | |
| --- | --- |
| | |
| A large backlit display makes the Level Box's readout easier to see in low-light situations. A single button zeroes it out for instant calibration. | A large backlit display makes the Level Box's readout easier to see in low-light situations. A single button zeroes it out for instant calibration. |
The kit includes a Digital Level Box with magnets that enable it to be attached to a saw blade, drill bits or ferrous-metal machine tables. Table saws have notoriously inaccurate blade tilt scales, which is why this digital helper will prove its worth the first time you use it.
| | |
| --- | --- |
| | |
| This device can take the place of tilt scales on a table saw or miter saw, measuring blade angles to one tenth-degree accuracy. | Any flat surface or edge that's receptive to magnets, including drill bits, will work with this instrument. It has numerous possible uses. |
The device evaluates "real-time" tilt angles from 0 to 90 degrees with a resolution of 0.1 degree and an accuracy of 0.2 degrees. It's powered by an included AAA battery.
Height Gauge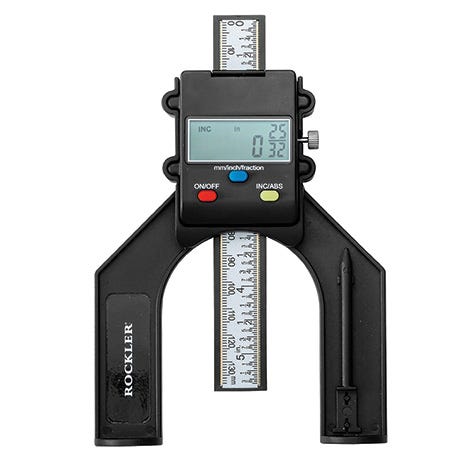 Stand the Digital Height Gauge on top of your router table or table saw, and you'll be able to dial in bit or blade height to a level of accuracy that will split hairs. Its sliding ruler can set heights from 0" to 3-1/8" and depths up to 2".
| | |
| --- | --- |
| | |
| A sliding ruler can help set blade or bit heights up to 3-1/8". | It can also be extended below surfaces to measure depths up to 2". |
It offers both repeatability and accuracy to 0.004" with a resolution of 0.002". Magnets on the ends of the gauge's base hold it in place. Its digital "brain" is powered by a CR2032 wafer-style lithium battery, and one is included for this device.
Caliper
No woodworking shop is really complete without a caliper — ask any serious woodworker. You'll use it for measuring drill bit, router bit, metal rod, bolt or dowel diameters when those dimensions are unknown or hard to read. It'll come in handy for gauging the precise width of a dado or groove. And you can extend its tip to determine just how deep that stopped hole really is.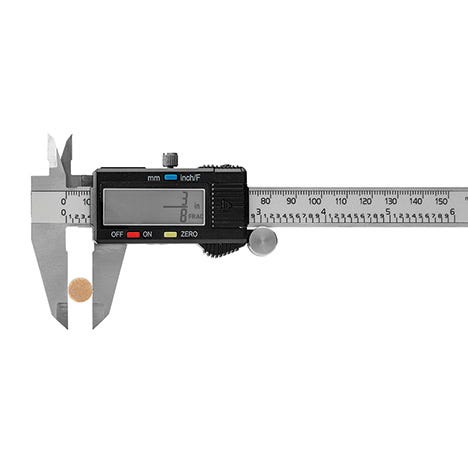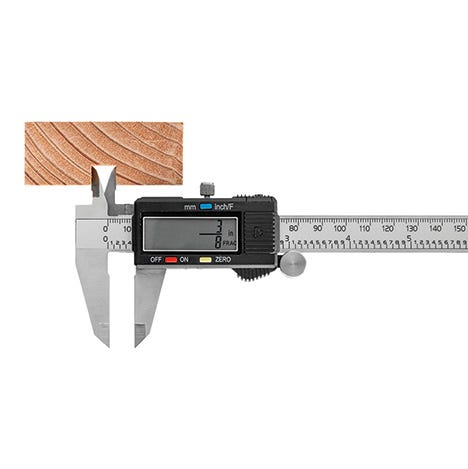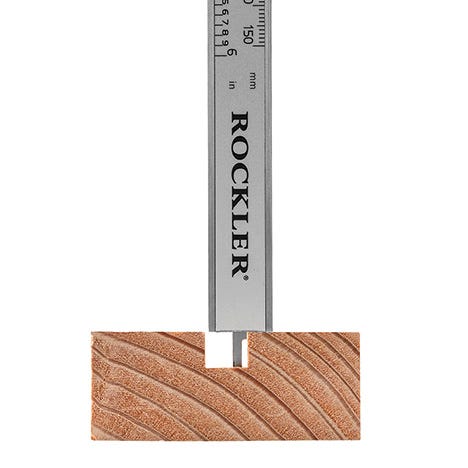 The Digital Caliper included here is made of stainless steel and plastic to resist corrosion. It offers a measuring range up to 6", with an accuracy of 0.0005" and a resolution of 0.005". One LR44 wafer battery is included to power it.
Angle Ruler/Protractor
Conventional protractors are easy to use, but only large versions with intricate scales will be able to measure fractions of a degree like this digital version will.
| | |
| --- | --- |
| | |
| Close the legs of this angle finder around the cutting edge of a plane iron or chisel to determine its exact bevel angle. | Or use it to accurately draw angled layout lines on workpieces. |
It can measure angles throughout its full 360-degree swing to an accuracy of plus or minus 0.3 degrees. Its legs offer detailed 7" rulers that have an expanded length of 15-3/4". The tool requires an included CR2032 lithium battery.