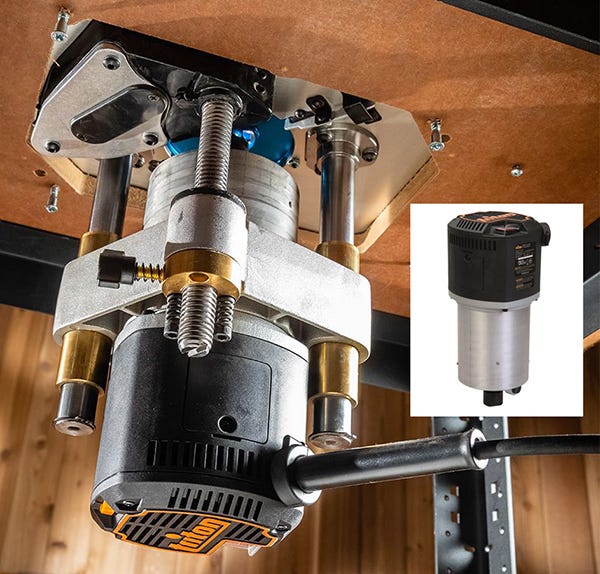 The new Triton 3.25HP router motor features a classic design and the same diameter as the discontinued Porter Cable 7518. It's the perfect motor for router table lifts and offers no-frills power and performance, all day, every day. Triton's heavy duty TFBR001MOTOR is a 3.25HP router motor that powers through the most demanding lift-mounted tasks, including raising panels, routing stiles and rails and applying larger roundovers and other edge profiles. Mount the motor in the Rockler Pro Lift (sold separately), for easy height adjustments and bit changes. Old school design promises rugged reliability.
VIDEO: Closer Look at the Triton 3.25HP Router Motor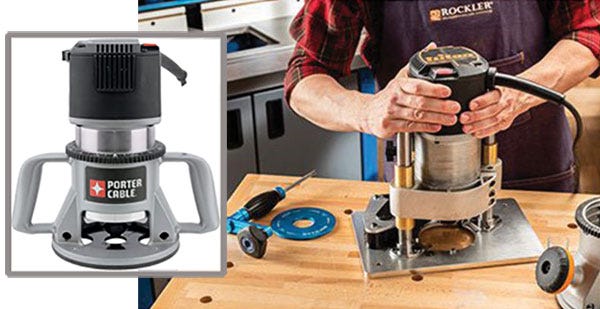 The Triton's heavy duty TFBR001 3.25HP Motor is a perfect replacement for the discontinued classic Porter Cable 7518. It can be mounted in a router table lift or it can also be used as a handheld router when mounted in the Triton Fixed Base D Handle.
Features:
Heavy-duty 3-1/4HP motor with maintenance-free sealed bearings
Adjustable 5-speed dial provides variable speed from 10,000 to 21,000 RPM
Soft-start motor automatically adjusts to provide constant speed under load
Spindle lock button for fast, easy bit changes
Tough, precision-machined aluminum motor housing for heavy-duty use on the most demanding routing tasks
1/2'' collet accepts large bits—easily spins 3-1/2'' diameter panel raising bits when mounted in a lift
Rockler Pro Lift (#52429, #55803)
Bench Dog Pro Lift
Sawstop (#50464)
Inca Mast-R-Lift II (#47737)

The Triton 3.25HP Router Motor has a diameter of 4.2'', the same as the discontinued Porter Cable 7518. Check your lift to be sure it will fit.