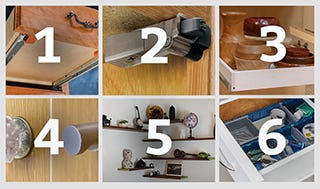 In this Rockler demonstration, we share several projects that you can do yourself to update your kitchen. Most of us are spending a lot more time at home these days, why not take advantage of that time and tackle a few projects that will improve your kitchen? All of these projects can be completed in a day or two and only require a few tools and basic woodworking skills.


1. UPGRADE YOUR DRAWER SLIDES
If you've got drawers in your kitchen that fight to keep you out, then one of most satisfying improvements you can make is to replace the old drawer slides with new, smooth operating slides. Choose soft-closing drawer slides and you'll be even happier. The type of slides you install will depend on the drawer and cabinet construction. We can't cover every type of slide in this demo, but here are a couple favorites.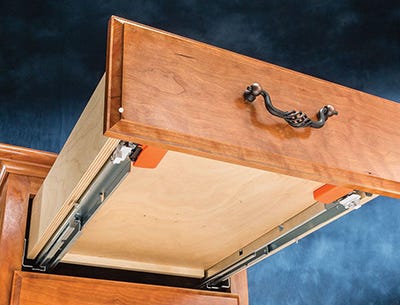 These Blum TANDEM Slides with BLUMOTION require very specific drawer and cabinet dimensions, so they can be a challenge to retrofit, but if your drawers work them, they can't be beat. They are not visible when the drawer is open, giving them a very clean appearance. And, the silky smooth soft close is sure to impress. If you're build a cabinet from scratch, these are the clear choice because you can design the drawers for a perfect fit. The Rockler JIG IT Drilling Guide and Drawer Slide Jig (insets) make installing these slides a breeze.
Watch this video to learn how to install these drawer slides:
If you've got drawers that work well and are mounted on common epoxy slides, you can add the soft closing feature with this easy to install Soft-Close Accessory for Epoxy Slides.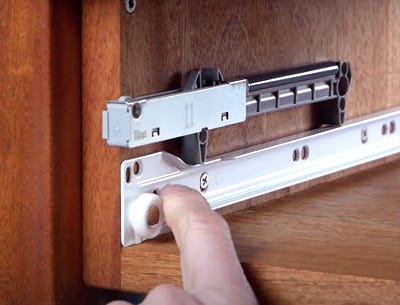 Watch this video to learn how to install these epoxy slide soft closers:
2. UPGRADE YOUR DOOR HINGES
Drawers aren't the only thing in your kitchen that can benefit from soft closers. It's not difficult to replace cabinet door hinges with new soft-closing hinges. Or, you can easily add the soft close function to doors that are mounted on self-closing hinges by installing the Blumotion Hinge Adapter.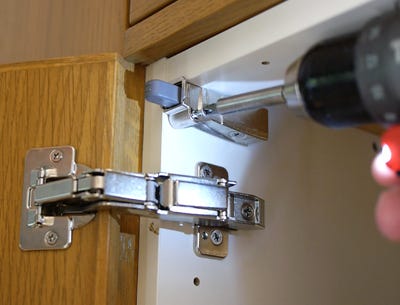 3. INSTALL PULLOUT SHELVES IN YOUR BASE CABINETS
Download our free pullout shelf plan to build a custom-sized pullout shelf for your cabinet.

Download our free pullout shelf plan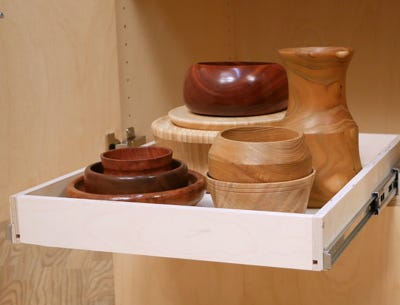 4. REPLACE OLD KNOBS AND PULLS.
We know this isn't a groundbreaking idea, but it's amazing how long people live with old pulls and knobs that they don't like. It's such an easy improvement that this upgrade can often be completed with one tool that's probably already in your kitchen junk drawer - a screwdriver.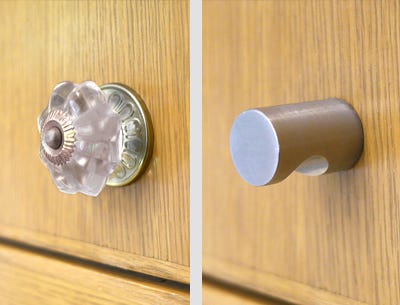 5. INSTALL A FLOATING SHELF
How about adding a clean, modern and natural accent to your kitchen by making a floating shelf or set of shelves out of live-edge slabs. Our Heavy-Duty Blind Shelf Supports hold up to 125lbs per pair.

Watch Chris Salomone from Four Eyes Furniture install this beautiful set of floating shelves:
6. ORGANIZE THAT JUNK DRAWER
Every kitchen has one - some have more than one. The junk drawer. That place you keep all the little random things you need around the house - rolls of tape, pens, dice, twist ties, keys that open things you can't remember, and of course an old screwdriver. This stuff is often piled in there and you dig through until you find (or don't find) what you need. Make your life a little easier and get it organized with the Rockler Lock-Align drawer organizer system. Use the interlocking trays, bins and dividers, and the screwdriver and pliers organizers to build a tidy grid of compartments that makes it easy to find what you need, fast.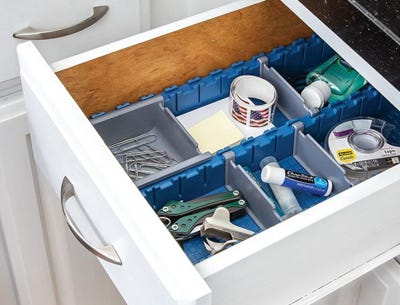 There are obviously lots of other big and small projects you can do to update a kitchen, and we can help you with many of them like replacing your cabinet doors or refacing your cabinets with wood veneer, but we'll save those for another demo.