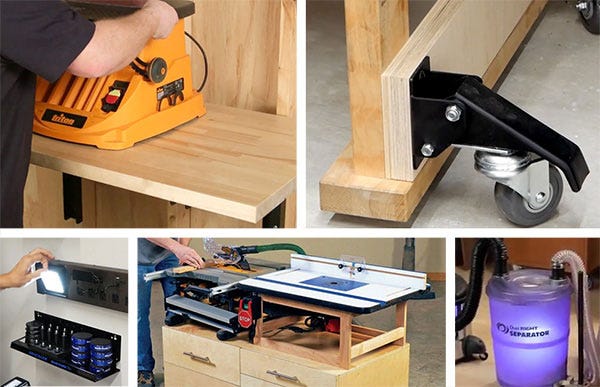 What are the best ways to improve a woodworking shop? In this article and video, we cover five of the best improvements that could make your shop – especially if it's a small shop - more efficient and a more enjoyable place to spend your time. Whether your workshop is one wall of your garage, a corner of your basement or a backyard shed, we're hoping you'll find a tip that sparks an idea you can apply to your shop.
Let's get started!


5 Ways to Improve Your Workshop
1. Get Things Off the Floor
Anything that's on your workshop floor will get in your way at some point. Look for ways to mount tools, work surfaces and supplies on the walls or ceiling.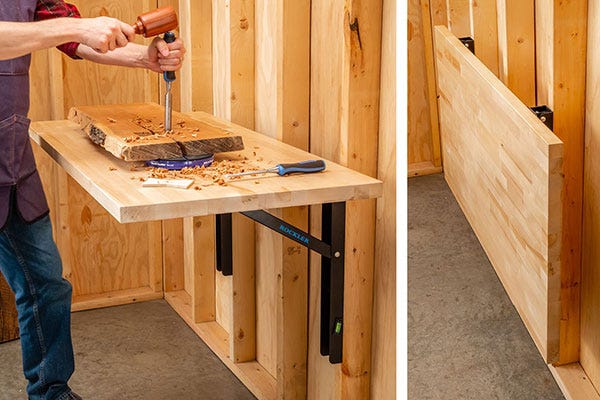 The Rock-Steady Folding Worktop Wall Brackets make it easy to create a wall-mounted work table that folds down when not needed to save space. Just mount the brackets to wall studs spaced up to 32'' apart, and add a top up to 24'' deep x 40'' wide. Folding the table down is simple—just pull the rubber-coated latches on both brackets simultaneously. It's the perfect space-saving solution for garage shops and other small workshops where space is at a premium.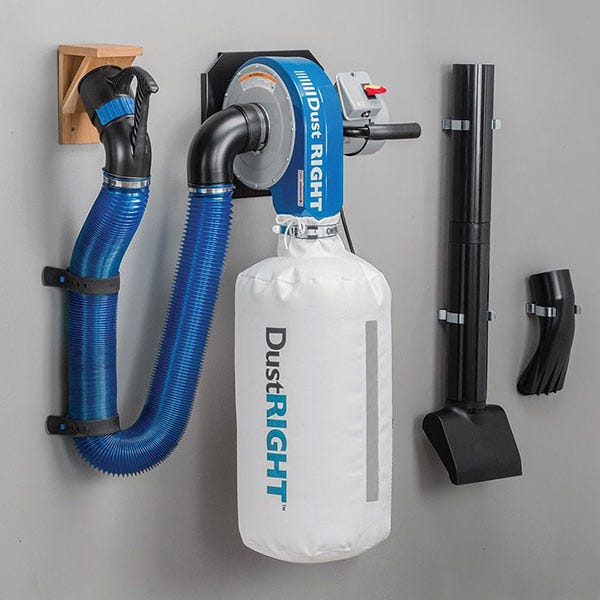 The Dust Right Wall-Mount Dust Collectors feature a unique wall-mount design. This collector gobbles up dust at the source, without hogging up floor space. It mounts quickly and easily to the wall with a simple included Z-bracket.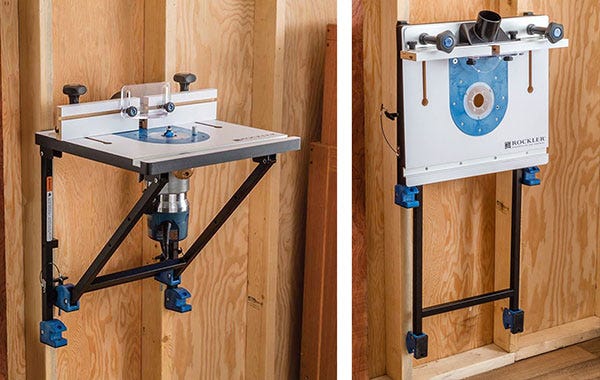 Another space saving solution is to install wall-mounted tool stations that fold down when not in use, such as the Convertible Benchtop Router Table. It can be quickly reconfigured for benchtop use, wall-mounted use, or folded up for storage or transport.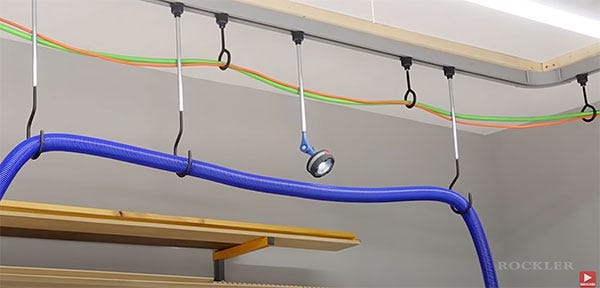 In addition to wall-mounted tables and tools, hanging wires and hoses from the Rockler Ceiling Track System is also a great saving solution.
2. Make Tools and Work Tables Mobile
If something must stay on the floor – then make it mobile. Even if it's a tool or worktable that you almost alwaysvthat you almost always use against the wall, put casters or a mobile base under it so you can move it when you need to.

This set of four Workbench Casters (left photo) feature easy-spin 2-3/8" urethane casters with a foot-activated lift mechanism that engages or disengages with the touch of your toe. Engage them to lift your bench 3/4" off the floor for mobility, disengage them for stability.
3. Improve Your Shop Lighting
You'll be amazed how much different your shop space feels with brighter and more even lighting.

Replace old fluorescent banks with newer, brighter and more efficient LED lights (left). Or, add task lighting (right) over tools or benches where you need more light.
4. Create Multi-Purpose Tool Stations
Set up your tool carts or work stations to work with more than one tool. It could be a two-tiered stand with a benchtop sander on top and a thickness planer below. Just switch their positions, depending on the task at hand.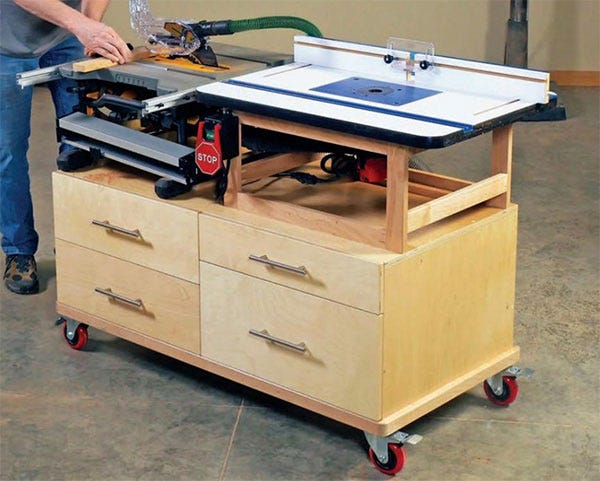 This mobile work station will give your benchtop tools the "home base" that they deserve. The substantial cabinet on wheels raises the top of most benchtop table saws to a comfortable 36" working height. The plans for this cart are available to download for free.
5. Improve Dust Collection
Effective dust collection will make your shop a more enjoyable and safer place to work – especially if it's a shared space, such as a garage. Any dust you collect at the source is dust that's not piling up on your car, bikes, or anything else you store in your garage.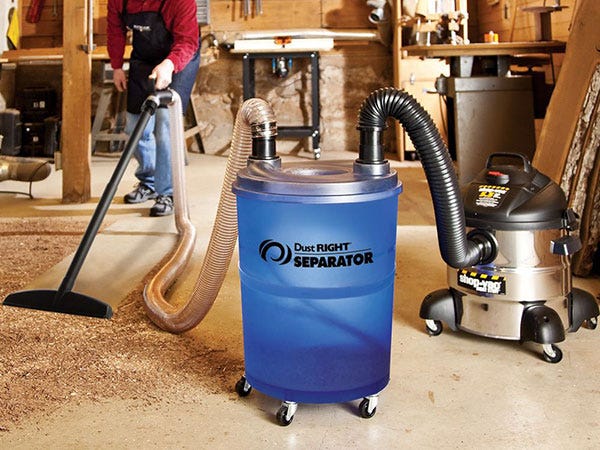 The Dust Right Separator turns any shop vacuum with a 2-1/4'' ID outlet into a 2-stage dust and chip separator. When used with most power tools and shop vacuums, the Dust Right® Separator captures sawdust, wood chips, and other debris before it enters your vacuum, preventing the loss of suction power caused by a clogged vacuum filter.