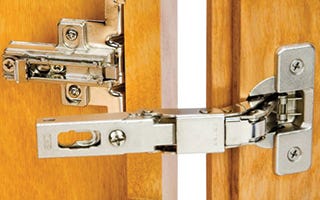 There are many different types of hinges available on the market, but for Kitchen, Bedroom & Office Furniture you will generally find concealed hinges used. Concealed hinges are as the name suggests, they are hidden from view so that you only see the surface of the door. If you are constructing new cabinets, Rockler strongly recommends that you choose your cabinet hinges before you begin construction.
Why choose a concealed hinge?
Concealed hinges offer easier door adjustment to compensate for slight imperfections in cabinet construction. Also, many European concealed hinges allow doors to be mounted and demounted using a tool-free clip-on mechanism. This tool-free installation and removal of doors makes the installation process much easier, and is a real benefit when it comes to removing or adding shelves, cleaning the cabinets and other maintenance tasks.
What does Rockler carry?
Rockler carries hinges from a variety of top manufacturers, including an extensive line from world renowned Blum, Inc.
Blum hinges are preferred throughout the world by cabinetmakers, kitchen manufacturers and consumers.
Rockler is proud to have offered Blum Hinges for nearly 20 years.
The Blum CLIP hinge has become the industry standard for concealed hinges.
All Blum hinges are backed with a lifetime guarantee.
Blum is ISO 9001 certified which means that you are assured of consistent quality in every Blum hinge.
Choosing European hinges begins with an understanding of cabinet type:
Concealed hinges are designed for two types of cabinet construction. For more information, and help choosing the best hinges for you project, follow the approproate link:
Face Frame Cabinets with a wood frame overlaying their front surface.
Frameless Box cabinets with no wood face frame attached.