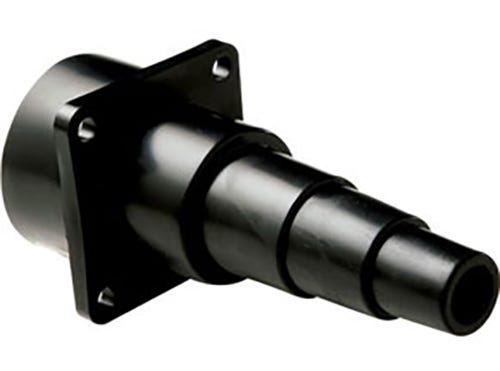 Most of us have a wet/dry vacuum cleaner in the shop, and they typically have a 2-1/2" diameter hose. So why is it that manufacturers virtually NEVER make a simple way to connect their tools to the hose of our vacuums?
It seems that every brand has their own size vacuum port, and none fit a 2-1/2" hose. Rockler's new 2-1/2 to 1" Rubber Hose Adaptor bridges the gap between your vacuum and your tool's dust port.

Made of durable rubber, it is molded in steps to fit a wide range of dust port openings. Simply cut the adaptor to the proper opening and slip it on. Adding direct vacuum to my belt sander made a surprising difference in the mess left behind. And the results were just as good when I connected the vacuum up to my random orbit sander to finish sand the same part.

Whisking away this dust as you sand not only makes the work more pleasant and safe for your lungs, your shop stays cleaner so you'll spend less time sweeping up. Your tools will last longer without all the dust building up inside, ruining bearings and electronics. And going a step beyond simply hooking a vacuum up to your power tools, Rockler offers a slew of accessories for turning your wet/dry vacuum into a 2-1/2" dust collection system.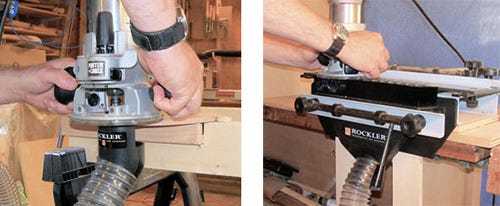 Adding a clear ten foot, 2-1/2" diameter hose gives me more reach and better control when working around the shop, especially up on benches. I've always figured that there was no good way to contain the chips flying from my router, but at least for edge routing, there is now. The Edge Routing Dust Port is surprisingly effective when working on the outside of a part. It even swivels to keep mostly out of the way around curves.
If you have not done it yet, especially if you work in your basement or attached garage, do try hooking up your portable power tools to your vacuum. You'll be amazed at how much cleaner your work will be, and your family will thank you as well.