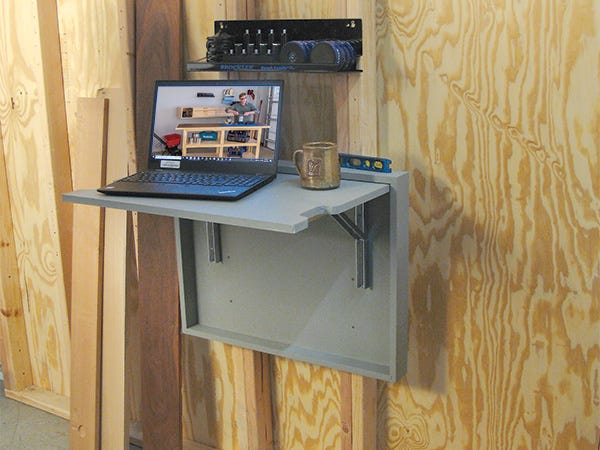 One problem with small shops is that there's never enough floor space. The same often goes for counter space. This fold-down desk project provides a simple, sturdy solution.
No matter how much I continue to dream about having a dedicated shop space, the fact of the matter is, I do my woodworking in a cramped garage that also stores two cars. So for me, every bit of usable, horizontal work space counts!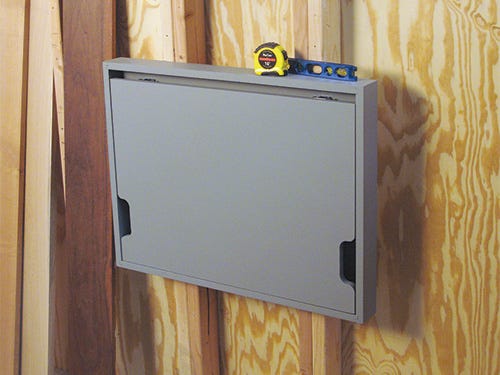 This shop desk project came about when I ran across Rockler's Folding Shop Brackets recently. They close by squeezing a release latch on the upper leg and lowering them. It didn't take much daydreaming or time in SketchUp for me to create the plans that now give me the occasional desk space I need. I'm finding it to be a useful landing pad for my laptop when I'm watching a how-to video online. It's also a handy place to spread out project plans or to stage small parts and tools as I work. And then, when I'm done using the desk, I can fold it down and out of the way until the next time I need it. But, while my desk is out in the garage, the range of alternative uses for it is truly wide open, so don't limit your options to just woodworking.
Download the Router Table Cabinet Plan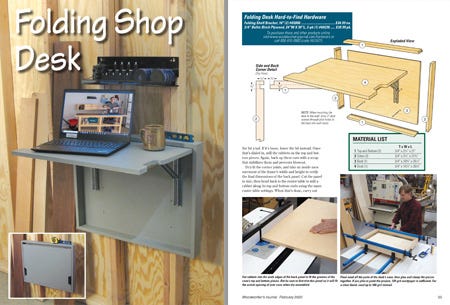 Folding Shop Desk Materials