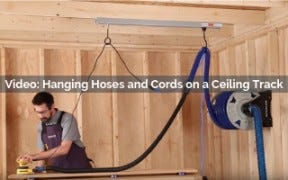 Clean up the clutter and hazards in your shop caused by loose cords, hoses, and cables on the shop floor or benches. The Rockler Ceiling Track System features hooks that keep your cords and hoses off the ground, but roll freely along a ceiling track so you can sand, saw and rout without fighting with them. They can also be used to hang doors for finishing or to hang tools and utility lights.
Hanging Hoses and Cords on a Ceiling Track - Video Transcript
Speaker 1: Something that really bugs me in my shop is when I have pneumatic hoses, dust collection hoses, electrical cords. They're all over the shop in between workstations. They're lying on the floor. They're a mess, and they're dangerous to trip over.
Now I've seen guys who have mounted them to the ceiling. They have some good ideas about how to do it, and some not so great ideas, but this new ceiling track system from Rockler is an excellent way to manage that. It takes it to a whole new level. The system features 4' sections of PVC track that supports different trolley's and hook and ring attachments that can support a lot of different hoses, cords, or even workpieces.
The key to this system are these two different kinds of trolleys. The first one rolls freely in the track when you need mobility. The second one has a locking feature, so if you needed something to be held in place, tighten it down, and it stays right there. Three types of attachments are available to connect the trolleys. Two sizes of J hooks; a 2½" version, and a 4", and one ring hook. You can mix and match these attachments to hold all sorts of hoses, cords or even a task light. One of my favorite uses is to hang cabinet doors for finishing.
You can cut the tracks to length or attach them end-to-end to create one long track, and there are adjustable stops to keep the trolleys on the track, or to restrict their travel.
If you, like me, have a bunch of annoying cords and hoses on the floor of your shop, and you'd like to clean that quarter up, why don't you consider the Rockler ceiling track system? I think you'll be glad you did.