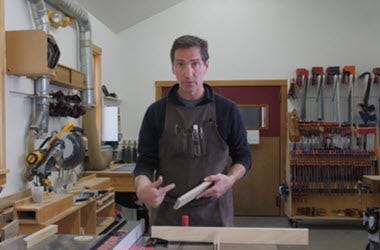 The advantage of making a tenon on a table saw with dado blades is a consistent tenon cut over and over, regardless of stock thickness, without a specific setup dialed in each cut.
How to Make Tenons on a Table Saw with Dado Blades and Fixed Spacers with Tim Rousseau
In this video, Tim Rousseau, an instructor at the Center for Furniture Craftsmanship, demonstrates how to cut a tenon with a fixed spacer on a pair of dado stack blades. You will make the spacer that spaces the two dado stack blades to be as close to, or just under, the width of the tenon and the dado blades teeth.
It is safest to make a throat plate for each table saw operation so that it is zero clearance, especially in a dado stack operation. Set the blade height to the tenon depth or just below to start with. Put tenon in jig and set the fence to tenon markings. Remove excess on a band saw and test tenon in mortise. After test cuts, use a caliper and dado shims to adjust the spacer width to the perfect tenon cut width.
Once all the cheeks are cut, change the blade setup and make sure fence, blade and miter gauge are all square to each other. Cut the shoulders and ears on table saw, and the waste can be cut on band saw or with the tenoning fence back on the table saw. With most things, you can cut the wood off, but you can't put it back on, you can always take more passes or chisel off any excess.
It is great keep the spacer, like most jigs, labeled with its dimensions and use, and stored away in a stable environment to save time on setting up the next project!
Check out the video above for a step-by-step walk through of how we make tenons on a table saw with dado blades and fixed spacers at the Center for Furniture Craftsmanship.
Related Product Categories