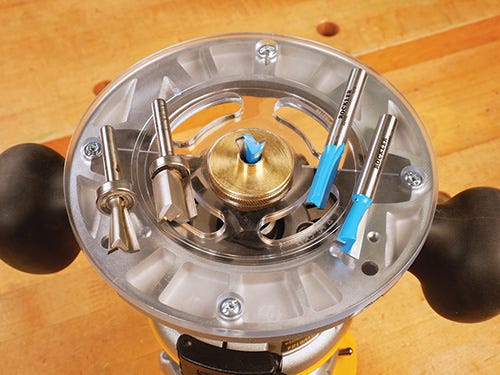 If you've toured the Rockler Router Bit Department recently, you've probably noticed a huge selection of all types of bits.
Beginning with a fairly uncommon application, at Rockler, you have choices for cutting cove and bead, or "canoe" joints, the standard joinery method for constructing (you guessed it) canoes, and a great one for any staved construction forming a curved shape. Typically, canoe joint bits come in a set – one for the cove and one for the bead. The Rockler canoe joint bit, on the other hand, incorporates both the bead and cove profile into a single bit, a configuration that we believe is unique. It's a simple modification that allows you to make both of the necessary cuts without time-consuming bit changes. It costs less than a set, and gives you the unexpected bonus of increasing your decorative edge bit collection with the handsome cove and bead profile the bit produces when the entire height of the cutters are used.
We also have a fleshed-out cabinet door making bit selection with stile and rail bits and sets, and several new raised panel bits. Along with a full range of profiles – ogee, bevel, traditional, round-edge, bead, cove and so forth – you'll find a number of stile and rail bit configurations and other options at your disposal. We've added a range of cabinetry bits from Freud, including several money-saving stile and rail / raised panel bit sets. We've also added a center-bearing stile and rail set and reversible stile and rail bit to the Rockler line. In the raised panel bit department, you'll find just about anything you could ask for, including all of the most common profiles in vertical and horizontal configurations.
The breadth of the selection means that you can put together raised panel door in just about any way you could imagine. Top-bearing matched stile and rail sets are factory-ground for a perfect cope-to-profile match, and because they cut the entire profile, including the front edge of the sticking and stub tenon, they ensure a clean, consistent profile and a perfectly matched cut depth. Using the sticking bit's top bearing, you can even follow an arched top door template and end up with a perfect, clean curved profile without having to go the extra step of smoothing out a band-saw cut with a flush trim bit beforehand.
Or you might prefer a center-bearing stile and rail bit configuration. Matched center-bearing sets have the advantage of preserving the exact overall dimensions of the stock; the pilot bearing rides along the edge of sticking and the ends of the rails, making it impossible to accidentally change the width of the stock or the length of carefully dimensioned rails in the milling process. Reversible bits are another center-bearing configuration bit and popular among budget conscious woodworkers. A few minutes changing the cutter configuration is, for many, a very reasonable tradeoff for the affordability of a single-bit set-up.
We have plenty of common router bits, too. There are straight bits, mortising bits, flush trim bits and more. We have bits designed for just about every straight-edged cutting possible, we feel certain that we have grooving, trimming, dadoing  and rabbeting covered exceptionally well.
You'll find more molding bits, including crown molding bits and industry standard molding profiles, a broad selection of everyday decorative bits covering ogee, cove and bead profiles, and more table, drawer and door edge bits. We've got specialized bits for V-panels, bits designed for solid surface materials, more joinery bits - the list (really) goes on and on.
In short, we know that routers are in league with table saws and band saws as the most valuable tools in woodworking, but to get the most out of them, you need access to a good selection of bits. Over the past few years, we've made a priority of transforming a very good router bit selection into an unbeatable one. There are more bits to come, but we think we're getting very close.