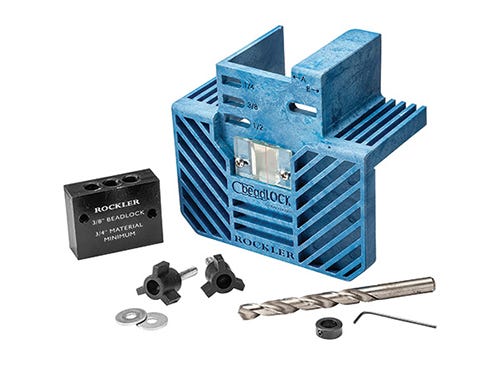 Loose tenon joinery is a great way to create strong end grain to edge grain joints when building tables and chairs. It is a classic furniture joint. Create strong loose-tenon joints simply and effectively with just this updated jig and a drill.
Longtime Rockler customers probably already know that its patented Beadlock joinery, which uses mortises of multiple overlapping holes to house special loose-tenon Beadlock stock, has been around for many years. Originally, the design was conceived by an enterprising woodworker who was looking for an easier way to make mortises with a drill. Now, the company has redesigned the original jig into a Pro version that uses the same principle for mortising but with a jig that's even more versatile to use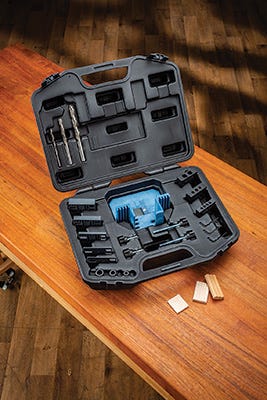 Made of reinforced plastic, the new Beadlock Pro Jig has large clamping surfaces on its front and top faces, making it easier to clamp to workpiece faces or edges than the jig's previous style. A hardened-steel drilling guide block fits inside the jig and is held in place with two knobs on 1"-long, threaded posts. To drill a Beadlock mortise, the jig is marked with "A" and "B" positions for sliding the drilling guide. Once all of the available holes are drilled through the guide at position A, sliding and locking it to position B and drilling the remaining holes completes the mortise's unique overlapping-hole shape
The updated jig also makes it virtually foolproof to align both mortises for a joint accurately. Just scribe a line across mating workpieces at the center of the joint, and use the jig's clear viewing window with hairline cursor to locate and clamp the jig in the correct position.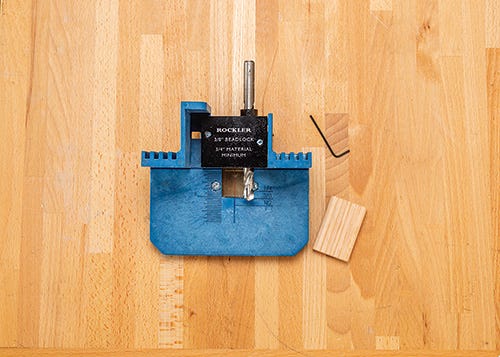 On the jig's inside back face, several depth scales help to quickly set the drilling depth for Rockler's 1/4", 3/8" and 1/2" precut Beadlock tenons or other mortise depths.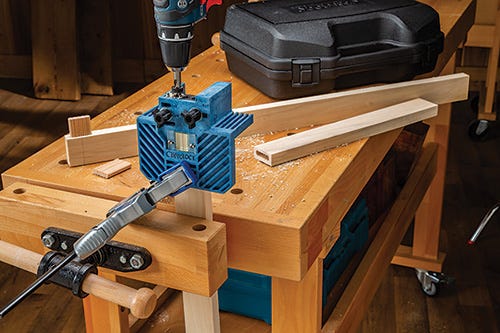 The new Beadlock Pro Jig Kit comes with a 3/8" drilling guide, 3/8" split-point drill bit, stop collar, hex wrench and a molded plastic case. Beadlock tenon stock is sold separately.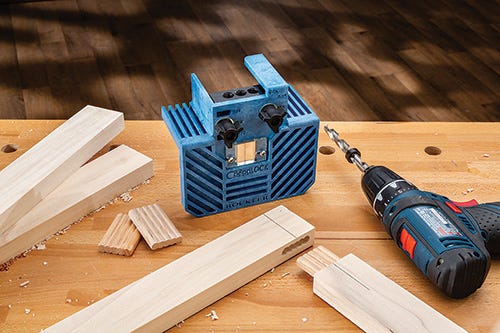 While the 3/8" sizing is intended for 3/4"-thick stock and thicker, Rockler also offers accessory kits for making 1/4" and 1/2" Beadlock joints in thinner or thicker stock using the same Pro Jig. The 1/4" Drill Guide Kit includes a steel drilling guide, 1/4" drill bit with stop collar and several spacers. A 1/2" Drill Guide Kit is similarly outfitted.
Easy Offset Potential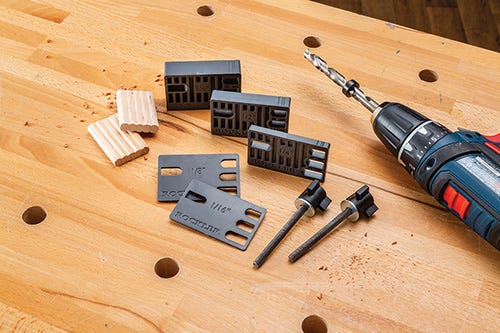 Mortises aren't always centered on stock thicknesses, so Rockler offers an optional Spacer Kit to offset the Pro Jig's drilling guides as needed. Five plastic spacers in 1/16", 1/8", 1/4", 1/2" and 3/4" thicknesses can be mounted in any combination behind the drilling guide to locate mortises where you need them. They work with all three guide block sizes. Longer threaded posts in the kit enable all of the spacers to be used together, if required, for centering mortises on stock up to 4-1/8" thick.
Stock Options for Tenons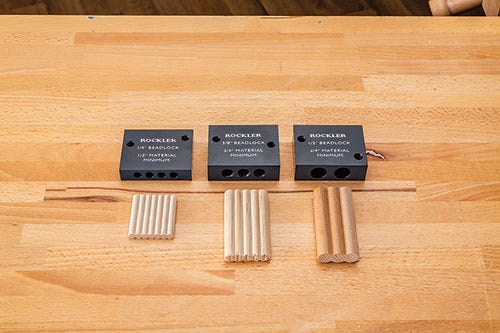 Rockler's untreated, domestic birch Beadlock tenons are available in several variations. If you'd prefer to cut your own custom tenon lengths, Rockler offers three-packs of 12"-long tenon stock in 1/4", 3/8" and 1/2" sizes for $8.99 per pack. Or you can buy packs of precut lengths in each size for $9.99. The 1/4" tenons are 1-1/2" long and come in 25-packs. Twenty 3/8" tenons in 2" lengths come in a pack, and the 1/2" tenons are 2-1/2" long, 15 to a pack.
It's also possible to make your own 3/8" tenons from any stock you choose if you use Rockler's 1/2"-shank Beadlock Tenon Router Bit.