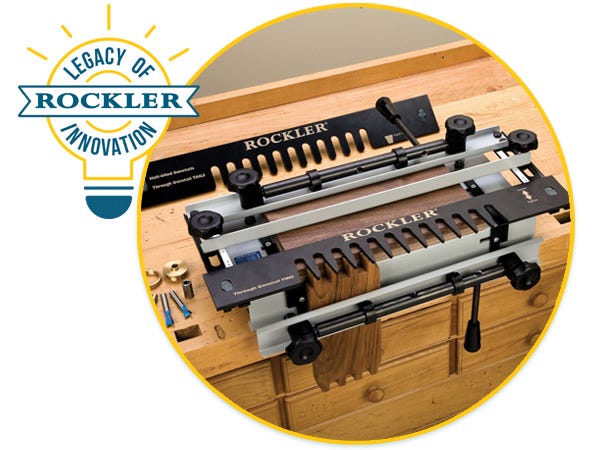 These innovative jigs make it easy to create beautiful and strong joints for your woodworking projects.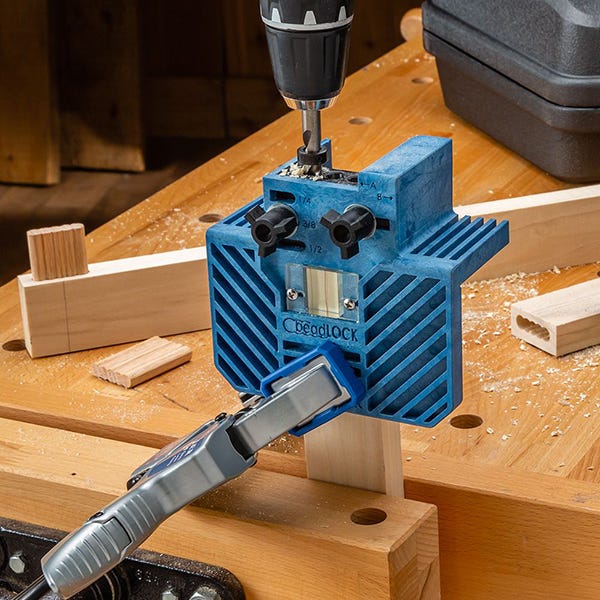 Create incredibly strong, totally concealed joints with only your hand drill and the Rockler Beadlock Pro Jig. Just pop the included drilling guide into the jig in the ''A'' position to locate the initial holes, then slide it to the ''B'' position to drill the overlapping holes. The Beadlock Joinery Jig includes a 3/8'' Beadlock® drill guide, 3/8'' drill bit, 3/8'' stop collar and a molded plastic case with added space for the optional Drill Guide Kits. The Drill Guide Kits are available in 1/4'' and 1/2'' sizes, each with a guide block, drill bit and stop collar.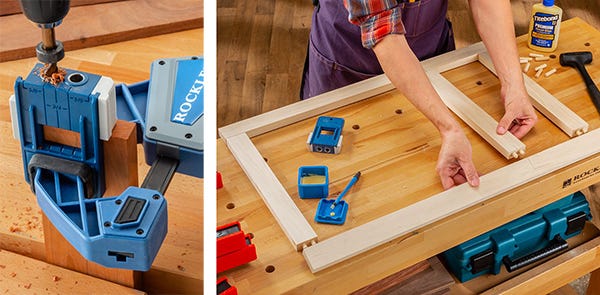 The Rockler Doweling Jig Kits with Bit and Stop Collar give you a strong joint with perfectly flush faces, every time. That's thanks to two stops that let you reference off of the end or edge of your stock for perfect alignment. The stops also allow easy repeatability when batching parts, and dovetailed ways make it easy to slide the stop out of the way when it's not needed. A depth scale is molded into the back of the jig to make setting the drilling depth dead simple. Each jig includes a corresponding drill bit and stop collar. Just clamp it in place, drill and you're done!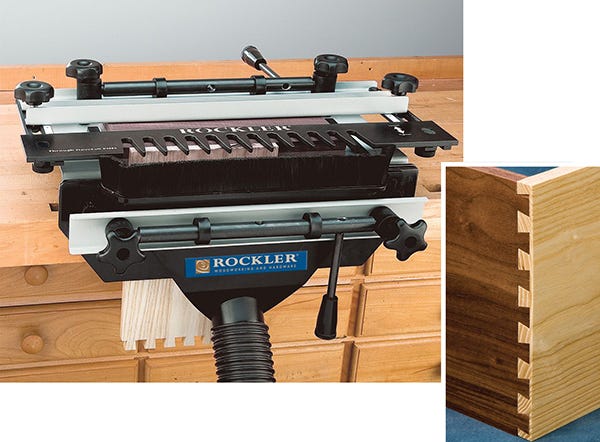 Cutting beautiful through and half-blind dovetails is fast and easy with the Rockler Complete Dovetail Jig. Rockler's exclusive one-piece stop gives you the perfect offset every time for dead-on dovetailing accuracy. And our new preset template guide allows for quick initial setup for 1/2" to 3/4" thick stock. Jig will cut half-blind dovetailed joints from 1/2" to 1-1/8" thick and full through dovetails from 3/8" to 3/4" thick. Accommodates stock up to 11" wide. Requires router with 1/2" collet.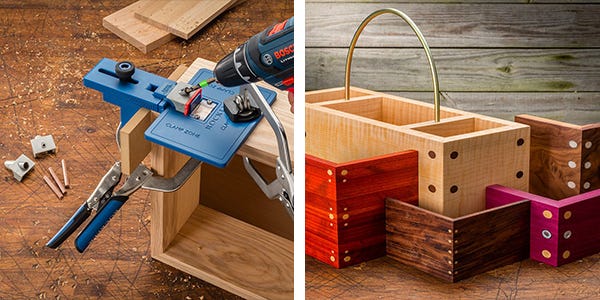 The Rockler Corner Key Doweling Jig lets you join mitered corners by running dowels through the joint at 45°. The exposed oval dowel ends result in a unique decorative effect, and the dowels serve to strengthen the joint, much like splines. You can use solid wood dowels in a contrasting species, non-ferrous metal tubes, a combination of both, or even tie the joint together with leather laces. More advanced decorative effects can be achieved by double-drilling to create dowels with a multi-layered core. The jig makes the angled drilling accurate and easy. No other product on the market offers the same functionality, repeatability and convenience. Extended length bits are required.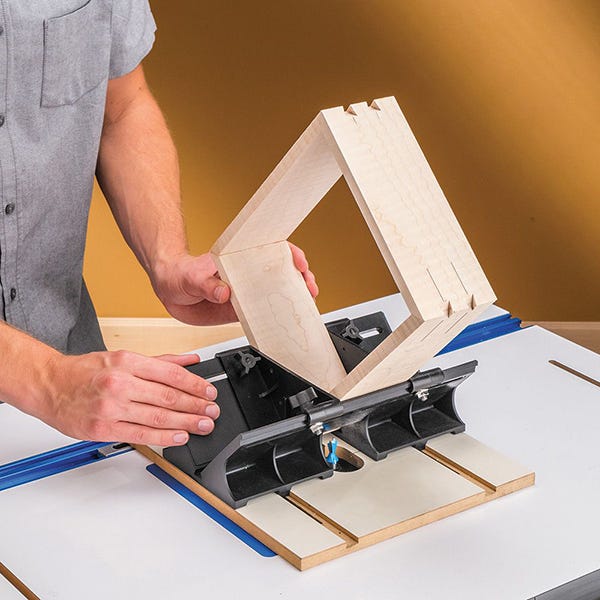 Dress up your mitered corner joints and add strength, too, with the Rockler Router Table Spline Jig . This clever jig locks into a standard router table miter slot and features a sled that holds your workpiece at a 45° angle while you guide it smoothly past the router bit. The adjustable fences act as stops to position your workpiece—one setting can cut all four slots for a frame, or eight slots for a box. Try different router bits to achieve different effects—straight bits, V-groove bits, dovetail bits and more. For larger boxes, this package also includes the Large Box Spline Jig, which is clamped directly to your project.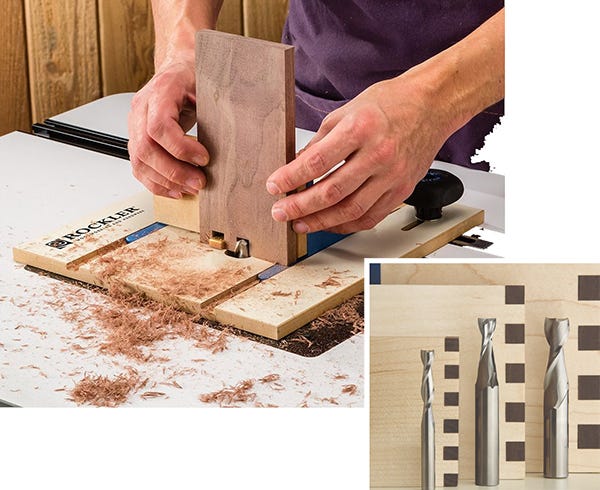 Box joints are strong and attractive, and with the help of our Router Table Box Joint Jig , they're also straightforward to make. This jig uses precision-machined solid brass indexing keys to ensure uniform finger spacing and an airtight fit. Keys are included for three finger widths: 1/4'', 3/8'' and 1/2'', and can be used with stock up to 3/4'' thick. The smooth-sliding sled features long ''skis'' that keep it square to the bit and tabs on the bottom that stop the sled at the end of the cut. Lock it into the miter slot of your table with our comfortable Easy-to-Grip knobs and you're ready to rout.