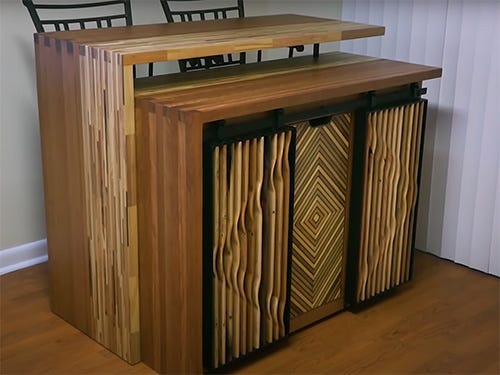 In this video, Paul Jackman shows the construction of a sturdy cabinet for under a kitchen island made from reclaimed wood.
To build a cabinet for his ambitious kitchen island project, Paul Jackman turns to reclaimed wood and barn door hardware into a fantastic cabinet with solid construction.
You can find more great projects and techniques from Paul Jackman at his website.
Featured Tools:
Paul Jackman: I got the box joint jig all set up. It's cutting really nice box joints. I cut them on all of the drawers and I actually glued a couple of these up. Then at that point, I decided I just really didn't like the look of it with the plywood end grain and the top edge banding, just wasn't a good fit for this project. After all that work, I decided to scrap these. I've milled up a bunch of solid maple. I'm going to use those for the drawer sides instead.
I actually did some test cuts already and cut some box joints in the solid maple, and this is the visual I was looking for. I'm going to cut the box press on the rest of these and I will meet you back where we left off.
Hey guys, thanks for watching and thank you to Rockler for their continued support again this year and for making this video possible. The rest of the project is coming in two additional videos in the next couple of weeks. It ended up being such a long complicated build, plus the custom countertop and barn doors are really their own concepts anyway, so I decided to break them out by themselves. Now, the cabinet is held together with tenon joinery using Rockler's beadlock tenon system which I love using on most of my furniture.
The table saw, sleds, clamps, router table, really any of the blue tools you saw me use to complete this build, those are also from Rockler. I'll link all those tools down below for you to check out for yourself so you can upgrade your shop.