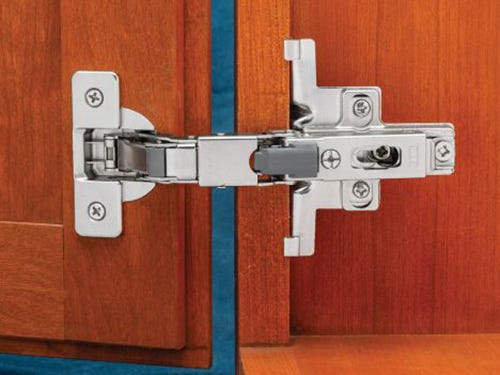 Until recently, if you wanted to outfit the popular 1940s and 1950s "lipped" style of cabinet door with new hinges, your options were limited.
You had a few styles of traditional pin-type overlay hinges to choose from. Now, thanks to the Salice Hinge and Plate for 3/8" Overlay Doors, you can take advantage of the features that make European style hinges the hinge of choice for just about all new kitchen cabinetry.
There are good reasons for the European style hinge's popularity. To start with, they're exceptionally durable and suited for a wide variety of applications. Most are self-closing, and many offer tool-free mounting and dismounting of the door once the hinge is installed. European style hinges are also completely concealed from view when the cabinet door is closed, meaning that you don't have to match the style of the hinge to the knobs and pulls you've picked out.
European hinges are exceptionally forgiving. The Salice hinge's three-way adjustability means you don't have to worry if the cabinets are a little out of square or the doors are a touch out of flat. With a turn of a screw you can compensate for small irregularities in the shape and size of the cabinets and doors, and in a matter of a few minutes align the edges of an entire bank of cabinet doors - an important consideration if you're planning to update a set of 60 year old cabinets.
European hinges are also one of the easiest to install of any type of hinge. There are no time-consuming mortising operations or the need for dead-on accuracy if the hinge and door to are going to end up in the right place. The adjustability feature and the fact that the hinges are hidden from view most of the time mean that you have a good deal more "wiggle room" than with many other types of hinge.
Still, there are other methods to consider. For some woodworkers, a reinforced butt joint is sufficient. People use everything from biscuits to dowels and even pocket screws (later concealed by the drawer front) to shore up the strength of the inherently weak butt joint. Try some different methods out. The best option for you likely will depend on what tools you have available and your comfort and skill levels with the techniques.