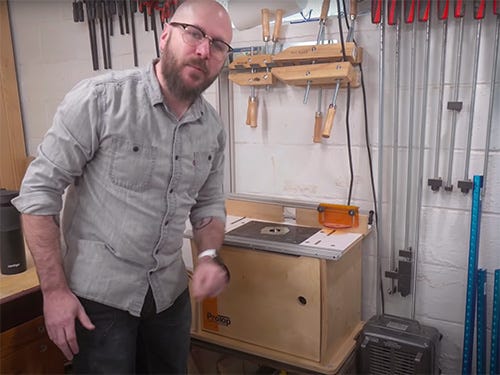 In this video, David Picciuto takes a tour of his shop and explains what he does and does not like about his collection of the equipment.
David Picciuto gives a quick review of all his woodworking tools while taking viewers on a tour of his workshop. David gives an overview of over forty tools over the course of his discussion.
You can find more great projects and techniques from David Picciuto at his website.
Featured Tools:
David Picciuto: Welcome to Make Something, with me, David Picciuto. Today, we're going to talk about the tools in my shop, and we're going to talk about what I like and what I don't like about each one. This is my table saw. This is the SawStop, 1.75 horsepower professional saw. It has flesh-sensing technology.
If you run your finger into it, a break comes up, slams up on the blade, stops it instantly, and pulls it underneath the table. All happening within a fraction of a second.
What I like about this table saw is it's extremely well built, extremely sturdy. You can tell it's going to last me a lifetime. It's also got the flesh-sensing technology. Those two things alone make this saw superior, in my mind, to other saws. What I don't like about the table saw is, when I change from a 10-inch blade to an 8-inch data blade, I also have to change the break. Not a big deal. Love this saw. Highly, highly recommended.
Three blades that I use on my table saw. The one I use the very most is the Forest Woodworker II thin curve blade. This is a combination blade for cross cuts and rips. It is thinner than your normal blade, which means there's less waste, and it requires less power to plow through some heavy wood. It doesn't leave a flat bottom when you're not cutting all the way through.
For flat bottoms, I use this Forest Woodworker to one-eighth inch curve-- that's the normal size curve-- flat bottom for grooves and finger joints. 99% of the time, I'm using this guy. When I need dados, I have the eight-inch Freud dado set Rockler Wall Mounted Dust Collector. I have it on the floor. It's made for the wall. I really like the Rockler dust collectors because they're fairly quiet compared to most. All the dust is collected in the bag here. This is the only machine that this dust collector is hooked up to.
Expensive, but it has some cool features. It has a bunch of stops for the different angles you want in there. It also has one of these guys. This guy slips on here, and it's a little stop on there. What I don't like about this, a lot of times, the boards are wider than this area right here, so I have to come back. Then there's this. You know what I'm saying?
I made one of these. I'm going to make another one someday on camera because people ask about it all the time. It has this Kreg stop block system here, which is great for repeatable cuts. All this is an MDF with a backing board here, and on the bottom, it's got the runners on there.
This can eliminate the need of a miter saw. For a long time, I didn't even have a miter saw because I had this cross-cut sled. This is my Wixey digital angle gauge. This is how I set the angle on my table saw blade, set it up against the blade. Now I will have perfect 70.7-degree angle cuts.
One of my favorite accessories for the table saw is the Microjig GRR RIPPERS. They make the tables saw so much safer. They keep your hands away from the blade. You see them in almost every single project that I do. Highly, highly recommended as well.
This is my picture frame-making sled. If you're going to make picture frames, you really need a miter sled. I have a dedicated video on making this jig. This is my jointing sled for the table saw. Since I no longer have a jointer, this thing comes in very handy. Forgive me. A nice straight edge on boards.
A tapering jig from micro jig, that's a good one to have. My Incra I-Box, Box Joint Jig, this is what I use for all the finger joints that you see in my boxes. This is another one of my favorite jigs. This is my spline joint jig. It is made to go over my table saw fence, but I have upgraded my fence since then, so this one no longer fits.
I use it. I just butt it up against my fence. I highly suggest you check out the video on the making of this spline joint jig. Table saw outfeed table, this is a must for your table saw to support larger pieces. I have a video on the making of this table saw outfeed table. It has the grooves here for the miter slots. It's got all kinds of paint and storage down below. I broke the doors. There's all kinds of junk. All kinds of stuff in the drawer there. Every table saw needs an Elvis.
Here's my Bench Dog Router Table. What I like about it is, it's awesome. The fence is adjustable. It's got dust collection built into it. What I don't like about it is, the table is small. I probably could have made my own for far less money. Inside, we've got the porter cable router. All my bits are just thrown about. I know that's going to make some people cringe.
I did upgrade the table with this Incra Router Lift. This thing is a lifesaver. It makes things so much easier. I can use this to lift and lower the bits instead of doing it manually, which is a pain in the ass. Probably the router that I use most is this DeWalt 611. It's smaller, it's easier to handle. When I need the bigger quarter-inch bits, there's this porter cable router, which is the same router that's inside there.
You know what they say? You can never have enough woodworkers saying you can never have enough clamps. Here are mine. My Harbor Freight Clamps, the ones that I use the most because I do mostly smaller projects. These are three or four bucks a piece.
My hand screw clamps, really super expensive BESSEY clamps, and I'm not a big fan of them. Maybe I've ruined them because I've got glue on them, but they're really hard to use. They stick. I don't know. I get very frustrated with them. I actually prefer the aluminum bar clamps right here. These come from Rockler. Unfortunately, they're really expensive, but they are really awesome. These are my favorite clamps.
Then finally, I have all these spring clamps, which I have in a very dangerous position underneath my super sharp chisels.
Eric: Which is why you always send me for clamps.
David: Yes. Hey, Eric, go get those clamps underneath the chisels. Up next is my bench. I get a lot of questions about my bench. It's got a Veritas vise in the front here. You probably don't even need the Veritas brand. I would assume that the cheaper brands are just fine. One of these days, I'm going to rebuild this bench, either as a miniature version to show how it's done, or I'm going to give this away and make myself a new bench.
This is kind of a mess. I do have a couple of hand planes here, the Wood River brand hand planes. I do have a video on making this particular block plane. I use this all the time. Check that motherfucker out. Some more wooden planes. This is one that I made that I never used because it sucks really bad. Card scraper. You need a card scraper. This is how we do it.
This is how I sharpen all my blades, using this Work Sharp 3000. I have a video on how this guy works. I don't use hand planes very often. I just sharpen everything once a year. I don't have to learn how to actually sharpen a blade. What I like about this bench is it's super heavy, it's beefy. It's really, really thick top, great surface to work on. It's very large. It's got the vise in there, it's got the dog holes for my stops and my hole fest. What I don't like about this bench, not a thing. I built this thing perfect.
This is my DeWalt planer. I just have a dust bag on the back here. That's great for it now, but what I find is dust collects on the bag, and when you turn it on, the dust blows everywhere. I'm going to build some sort of dust collection inside this stand someday. That'll be a project. What do I like about this thing? It's small and portable. What I don't like about it is that I wish it was a little bit bigger, I wish it was a little bit taller, I wish it was a baller, but hey, it is what it is. I don't have space for a bigger planer. Sometimes the gripper rollers, they slip and don't pull the wood all the way through. I've had pieces of wood get stuck in there recently. I don't know what's going on down there, but girl, you got to fix that.
This is my Grizzly GO55X bandsaw. What I like about it is, it works fine. What I don't like about it is tensioning the blade sucks on this thing. It feels like I'm going to break my wrist every time, even at low tensions. I don't know, maybe something's wrong back there. I pretty much gave up on tensioning blades. I just throw a blade on there and then tighten it up and then cut. I don't care about tensioning.
One of my favorite things to use on the band saw are these micro jig GRR-RIPPER blocks. They have a nice flat bottom and scrape for holding pieces and running it through the bandsaw, keeping your fingers away.
I use 2 blades in my bands saw, the 3/16-inch 4TPI skip tooth blade from Highland Woodworking. That takes care of 99% of my cuts. Every once in a while, I'll throw in a half-inch re-saw blade also from Highland Woodworking. This is the dust collection I have for my bandsaw and my drum sander. I have it inside this box here. I have these little doors that I open and close.
Again, this is the same dust collector for my table saw. This is the wall mount Rockler dust collector. It's made to be hung up on the wall, but I have it in this box here. What I like about this is, it's so much quieter than most dust collection systems. That's why I have two of them in the shop. This video is not sponsored. Nobody is sponsoring this video. These are my opinions.
I really do like this dust collection system. This is my tool board. These are all the Forstner bits that I use, the speed square scissors. You're getting into woodwork, you're going to need some combination squares. I suggest the 12-inch and the 6-inch. Round wooden mallet, hammer, scissors, rubber mallet, shit chisels, wood files, the good chisels, screwdrivers.
Do not get these Stanley screwdrivers for whatever reason. The tips on there don't grip. The screws are a weird shape. I don't know why. I've got to get new screwdrivers. A flush trim saw. I use this all the time. It's like $12 on Amazon. Coping saw, dovetail saw, veneer saw, saw-saw, I love making sign, a rubber mallet for my buddy Ty, some drill bits, all the clamps that we talked about earlier, Kyle toe cutting on the bandsaw calendar. You definitely need that. The horseshoe that my dad found in his yard many, many years ago, and a pencil sharpener. That's my tool board. Let's move on. My Jimmy Diresta ice pick. Check this out. Every shop needs an ice pick. You know why? A standing station. We made a video on making this cheap ass thing. It's hastily put together, but it works great for my needs. I have the Festool Random Orbit Sander, the ETSEC150/3EQ. Festool, that's a horrible, horrible product name. What are you thinking? Probably the most expensive orbital standard that you can get. Is it worth the money? That depends.
I've had a couple of sanders before. I've had a skill random orbit sander, and that thing vibrated so much, I hated using it. Then I upgraded to the Bosch Sander, and that thing worked great. The dust collection on that was fantastic. Then I wanted something a little bit bigger so I could sand a little bit faster, and then upgraded to the Festool. The dust collection on this is phenomenal. If you're into dust collection, then the money might be worth that.
That runs down into my Festool dust extractor. Basically, a glorified Shop-Vac. Why do I like this more than a regular Shop-Vac? Because it is a lot quieter, and it has variable speed. Sometimes you want a lot of suck, sometimes you want a little suck. You can adjust the suck. Hashtag.
Another super cool feature about the Festool dust extractor is it has auto, so you can plug in your tool into here, and then when you turn the tool on, this comes on automatically. Adjust the suck. This is my orbit center from Harbor Freight. This is super cheap and inexpensive. I use this all the time. What I like about it, it's super cheap and inexpensive. What I don't like about it is I wish it was a little bit heavier. I guess I could mount it down and fix that problem. I wish this was a little bit taller. Runs like a horse. This is my grizzly little belt sander. I rarely use this, but when it's needed, it comes in handy. I don't. You know what? I rarely use it.
Eric: I've never seen this until just now.
David: For a long time, I didn't even have a miter saw in the shop because I had the crosscut sled. Then I realized, for certain projects, for speed purposes, I wanted to set up one for ripping and one for crosscutting. I went ahead and got me what was supposed to be the best of the best, the miter saws, and that's the Festool.
It costs a lot more than other miter saws, but what I have learned is the dust collection on this guy is far superior than anything I've ever used in the past. Dust collection is very important to me. That's what I love about this. You can also do dados with this miter saw. That's a pretty killer feature, which most don't do. You can set the height of the blade.
What I like about it is, it's extremely well-built and the dust collection is phenomenal. What I don't like about it is, it's expensive. It isdf what it is. Going to build out a whole extension wing and stop block system.
I have yet to do that. That would make this so much more useful. I'm going to wait until we move into the new shop.
This is one of the first tools I ever bought. It runs flawlessly. It's like just like the day that I got it from Harbor Freight. A lot of people give the Harbor Freight the thumbs-downs. No, this thing is fantastic.
It's been running for many years. I did bend the table here. A piece got caught in there and shit happened, so I'm going to make a new table for it someday. What I like about it, it's cheap and it works just as expected. What I don't like about it is I screwed up the table.
This is my oldest drill. This is the Black and Decker. I use this more than anything. I even use it more than the super expensive Festool drill which I got a lot of for painting the green-red, but that's cool. I like pissing people off. Is it worth the price? I'm a fan of Festool, but I don't think that the drill is worth the price. I think you're better off going with something else. I use the Black and Decker the most. I prefer the Black and Decker over the Festool drill.
This is just a hodgepodge of crap. This guy right here, this is my Bosch jigsaw. It's nice and heavy. It's got a good weight to it. A lot of people don't like jigsaws because it gives you a crappy cut. The key to getting a good cut with a jigsaw is all in the blade. Glue, gun belt, sander [unintelligible 00:14:17], an iron. There's a Festool domino in here, quick and dirty joinery. This Festool domino is fantastic.
Down below, we got the air compressor. We just use that to blow dust from one area to another area. Jet 10-20 Plus drum sander. It's got an in-feed bed and then that drum sander. It saves me so much time, especially doing these projects where I'm trying to turn them out as fast as I can to get the video out, this thing is a lifesaver. It is not necessary for projects, but it does make things a lot easier.
What I like about this is it saves me tons of time. What I don't like about it is the drum will lose its levelness, and I'll have to re-calibrate it every once in a while. This is the absolute worst place to put the dust port because it hangs down and gets in the way of the piece. Usually, I have a string or something holding this up.
There is my jet drill press. I used to have one of those little tabletop skill drill presses. They worked fine, but then I needed something with more travel, and this guy definitely has more travel. What I like about this drill press is the table is nice and big and flat, and very adjustable. It can go all the way down to the bottom and all the way back up. What I don't like about this drill press, when it comes to tightening, this key slips all the time in the teeth.
Eventually, I want to replace this chuck with a keyless chuck. There's got to be a better way to do this stop system because when I want to move these stops down, I've got to do this. I've got to take out a half hour of my day to move these things two inches.
While we're on the jet train, this is my jet lathe. This guy is the VR-- what is this guy? Eric, do you know what this is?
Eric: VR-
David: It's the VR something or other. There'll be a link down in the shits. This lathe works great. This is the only lathe I've ever owned, so I have nothing to compare to, but it's got variable speeds, shows the output down in here. Love that. It's got forward and reverse. What I like about it is, it's everything that I wanted in a lather. What I don't like about it is, I wish it was a little bit bigger, but that's not Jet's problem. That's me getting the wrong lathe.
I can't do a baseball bat on here, and I can't do a big bowl. I wish this thing swung out to do bigger things. That's all on me. It is my new home sewing machine. This is a sewing machine that Eric and I use in nearly every single one of our projects. It's a beast. It was built in 1959, and works fantastic every single time. I turned it on. Fun fact, I've never turned it on.
This is my Inventables X-Carve CNC. This is a new one. It's got this nice enclosure here. It's nice and clean. Compared to the previous version, it's a little bit more rigid. It allows me to design and draw on the computer, which is one of my passions. This machine allows me to output some of those ideas from my brain into the real world.
On the subject of digital fabrication, this is my pre-release model of the new Glowforge laser cutter. Big fan of this machine. It has cameras built into it, so you can see your layouts on the computer interface. Some awesome technology in there. Right now, I just have this one venting out the window. This is just a little-- everything is just thrown here on the cement floor. Somebody told me a long time ago that you're not supposed to pile wood on a cement floor because of moisture and blah, blah, blah, blah. Eric, what wood is this?
Eric: That's striped walnut.
David: What kind of wood is this?
Eric: Brown cherry.
David: What wood is this?
Eric: That's-
David: As you can see, Eric, my cameraman is an expert. This is my music room. You're going to see this channel progress into a lot more art and music-based stuff. I want to integrate all three of those things. I don't know how that's going to work, but it's something that I want to do in the future. I want my videos to be super creative and fun. I do have a video that talks all about this music room and some of the instruments and microphones that I use. It is on my second channel. Make something too.
Yes, I have a lot of tools. I worked very hard to get to this point. The great thing about woodworking, and art, and creating, and making, in general, is that there's more than one way to do something. If you don't have a table saw, you can use a circular saw. If you don't have a band saw, you could use a jigsaw. You don't have a laser cutter, you're screwed.
Sometimes the goal is the end piece. It doesn't matter what tools that you have. What does matter is getting to that goal and doing it in a way that's satisfying to you. Do you need all these expensive tools? No. Sometimes I will upgrade my tools so I can work faster. Because of the type of woodworking I do,
I need to output as fast as I can so I can move on to the next video because this is what I do for a living.
I'm not a woodworker for a living. I make videos for a living. Should I get this tool or this tool? The answer to that is, I don't know. Everybody's situation is different. Everybody's budget is different. What you want to make is different than what I want to make. I do a lot of small projects, so I buy tools that help me output those small projects faster.
Most of the tools I have, I have nothing to compare to. I can't say this brand is better than this brand. I really want to emphasize that it's not the tools that makes you a good woodworker. It's being a good woodworker that makes you a good woodworker. Use what you have. That is my shop. I tried to give you a very honest opinion of what I like and what I don't like.
My name is David Picciuto, this is my channel, Make Something. If you're new here, please hit that subscribe button because we try to do new project videos once or twice a week. As always, be safe, have fun, stay passionate, and make something.