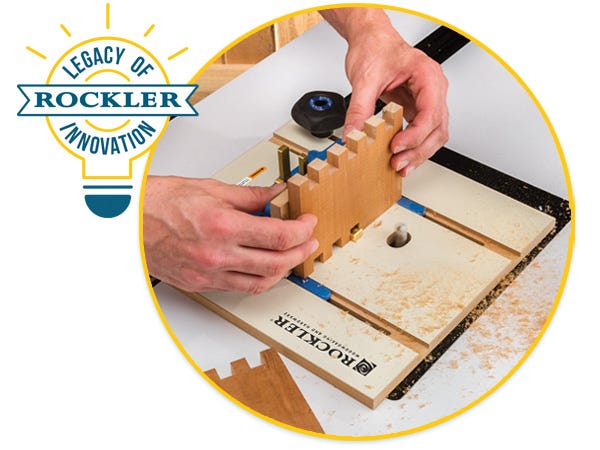 These six innovative router jigs make your router or router table even more versatile. These 6 jigs make it possible for your router to cut tight box joints, perfect circles, beautiful dovetail joints, and more! Even a beginning woodworker will be able to safely and quickly produce professional results with these 6 Rockler Router Jigs.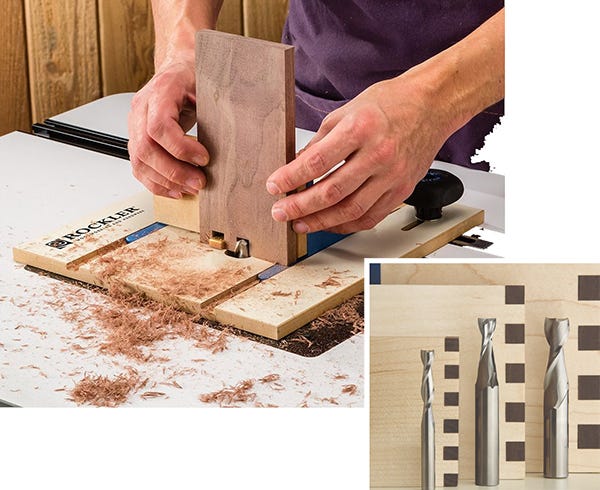 Box joints are strong and attractive, and with the help of our Router Table Box Joint Jig , they're also straightforward to make. This jig uses precision-machined solid brass indexing keys to ensure uniform finger spacing and an airtight fit. Keys are included for three finger widths: 1/4'', 3/8'' and 1/2'', and can be used with stock up to 3/4'' thick. The smooth-sliding sled features long ''skis'' that keep it square to the bit and tabs on the bottom that stop the sled at the end of the cut. Lock it into the miter slot of your table with our comfortable Easy-to-Grip knobs and you're ready to rout.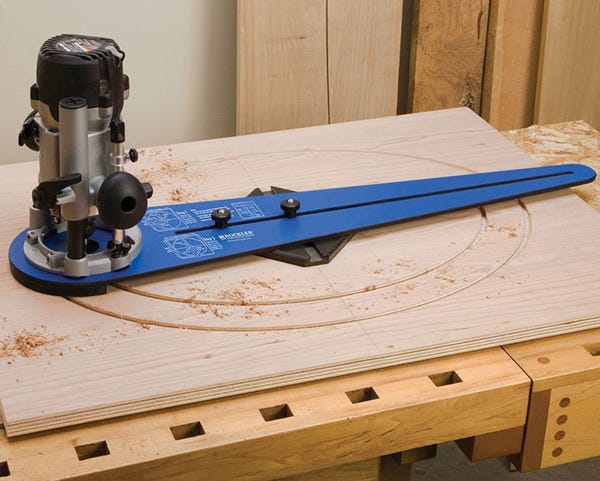 The Rockler Ellipse/Circle Cutting Jig lets you cut circles and ellipse shapes over a wide range of dimensions and proportions. With your router and this handy, easy-to-use jig, you'll be able to make picture frames, mirrors, signs, tabletops and more in just a matter of minutes. Compare to other ellipse/circle router jigs that cost $100 more. Set up takes only a couple of minutes and is virtually math-free. Using the jig is just as easy. As you move the router through the cut, the jig's sliding dovetail mechanism keeps the router precisely on the cut line. Designed for use with just about any plunge router.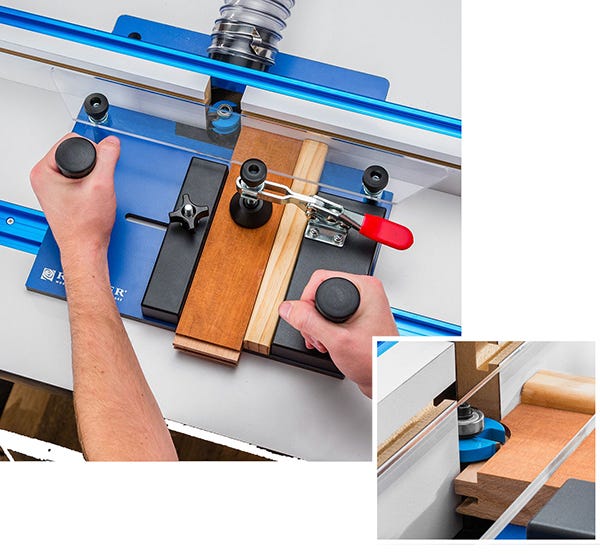 If you're building cope-and-stick doors and drawer fronts, our new Rail Coping Sled will be an indispensable helpmate. With its smooth-sliding phenolic base, and sturdy toggle clamp holding your stock firmly against the fence, your rails will travel unwaveringly past the cutter for the cleanest, squarest cuts you can imagine. Particularly with drawer fronts, which sometimes use very narrow rails, the sled prevents parts from dipping in too deep and keeps your hands safely out of harm's way. A sacrificial block can be attached to the fence to prevent endgrain blowout, while an abrasive strip prevents the workpiece from wandering. Unlike many jigs that use the miter slot, our sled uses only the fence as a reference, so there is no need to waste time aligning the miter slot parallel with the fence. In addition, the coping sled has been redesigned so that the reference edge is a separate clear guide rail elevated 2'' above the table, meaning there is no risk of cutting into the sled.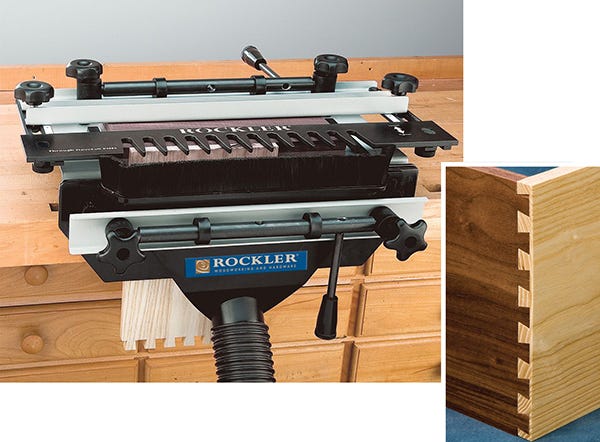 Cutting beautiful through and half-blind dovetails is fast and easy with the Rockler Complete Dovetail Jig. Rockler's exclusive one-piece stop gives you the perfect offset every time for dead-on dovetailing accuracy. And our new preset template guide allows for quick initial setup for 1/2" to 3/4" thick stock. Jig will cut half-blind dovetailed joints from 1/2" to 1-1/8" thick and full through dovetails from 3/8" to 3/4" thick. Accommodates stock up to 11" wide. Requires router with 1/2" collet.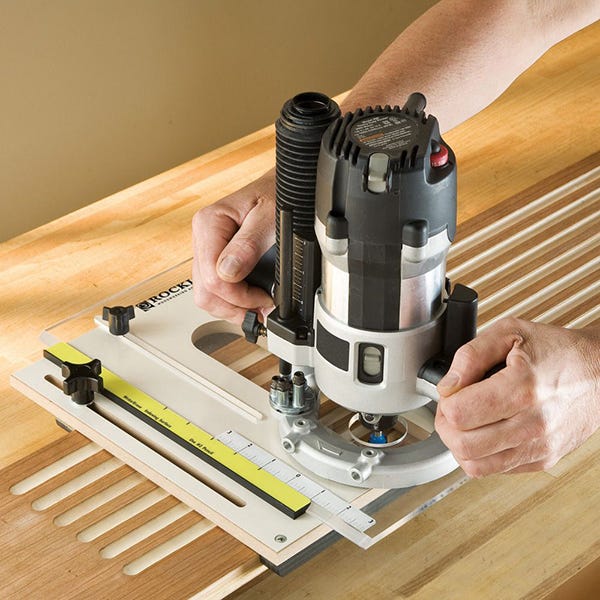 The Repetitive flutes are a great way to add style to columns, molding or furniture parts, but machining them can be a true test of patience. Fortunately, the Rockler Router Fluting Jig makes it fast and easy to rout perfect flutes with even spacing — every time. Two low-friction, underside rails straddle your work piece, allowing the jig to slide smoothly along boards up to 9-1/2" wide, which is wide enough to cut flutes evently spaced over 8'' wide. The router mounts to a pre-drilled acrylic centerpiece, which slides laterally to rout out flute after flute. Scales on the centerpiece and writable/erasable indexing surfaces make setup simple.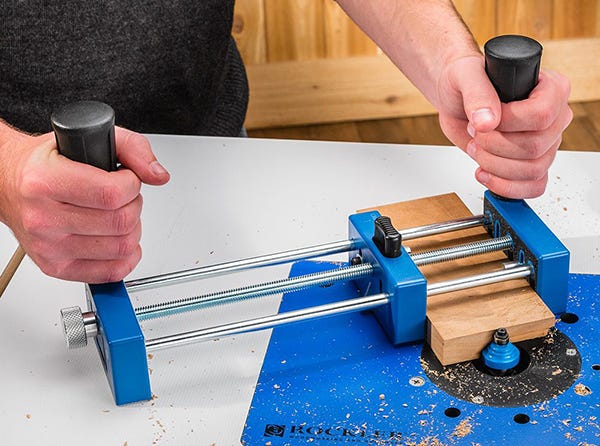 The Rockler Small Piece Holder keeps your fingers out of harm's way and securely holds your smallest workpieces while you machine them at the router table. In essence, it turns a small part into a larger part equipped with nice, comfortable handles. It's ideal for the short rail ends on very narrow doors and for small projects like toys, plaques and birdhouses. A variety of scrap blocks can be mounted to the clamp faces for thicker stock, special holding requirements, or to simply control endgrain blowout. The quick-release clamp screw lets you slide the holder open and shut in an instant for quick operation. Large, comfortable handles ensure precision and control.