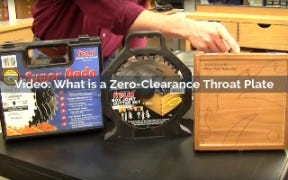 A zero clearance insert or throat plate is one of the best upgrades you can make to a table saw. If you're having trouble with tear-out on the bottom edge of your table saw crosscuts, or experienced the sudden shock of a narrow piece of drop-off wedging in between the saw blade and the opening in your saw's throat plate, then you should get a zero clearance throat plate or insert.
What is a Zero-Clearance Throat Plate - Video Transcript
Speaker 1: Every table saw has one of these removable throat plates, and these metal or plastic throat plates make it easy to access the blade for blade changes, and they work fairly well for general cutting, but they have an overly wide slot in them to provide enough clearance for the blade to be tipped to an angle. Oftentimes, that wide slot doesn't provide enough support for the wood right up next to the blade, so the wood splinters out on the bottom face during cutting, and that could be a problem when you're trying to make fine cuts.
Now, if you want to reduce that tear around the blade, one of the best ways is to make a Zero-Clearance Throat Plate like this. It's got a narrow slot that fits tight around the blade to support what you're cutting right up to the teeth, and these throat plates are equally helpful when you're using a specialty blade that makes wider cuts like a Dado set, box joint cutters or this miter Dado set from Rockler.
Zero-Clearance Throat Plates are easy to make for table saws with common oval-shaped throat plates like this. You can make throat plates from a variety of different materials, but you want them to be strong, flat and easy to cut.
Rockler sells throat plate blanks made of phenolic. It's a slick, hard, synthetic material that will last for a long time, but good quality plywood, ordinary MDF, or even a piece of stable hardwood like this poplar will work fine too. This shop made throat plates are one of the best performance enhancements you can make for your table saw. Once you try them out, you'll probably want to keep on on your saw almost all the time. So be sure to make a few for all your blade options.