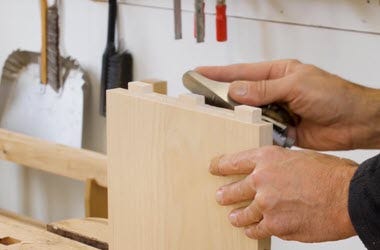 A housed stub tenon joint is used as a shelf joint or where the side of a carcase would meet the top. It is a strong joint that is invaluable for furniture making. This video will break down the steps and layout of making a housed stub tenon an easy and accurate joint to cut.
How to Cut a Housed Stub Tenon Joint with Tim Rousseau
In this video, Tim Rousseau, an instructor at the Center for Furniture Craftsmanship, demonstrates how to cut a housed stub tenon joint. As with any joint being cut, the first and most important step is to begin with an accurate and square layout of the components and joints to be cut.
The first joints to be cut will be routing the mortises, followed by the shallower groove, using a plunge router and a shop made plywood sled or jig. Make sure there is enough space between the mortises and the shoulders for structural integrity. The router depths should be set before running for ease and accuracy. Make sure the sled is square and well clamped. After routing the mortises and groove, use a chisel to square off the ends of the mortises and groove.
Use the grooved and mortised board to transfer the joint layout on to the board to be tenoned using a sharp pencil. The tenoned shelf will also have a tongue which will be routed first on a router table so it will fit snugly in the groove.
Before cutting the tenons, it is smart to mark what is waste versus the wood left to be the tenons. Cut the tenon walls with a handsaw first, followed by the bandsaw to cut out the waste. Clean up the shoulders with a chisel and chamfer the tenon corners for a smoother fit.
Check out the video above for a step-by-step walk through of how we cut a housed stub tenon joint at the Center for Furniture Craftsmanship.
Related Product Categories