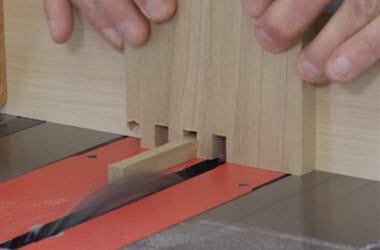 A finger joint, also called a box joint, is machine cut joint that generates a lot of long grain to long grain glue strength and is a quick joint to cut once the machine is set up. It can be tricky to get a perfectly tight joint, but this video gives the techniques to achieve great finger joints.
How to Cut Finger Joints on a Table Saw Finishing with Tim Rousseau
In this video, Tim Rousseau, an instructor at the Center for Furniture Craftsmanship, demonstrates how to cut finger joints. When finger jointing on a table saw, the trick is to set the width of the dado stack so there will be an even division of fingers in each piece.
The first thing to set is the height of the dado stack which will determine how proud, or the level of protrusion, the finger joints will be and make sure to lock the blade height once properly set.
To create a box joint jig or carriage, affix two miter gauges together with a piece of long stock and run it over the dado stack to create a zero-clearance fence. That opening is the size of the distance between fingers and can be used to check the thickness of the stick that will be used as the jig to space the fingers as they are being cut.
There can be a lot of trial and error, and miniscule adjustments to get to the right sized and well-fitting finger joints. As with any joint, make sure everything is square and make many test cuts!
Check out the video above for a step-by-step walk through of how we cut finger joints on a table saw at the Center for Furniture Craftsmanship.
Related Product Categories