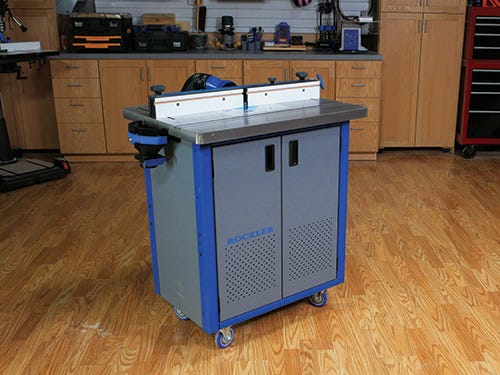 Flipping a router upside down and mounting it to a flat surface is a common way to add functionality. These "router tables" can be remarkably basic or amazingly fancy, thanks to many accessories now on the market.
When we produced cutting boards in my dad' shop, one of the last machining steps was to cut a 1/8" roundover around their top edge. The router table we used to do that task was a piece of melamine mounted on a metal stand. A 3/4hp metal-bodied Stanley router was mounted underneath, and we literally ran tens of thousands of boards over that modest setup.
Router tables come in all sizes — from portable, lightweight frameworks to substantial cabinets with cast-iron tables. You can make your own or purchase all or some of the components ready-made. In fact, Rockler has a handy online router table configurator that lets you "build" a router table to match your desires and/or budget.
There is no denying the value of a router table for woodworking. I mentioned earlier that rail-and-stile and raised-panel joinery is done primarily using routers these days. The only way to create the frame joinery and shape the panels safely and accurately is on a router table with fences and jigs to guide the stock past those specialty cabinet door bits. (I like to set up three router tables for door-making, one performing each cut, but I digress.) Plunging mortises is another task most easily and safely done on a router table.
I mentioned earlier that there are many accessories on the market to enhance a standard router table. From On/Off switches to various safety, workholding and dust collection products, the list is long. You can purchase micro-adjustable fences, tabletops of laminated MDF, phenolic or cast-iron and router mounting plates of various material types, too.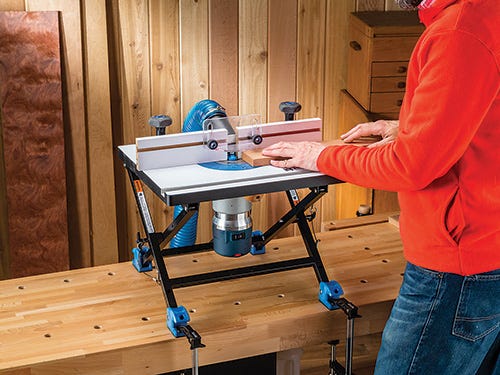 In my opinion, no router table accessory offers more enhancement than a router lift. Router lifts provide a controlled way of adjusting the router motor from above the table. They greatly simplify some frustrating router table operations, including accurately setting depth of cut and accessing the collet for bit changes. Lifts can be basic or highly featured and are priced accordingly. Coupled with a large router motor, they make stationary shapers nearly obsolete.
Lifting the Craft Beyond Shapers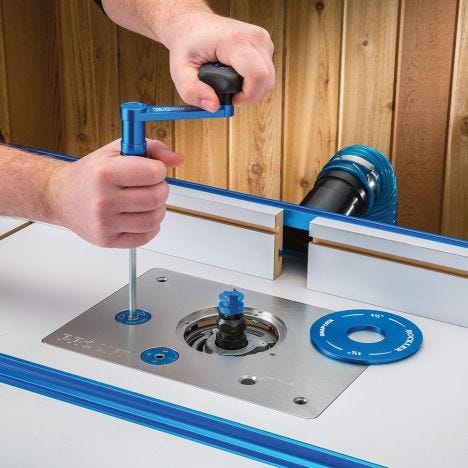 Router lifts are the single most useful addition to a router table on the market today. Their robust functionality takes a router table from a home shop fixture to a professional-quality cutting system. Shaping large pieces of stock, whether forming decorative shapes or finger joints, was traditionally the province of a shaper. It's a large stationary power tool with an adjustable split fence that uses cutters mounted to a motor-driven shaft. Twenty-plus years ago, there was not a serious cabinet shop or highly skilled home woodworker without a shaper. But with the advent of 3hp and larger router motors, large-diameter carbide router bits and the added control offered by router lifts, shapers have become fairly uncommon today. Router lifts also make specialty cutters like tambour bits and even rail-and-stile cutters more practical, due to their micro-adjustability.