Sheet goods, which include a range of plywoods and other composite materials, are essential to woodworking. If you're just getting into the craft, here are six good options to keep in mind for your various shop or project needs.
Usual Suspects
While the fir plywood you find at a home center might be ideal for sub-flooring or a roof deck, it's really not a good choice for woodworking. But between home centers, lumberyards and specialty woodworking stores, you can find these better options.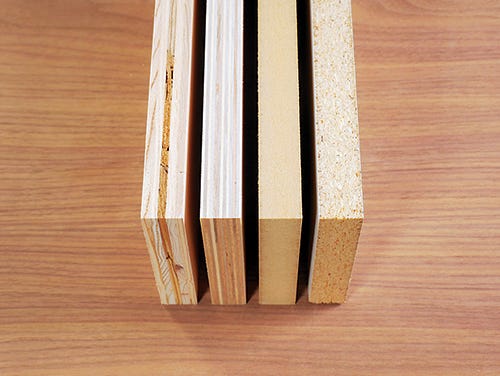 Baltic birch: Blonde and nearly void-free, Baltic birch plywood is flat, stable and looks great, even on its edges. It's not common to home centers, but specialty yards often stock it in 1/4", 3/8", 1/2" and 3/4" thicknesses. The great news for woodworkers is that Rockler has a huge selection of Baltic birch plywood in a variety of manageable sizes.
Veneered plywood: Plywood with thin hardwood face veneer will suit many project applications, and a specialty yard or woodworking store will stock it in more varieties than you might imagine. Most common North American lumber species, including ash, birch, cherry, hickory, maple, red and white oak and walnut are easy to find in 4 x 8 sheets of plywood. This way, you can match the sheet stock to the hardwood in your project for a first-rate appearance.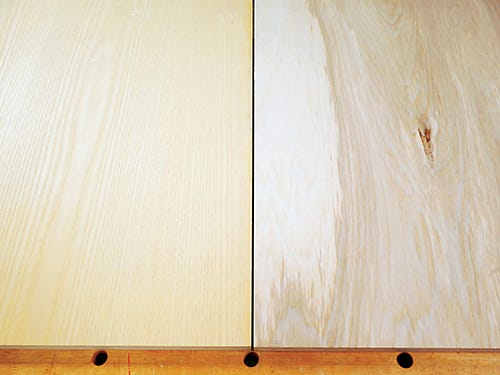 MDF: Made of compressed wood pulp and resins, medium-density fiberboard (MDF) is a workaday standby for making jigs or templates as well as substrates for countertops or veneering. It's smooth, dead-flat and easy to machine, but be careful to keep it dry or it can swell. MDF's high density makes it very heavy. It holds fasteners adequately and is easy to glue or paint.
Melamine: Chipboard covered with a plastic-like coating is often referred to as melamine board. Reserve it for shelving or work surfaces where easy cleanup and a smooth surface is important. Melamine's particulate core is difficult to fasten to and can crumble along its edges.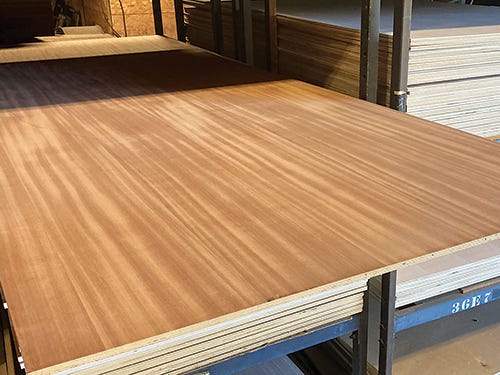 Lauan plywood: Sold in 1/4" thickness, common lauan plywood is a great choice for drawer bottoms, dust panels and cabinet backs.
Tempered hardboard: Dark brown and sometimes coated with a dry-erase or chalkboard surface, tempered hardboard is another alternative to lauan plywood for low-cost drawer bottoms and back panels. It makes sturdy templates, too.