Rockler Traditional High-Speed Steel Ergonomic Turning Tool Set, Full-Size
Top-quality Austrian HSS blades with our premium rubber-coated ergonomic ash handles—easily sharpened to achieve the cleanest possible cuts.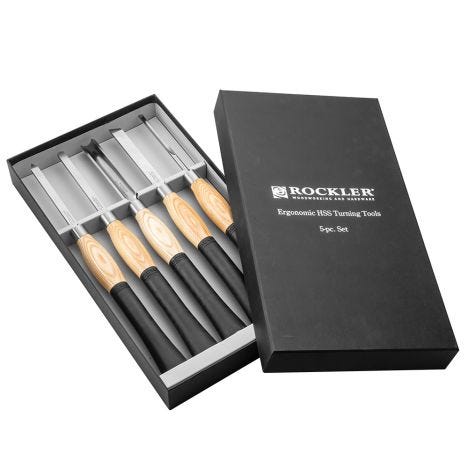 Oversold Until 10/27/2023
If you prefer traditional HSS turning tools over the newer carbide insert tools, this 5-piece set is sure to set you up for success. With comfortably contoured ash handles encased in shock-absorbing rubber, you'll spend hours at the lathe without excessive fatigue in your hands. And since you can sharpen them yourself, you'll cut down on expenses too. Made from premium Austrian tool steel, these chisels will leave an impressive finish that needs only the slightest sanding. Includes a 1/2'' parting tool, 3/8'' spindle gouge, 3/4'' spindle roughing gouge, 3/4'' skew, 1/2'' round nose scraper and a gift box that doubles as a storage case. Full-size handles are generously sized at 13'' long.
Features:
Premium ash handles are coated with a soft, grippy rubber for a secure, effortless grip and excellent ergonomics
Shanks are made from high-quality S600 Austrian high-speed steel (equivalent to M2)
All tools are 19-1/4'' long, with 13'' long handles (the same handle as the ''Full-Size'' Carbide Ergonomic tools)
Includes 1/4'' Parting Tool, 3/8'' Spindle Gouge, 3/4'' Spindle Roughing Gouge, 3/4'' Skew Chisel and 1/2'' Round-Nose Scraper
Included gift box works perfectly for long-term storage
Important Note: Never use the Spindle Roughing Gouge for bowls.
Rockler Full-Size Ergonomic High-Speed Steel Turning Tool Set
(1) 1/4'' HSS Parting Tool
(1) 3/8'' HSS Spindle Gouge
(1) 3/4'' HSS Spindle Roughing Gouge
(1) 3/4'' HSS Skew Chisel
(1) 1/2'' HSS Round-Nose Scraper
(1) Gift/Storage Box
More Information
Brand
Rockler
Weight
6.600000
Tech Spec

Overall Tool Length: 19-1/4''
Handle Length: 13''
Handle Material: Solid ash with rubber overmold
Shank Material: S600 high-speed steel (European grading system), equivalent to M2