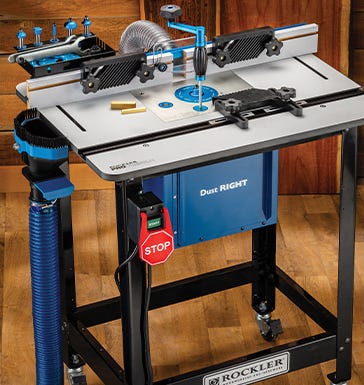 Whether handheld or mounted in a table, the router is a powerful tool for applying a huge range of edge profiles, cutting joinery from dovetails to mortises and tenons, and even dimensioning stock. This guide will tip you off to some of the essential tools and techniques for getting started so you can get even more out of this simple, affordable tool.
1. Table-Mount Your Router for Maximum Versatility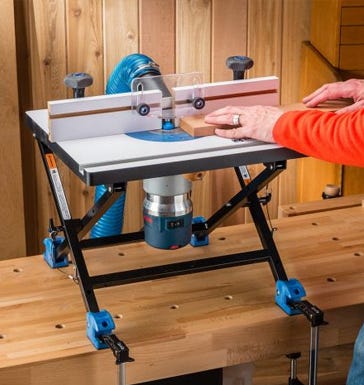 The addition of a table and fence essentially turns your router into a shaper that, with enough horsepower, can make anything from moldings to frame and panel doors. The stability provided by a router table lets you make cuts that wouldn't be safe with a handheld router. Rockler router tables are available in a wide selection of materials and sizes. For small shops, consider the Rockler Convertible Benchtop Router Table, which can be used either on a benchtop or mounted to a wall, and the router can also be easily pulled out for freehand use.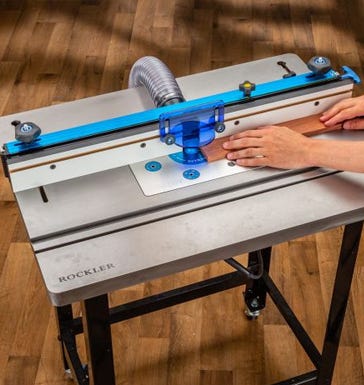 We also offer numerous router table fences with a range of convenience features, including dust collection fittings, T-tracks for accessories, movable fence faces, and the ability to joint edges on our Rockler ProMax Router Table Fence.
Router Tip

To control tear-out when routing across the grain, use a backer block to support the end grain fibers. This block can be clamped to the workpiece, or used as a follower block for table-mounted routers. If you are routing all 4 edges of a piece, rout the end grain first, and any tear-out will be removed when you rout the long grain.
2. Arm Yourself with the Right Bits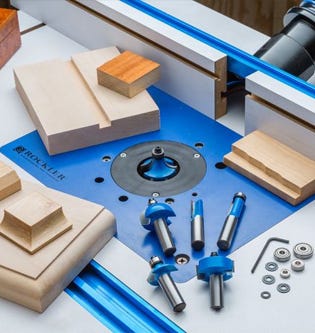 The more router bits you have, the more options you have for projects, designs and creative solutions to tough problems. Rockler offers an incredible variety of router bits in a range of brands, including our diverse selection of Rockler bits, all of which include an Unconditional Lifetime Guarantee. Whether you're putting a simple bead on the edge of a drawer front or raising a beefy door panel, we have the router bit to fill your need.
Router Tip

Router bits are designed to remove small amounts of material per pass. For large bits, it's best to take small bites, removing the material in phases. This will not only be safer, but it will also result in smoother cuts with less burning.
3. Learn to Use Guide Bushings and Templates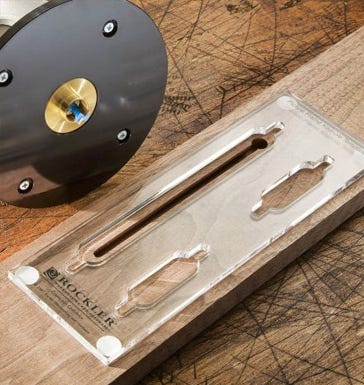 A guide bushing is a simple, inexpensive metal collar that surrounds a straight router bit, and in some cases, an edge profile bit. By letting the bushing rub against a template or guide, you can create multiple identical parts with perfect accuracy and very little setup. Many routers on the market will accept a "Porter-Cable" style guide bushing (enough that it's often referred to as "standard") but check your router manual to verify what type of guide bushing will fit. Once a guide bushing is installed, you'll be able to create identical profiles, sign lettering and a wide variety of joints.
Router Tip

Use bearing-guided bits for routing edge profiles. These bits all but eliminate burning since the bearing rides smoothly against the workpiece.
4. Make Adjustments Easy and Efficient with Setup Jigs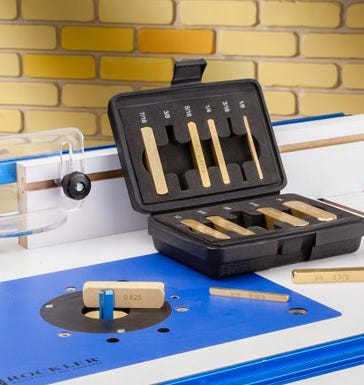 Setting the router bit height is a routine operation that demands extra precision. A high-quality ruler with fine graduations will do the trick, but our Precision Brass Setup Bars are even better, since they prevent you from mixing up the lines on the ruler (all too easy to do when you're dealing with 64ths of an inch). The Setup Bars are offered in thicknesses from 1/8" to 3/4", in 1/16" increments. You can buy them as an introductory 6-piece set or as a Master Set with all 11 setup bars.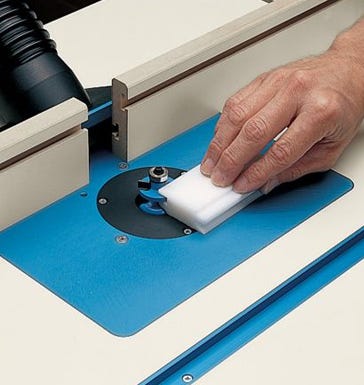 For table-mounted routers, especially for rail and stile setups, our Jig-It Router Bit Setup Jigs bring the same level of accuracy and certainty. The jigs make it obvious whether the bit is too high or too low—no math or measuring involved—simply crank the bit up or down until the jig lies flat on the table.
5. Specialized Router Jigs Make Common Operations Fast and Foolproof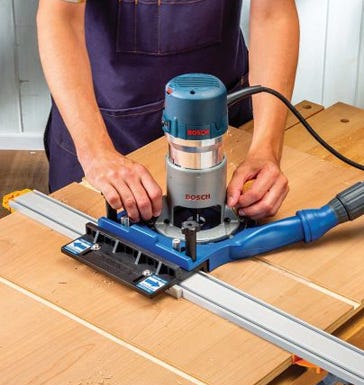 One of the common operations that a router is ideally suited for is cutting dados. For a basic dado, all you need is a straight bit and a straight edge guide. But if you want the dado to be custom fit to your material, our Perfect Fit Dado Jig is the best tool to turn to. With just two passes, it lets you size the groove exactly to the material—ideal for plywood and MDF, which is almost always thinner than the nominal thickness.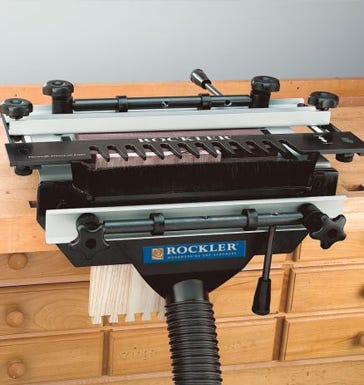 One stalwart symbol of fine craftsmanship has always been the dovetail joint, and your router lets you cut dovetails with astonishing ease. You can use the Rockler Complete Dovetail Jig to cut both through dovetails and half-blind dovetails for everything from drawer fronts to jewelry boxes and chests. Not only that, it also lets you cut box joints, and the needed router bits are even included with the kit!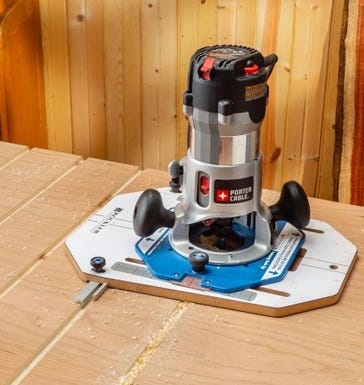 Another common routing operation is cutting parallel dados or grooves for shelves in casework. The Rockler Indexing Dado Jig makes this easy by referencing off of the previous groove for perfect spacing, every time. With this jig, you'll be creating shelving units with minimal measurement and maximum accuracy, in no time at all.
6. Use a Straight Edge Guide for Rabbets, Dados and Truing Edges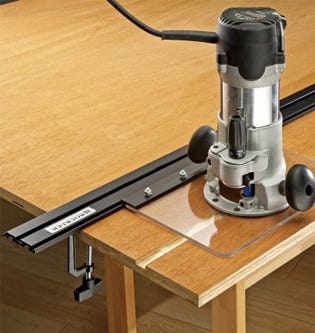 While you can use any jointed board as a straight edge, a dedicated straight edge guide offers a few benefits. Often a pre-made straight edge guide will feature integrated clamps, making it extra easy to secure the guide in place. Additionally, pre-made guides are typically made from extruded metal, which offers a low profile for plenty of visibility and minimal obstruction. In addition to numerous other straight edge guides, Rockler offers the 52" to 104" Low Profile Straight Edge Clamp System, which gives you extended length when you need it, and a smaller guide when portability is important.
7. Buy a Router Lift for Smooth Accurate Bit Height Settings in a Table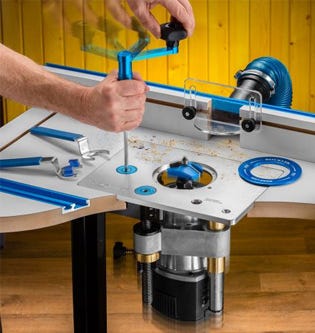 One of the few disadvantages of mounting a router in a table is that it makes adjusting the height more awkward since you need to reach below the table. A router lift solves this problem beautifully. Just wind the router up and down with a handle from the top of the table. Not only are the adjustments easy, they're also incredibly precise. Rockler offers several router lifts, including the SL Router Lift, which features push-button Snap-Lock insert rings, and the Pro Lift Router Lift, which features the same convenient insert rings, plus a dual-gear lifting mechanism with a Quick Gear for fast raising, and a precision gear for fine adjustments.
8. Get a Set of Bench Cookies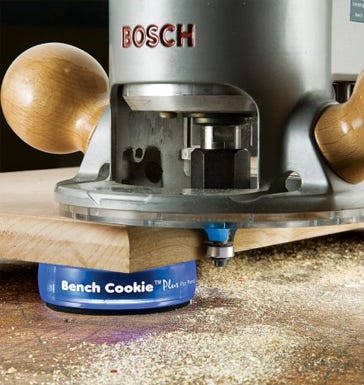 Secure workholding is essential when using your router freehand, and that's where our Bench Cookie Work Grippers really showcase their convenience. Rather than fumbling with clamps, simply spread out a set of Bench Cookies and set your work on top. Not only does the grippy material keep things from sliding around, but the Work Grippers also raise the work up, leaving clearance for the bit.
Router Tip

When using a handheld router to rout edges, always rout counter-clockwise round the workpiece. You should feel resistance as you push the bit through the cut. Going the opposite direction is called a "climb cut," which requires special precautions, and is only safe on very light clean-up passes.
9. Upgrade Your Baseplate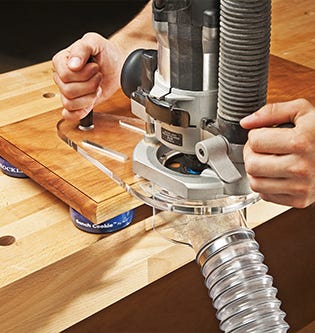 Numerous aftermarket baseplates help make freehand routing more stable and versatile. The Rockler Universal Router Base has an extended teardrop shape that gives you more stability when edge routing, it's transparent for excellent visibility, and includes a fence for consistent routing parallel to the edge. Another option is one of the Insert Plate Kits for our Convertible Benchtop Router Table, which are great for freehand use, yet fit easily into the Convertible Benchtop Router Table when needed.
10. Show Dust the Door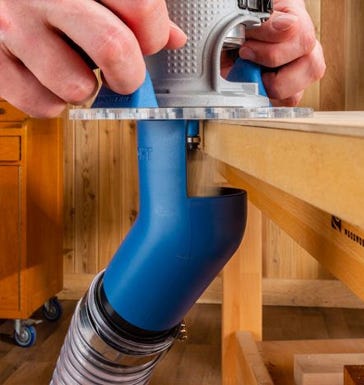 Routers kick out a lot of dust, but the good news is that it all comes from a small point source, and we offer products to catch it at the moment of creation. For the space directly surrounding the bit, consider our Edge-Routing Dust Port, which surrounds the bit and funnels dust directly into a 2-1/2" hose. For table-mounted routers, our Dust Right Router Table Dust Bucket [link to 68400] catches all the chips and dust that fall below the table, while also providing an avenue for dust to be captured above the table via the fence port.
11. Tune Out the Noise, Tune In to Safety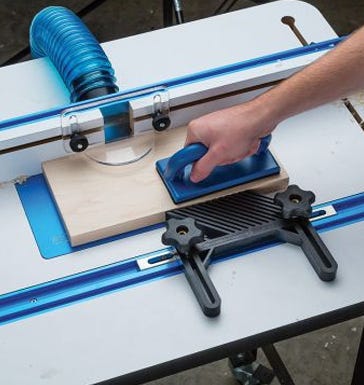 Routers are among the loudest tools in the shop, so be sure to wear hearing protection at all times. We offer a wide range of ear protectors, including many that will replace the noise with the music or podcast of your choice. If you have a router table, be sure to pick up a push stick and check out our featherboard selection so your stock stays firmly against the fence and table. And as always, eye protection is a must.
We're confident you're going to love your new router, and we hope these simple tips will help you get more from it. Don't forget that we have expert staff in our retail stores, online and available by phone to help out if you have a question that's not answered here.