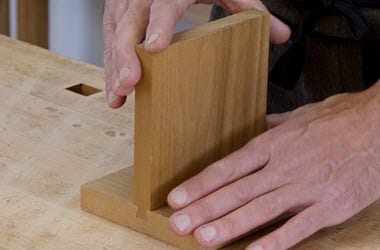 A sliding dovetail is a woodworking joint that allows two separate pieces to be slotted together without the need for glue or other fasteners. They are assembled by sliding the tail into the socket. Typically, sliding dovetail joints are used for shelf support or cabinet drawer construction. A sliding dovetail joint may look intimidating but, it's relatively easy to cut.
How To Cut a Sliding Dovetail with Tim Rousseau
In this video, Tim Rousseau, an instructor at the Center for Furniture Craftsmanship, demonstrates how to cut a sliding dovetail using both a plunge router and router table.
A sliding dovetail joint is not tapered so, the tail and the socket are equal size the whole way through. It's a very strong mechanical joint when used for joints under six inches in length. Anything over six inches we generally switch to a sliding dovetail joint that is tapered.
A tapered sliding dovetail looks very similar to a regular sliding dovetail, the difference is the tongue, and the socket are tapered, it's smaller in the front and wider in the back and that's the same for the socket so as it's being assembled it's loose through its entirety until right at the very end where they lock up.
The first component is the dovetail slot, we'll cut this using a handheld router and a 1/2 inch dovetail bit. If you are doing the slot in hardwoods sometimes it's preferable to clean out the first pass with a straight bit.
The second component is the mating tail, this is made on the router table using the same 1/2 inch dovetail bit. The slight differences in height between the throat plate, the steel router table base and the router table itself can add into the equation when you're trying to make a precise fitting joint. A cover sheet is an easy way to get a nice clean surface to work on.
Check out the video above for a step by step walk through of how we cut sliding dovetail joints at the Center for Furniture Craftsmanship.
Related Product Categories