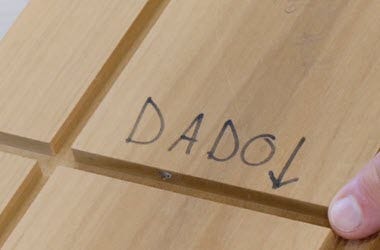 A dado is a cross-grain cut in a board. Unlike a groove that runs with the grain, a dado runs perpendicular to the grain. As with grooves, a dado can be a through cut, or a stop cut in the board surface. Often in dado joinery there can be deeper mortises interspersed along the dado to increase glue surface and joint strength. Also, a dado can be the full width of the board (referred to as a housing) or it can be a simple tongue on the edge of a board that will fit into a smaller dado, creating a shoulder.
How to Machine Dadoes by Tim Rousseau
In this video, Tim Rousseau, an instructor at the Center for Furniture Craftsmanship, demonstrates different techniques to cut dadoes. There are basically two operations for cutting dadoes; seeing the cut as it is being made or cutting the dado blind. For structural integrity, dado depths should not go more than halfway the thickness of the board being dadoed.
One of the most efficient methods of cutting dadoes, is using a dado stack on the table saw. One of the advantages of using a table saw is being able to micro-adjust the width of the cut to fit the shelf component accurately. This can also be accomplished taking multiple passes on a single flat-top blade on the table saw.
When crosscutting on the table saw, always use either a pair of miter gauges to create a crosscut fence or table saw sled, do not crosscut using the table saw fence! As always check for square and use test stock to get to correct dimensions.
With a plunge router, there is the advantage of being able to see the dado being made. It is also the safest method in making stop-cut dadoes. For the most accurate router-made dadoes, use a parallel guide for the router.
Check out the video above for a step-by-step walk through of how we machine dadoes at the Center for Furniture Craftsmanship.
Related Product Categories