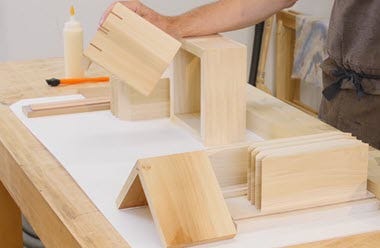 A spline is a small piece of wood that spans between the miter joint helping to reinforce the miter. It is not the strongest of joints but is a quick and decorative way to strengthen a mitered joint. There are two different methods to spline a carcase miter; one where the splines are inserted in through the exterior of the miter, bridging the joint, and one where a spline is added inside through the length of the miter.
How to Join Carcase Miters with Splines by Tim Rousseau
In this video, Tim Rousseau, an instructor at the Center for Furniture Craftsmanship, demonstrates the two different formats of how to add a spline to a carcase miter to help increase its strength. With both spline approaches, the carcase miters will already be cut, and in the case of "added to the exterior" spline family, the carcase will already be glued up. This video begins with a refresher on gluing mitered carcases.
There are two different forms or sizes of exterior splines, and the size defines the process. The most common way to cut the splines from the exterior is on the table saw using a jig and the keys or splines that are inserted will be made to be the same thickness as the table saw blade. With both exterior spline formats the placement of the keys is both functional and decorative. When a finer spline is preferred, the alternative exterior spline method is to handsaw the kerfs in the carcase and use commercial veneer as the splines.
The "interior" spline approach is by cutting a slot through the end grain of the miter on a table saw with a miter gauge and the blade at 45 degrees. The splines used in the interior technique need to be exact dimensions and cut across the grain. After the glue has dried and the excess keys have been cut, use a hand plane, scraper and/or chisel to clean up the joint.
Check out the video above for a step-by-step walk through of how we join carcase miters with Splines at the Center for Furniture Craftsmanship.
Related Product Categories