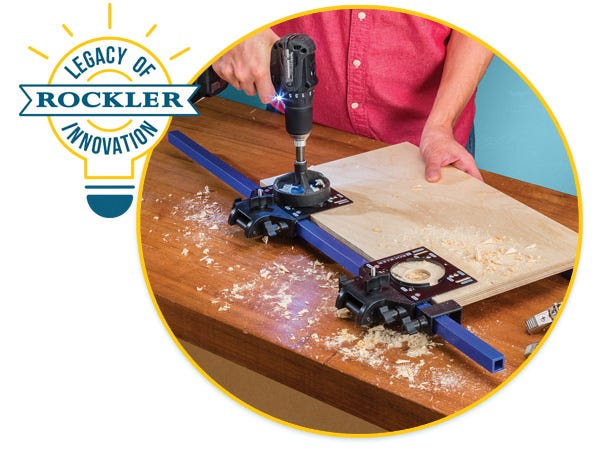 The Rockler JIG-IT hardware installation jigs make it easy to accurately install your knobs, pulls, drawer slides, hinges and shelf supports. Each jig is designed to help you accurately install specific pieces of hardware.
Pro Shelf Shelf Drilling Jig

The JIG IT® Shelving Jig w/Self-Centering Bit (left) and Pro Shelf Drilling Jig (center) eliminate the possibility of misaligned shelves. Both jigs feature templates that accurately positionshelf pinholes. The Pro Jig features two drilling guides that cut your setup time in half. Just lay the jig on your stock, tighten the two horizontal tracking knobs and start drilling error-free rows.
How to Drill Shelf Pin Holes with the Pro Shelf Shelf Drilling Jig

The Drawer Pull JIG IT® Template and Center Punch (left) make marking screw holes becomes simple, quick and accurate! The included Center Punch is sized and designed for use specifically with this template. It indents the wood for perfect drill-bit alignment (and perfectly straight knobs and pulls) every time.
Fast setup and flawless repeatability make our Jig-It Knob and Pull Pro Drilling Guide (right) the top pick for installing hardware on anything from kitchen cabinets to fine furniture. Since you use the actual pull to set the hole spacing, measurement errors are eliminated. Simply attach the pull to the two drilling guides, tighten the knobs, and drill.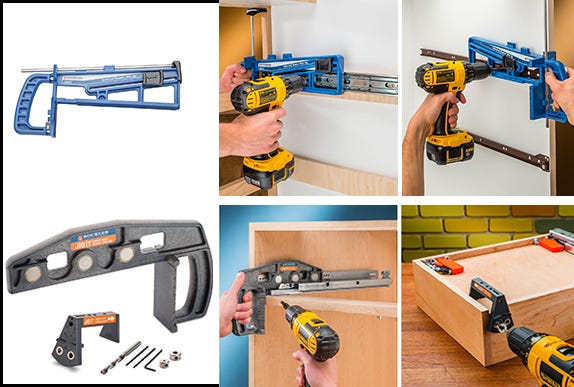 Rockler Drawer Slide Jigs make it easy to install just about any type of drawer slides. The Rockler Universal Drawer Slide Jig is the ultimate aid for installing drawer slides of almost any type, including ball-bearing or epoxy-coated side-mount slides and even center-mount slides! The jig features a locking wedge that holds the slide securely with no risk of slippage.  The Rockler Undermount Drawer Slide Jig is specifically designed for installing Blum Tandem totally concealed drawer slides in the interior of your cabinet. The jig features a total of six powerful rare earth magnets that hold the slide securely as you drive the screws.

The Rockler Concealed Hinge Drilling Guide (left) perfectly positions cup holes for your concealed hinges. Since there's no need for a drill press, you'll save both money and space in your shop.
If you're drilling hinge cup holes for multiple doors of the same height, the JIG IT Deluxe Concealed Hinge Drilling System will save you loads of time. The system comes with a sturdy 36'' aluminum rail and two hinge cup drilling guides that slide along the rail to align with your hinge plates. Once set up, you can use the stop block against the top or bottom of each door to achieve identical results throughout any bank of cabinets.