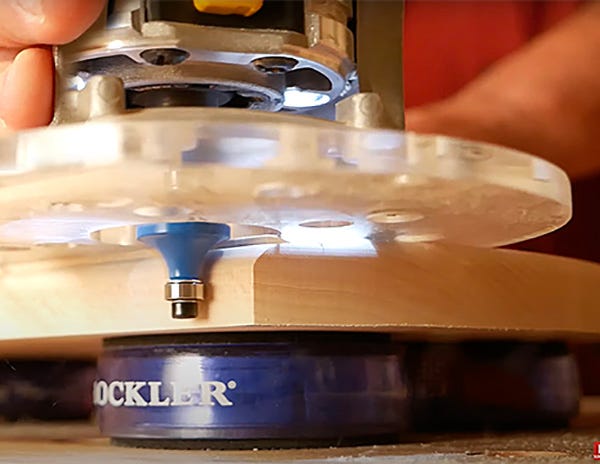 How do you choose the best router bits when you're getting started in woodworking? Routers are one of the most versatile woodworking tools. You can use them as a portable handheld tool or mount them in a router table. Rockler sells the best router bits in hundreds of profiles for your woodworking project. So how do you choose the best router bits for your first woodworking projects? Start by considering the kinds of woodworking projects you want to make. Then choose the router bits you will need to complete those first projects. You can add to your collection of router bits as you build more projects. To help you get started, we've put together this list of the top 10 types of router bits used by most woodworkers.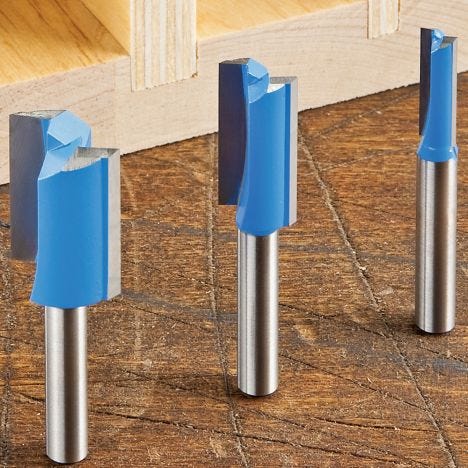 Typical straight bits leave an unsightly gap when used for plywood joinery. These Straight Undersized Router Bits are slightly undersized to cut tight-fitting grooves and dadoes for plywood that is thinner than its stated nominal thickness, which applies to most plywood and veneered MDF. Use these bits to cut grooves, dadoes and rabbets. Of course, they can also be used for general purpose material removal or any application which requires a flat, finished bottom. The two-flute cutters give a smooth finish with a medium feed rate. Two flutes, 1/2" shank.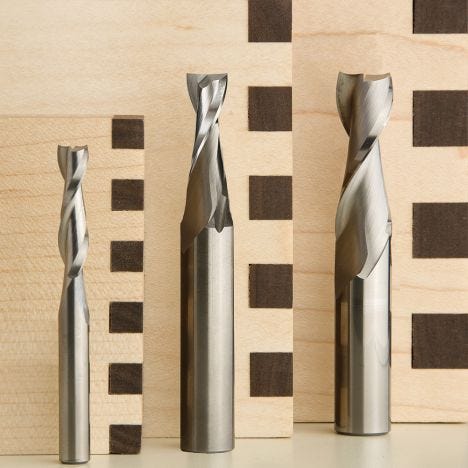 Up-Cut Spiral Router Bits feature a spiral cutter design that directs chips up and out of mortises and grooves, resulting in a cooler cutter, less burning and a long cutting life. The 3-piece Spiral Up-Cut Router Bit Set (pictured above) features high-speed steel and includes three up-cut bits: 1/4", 3/8" and 1/2".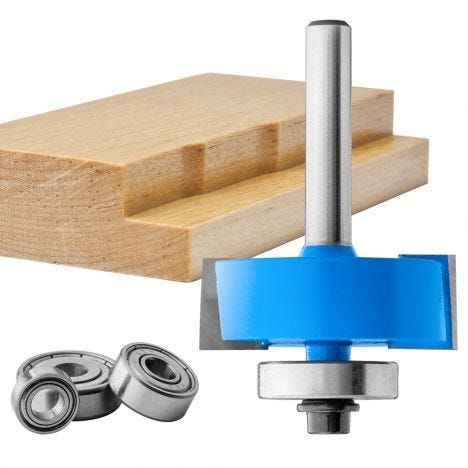 These Rabbeting Router Bits include bearings for 5/16", 3/8", 7/16" and 1/2" deep rabbets. You can vary the cutting depth by changing bearings with the included hex wrench. Perfect for joinery applications such as for setting in cabinet backs.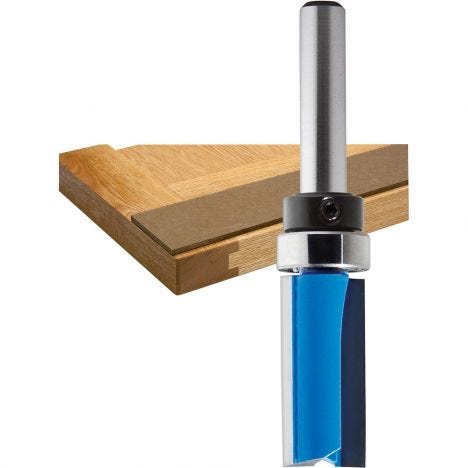 The bearing guide on a Top-Bearing Straight Router Bit is located on the shank side of the cutter, and has the same diameter as the cutter, making them the perfect choice for template work when the template is fastened on the top side of the material (if using a hand-held router in the conventional way). This allows for improved visibility when template routing.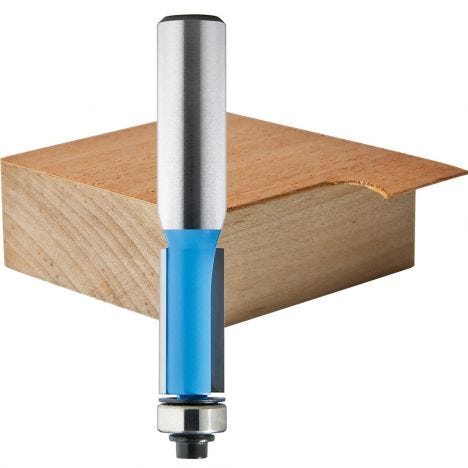 The ball-bearing guide on a Bottom Bearing Straight Router Bit, like a top-bearing bit, is the same diameter as the cutter, making it virtually impossible to cut too deep, eliminating expensive and time-consuming rework. The bearing guide is on the bottom of the shaft, below the cutter, which lets you trim veneers and laminate overlays flush with the substrate, face frames flush with cabinet sides, or shelf caps flush with shelves. The cutter can also be used for template work where the template is below the worked material or, alternatively, with a router mounted in a router table where the template is above the worked material. In both cases it is suitable for straight and particularly shaped patterns.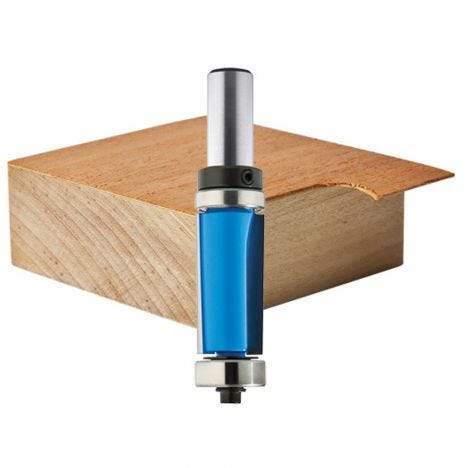 Dual bearings mounted at both top and bottom make Double-Bearing Straight Router Bits an extremely versatile option as a template routing bit. The model pictured also features shear angle cutters that slice through stock at a slight angle, producing a smoother cut than traditional straight-fluted bits. The unique design also helps eliminate tear-out problems that occur when routing end-grain, cross-grain and figured grain on hardwoods.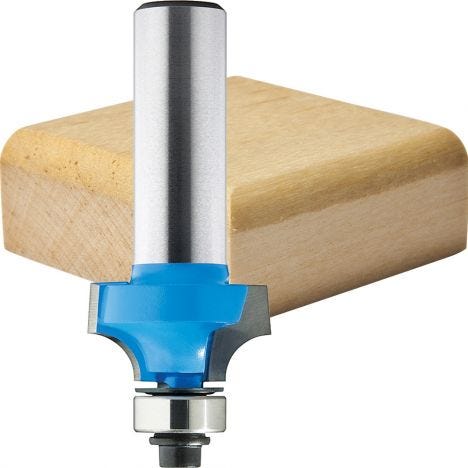 With two included bearings—one flush for a standard round over, and one slightly smaller for a beaded edge—the Roundover or Bead Cutting Router Bit is a versatile workhorse that will see plenty of use in your shop. Among our most popular router bit choices, they're perfect for making edges softer, both to the touch as well as to the eye. For a bit more definition, just switch the bearing to the smaller diameter beading bearing. Shear angle provides the smoothest cut available..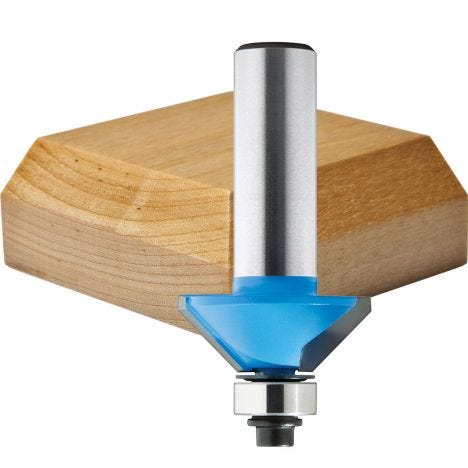 Chamfer Router Bits are another useful and popular bits in our router bit lineup. Chamfer bits are extremely versatile, since the size of the chamfer can be easily varied by adjusting the depth of cut. For this reason, it can be cost effective to buy a larger chamfer bit, as even a very large bit can cut a tiny chamfer. Each of these bits has been sharpened with 600-800 grit diamond wheels to guarantee absolute razor sharp performance. They are precision-balanced for smooth operation, and feature a baked on anti-stick coating to resist pitch and resin buildup.
Cove Router Bits cut the opposite profile of a roundover bit. Use this bit for an elegant edge on drawer fronts, cabinet doors, furniture pieces and molding trim. Features an upward shear angle for more efficient and smoother cutting. Available in a range of radiuses to suit your application. 1/2" shanks provide the smoothest possible finished cut.
7. Door Frame and Door Panel Router Bits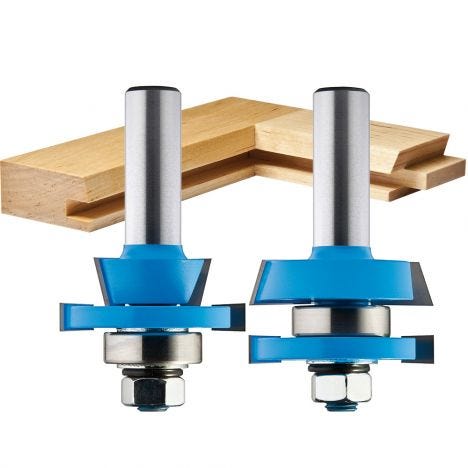 Rail and Stile Bits, also referred to as cope-and-stick bits, cut tight-fitting cope and stick joints for door frames. These bits are available in several profile styles (Shaker style pictured) to suit your design. Bearing-guided to prevent dips and ensure a perfect fit. Sturdy 1/2" shanks and precision balancing ensure stability while routing, while the high-grade carbide provides a long cutting life.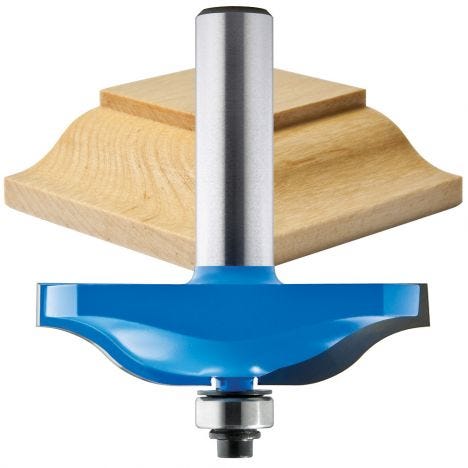 Provided your router has enough horsepower, Horizontal Door Panel Raising Bits offer an exceptionally smooth shearing cut, and virtually eliminate fuzzing on the end grain of your panels. These bits are available in a variety of profiles and allow you to raise panels with curving shapes, such as for arched doors or cathedral style doors. These raised panel bits are manufactured to Rockler's exacting standards, and include guide bearings to ensure proper relief to fit into the grooves of your rail and stile doors.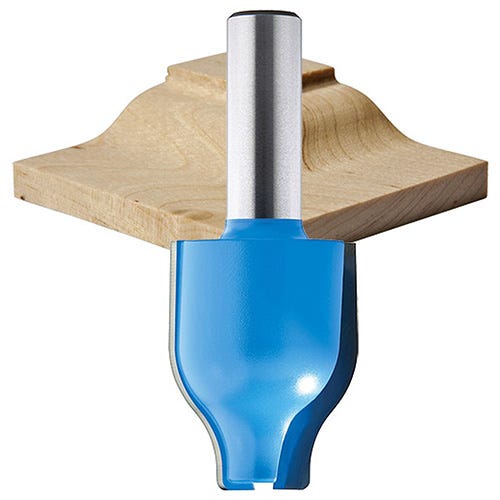 Vertical Door Panel Raising Bits concentrate more of their weight toward the center of the bit, reducing strain on the motor, and allowing you to spin the bit at higher RPMs. This means you can raise panels with an ordinary 2 HP router mounted in a router table. Precision machining paired with a sturdy 1/2" shank ensure smooth, chatter-free cuts. Note: vertical panel raising bits cannot be used for doors with curved panels, such as cathedral-style or arched doors.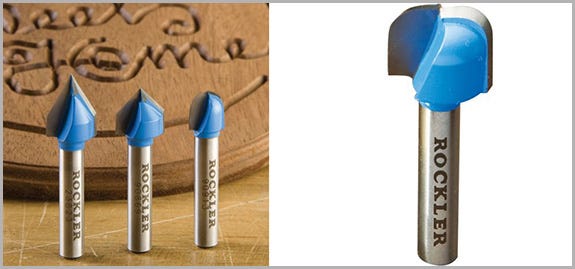 The Rockler Signmaking Router Bit Set (left photo) includes two V-groove bits and a round-nose bit — great for routing text in wood signs and other decorative effects. The single Rockler Carbide Signmaking Router Bit (right photo) is specially designed for signmaking applications, with a flatter bottom to prevent peaks in routed letters.
The Dovetail Pattern Router Bit (left) includes a guide bearing that offers silky smooth operation when used with templates and dovetail jigs. You can also choose Dovetail Router Bits with no bearing to create decorative glue joints for drawers and jewelry boxes, shaker furniture and shadow boxes, sliding dovetail joints for table and leg extensions, or sliding drawer and shelf runners and dividers. Smaller degree bits can be used for stair tread stringer mortising or shelf supports. Larger diameter bits can produce unique finger pulls.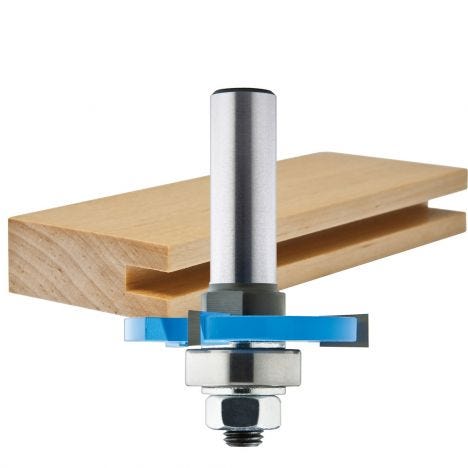 These Top-Bearing Slot-Cutter Router Bits feature a 22mm bearing set to cut 1/2" deep into the edge of your material. With the slot width of your choice, you can create slots and grooves for frame and panel doors, picture frames, glass retainer and more. The 3-wing design provides a smooth cut and a longer cutting life.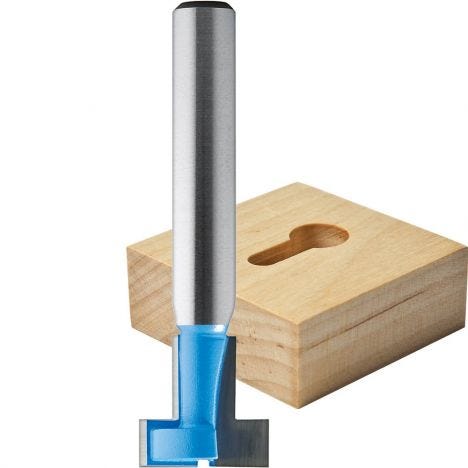 Use Keyhole Slot-Cutter Router Bits to rout a vertical or horizontal slot for hanging pictures and other wall hangings. The finished slot has a wide end that accepts a screw, while the narrower section captures the screw head. Simply plunge the bit through to create the larger diameter, then rout laterally to create the narrower slot. Keyhole slots are also sometimes used for knock-down furniture.