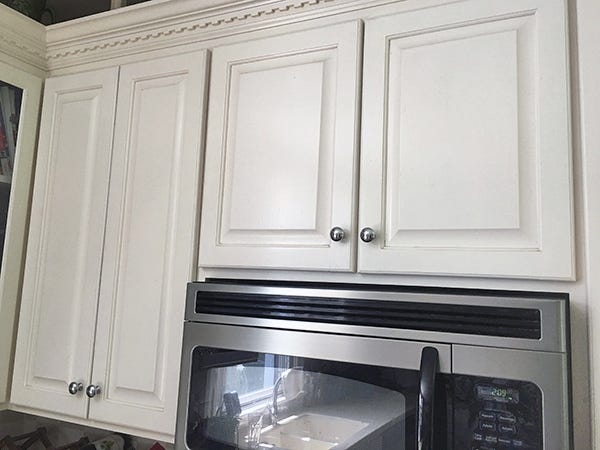 Ready for a great new kitchen? You're not alone, and there are good reasons for taking on the project.
An up-to-date kitchen adds significant value to your home: In most cases, you can regain your investment (and then some) in equity. Along with that, your kitchen is a focal point of your home, and you should enjoy spending time there. It's easier and more pleasant to work in a kitchen that's bright, efficient and up to date.
Maybe you've been hesitating: The task can seem daunting and it's hard to know where to start. Luckily, you have a number of options in bringing your kitchen up to date. The one that's right for you may be much less work and investment than you were expecting. In this article, we'll take a look at a number of ways to give your kitchen a new look, and to make it a more pleasant and efficient space, without involving yourself in a full-scale remodeling project.
Refacing your cabinets with PSA (pressure sensitive adhesive) wood veneer or RTF (rigid thermo foil) laminate is a great way to bring your kitchen up to date- and it's easier than you may think.
Refinishing your cabinets, installing new doors and drawer fronts, refacing your existing cabinets with wood veneer or RTF (rigid thermo foil) laminate, installing new cabinet hardware, and making your kitchen more efficient with storage solutions all can go a long way toward making your kitchen a more attractive and useful place.
Update or Replace Your Kitchen Cabinets?
Your kitchen cabinets are the focal point of your kitchen, and are likely to be the focus of your attention when updating your kitchen. Do they need to be replaced, or can you work with what you have? Here are a few thing to consider:
New cabinets are a welcome addition to many older kitchens. Fresh, clean, well constructed new cabinets not only create an entirely new appearance, they give you the option to change the layout of your kitchen. This should be one of your main considerations in deciding whether to outfit your kitchen with new cabinets. Is the functional layout of your kitchen inconvenient and difficult to navigate? If so, will buying new cabinets give you the opportunity to improve the physical space?
Remember that significantly reconfiguring the layout of your kitchen is likely to require professional guidance and professional remodeling contractors. But many times, new cabinets can give you the option to add a bank of cabinets or a center island without significantly altering the layout of you existing kitchen, and the expense in time and money may be worth the investment.
Making cabinet doors and matching drawer fronts takes time ane requires special milling. That's why many professional cabinetmakers "shop out" this demanding part of the job.
With Rockler's Custom Door and Drawer Front Program, you'll save time and ensure a great-looking finished product.
The program offers Hardwood or RTF coated doors and drawer fronts in a wide variety of styles, custom made to the exact the sizes you need. The expertly-constructed doors and drawer fronts you order will be delivered to your door, ready to install.
There's another case where you'll want to consider new cabinets: when the old ones aren't worth rescuing. Do your cabinets have numerous broken or missing parts? Are there a number of poorly fitting doors and stuck drawers that just won't seem to close right? Are cabinet bodies, face frames, door and drawers chipped and dented in more than a couple of locations? Are the interiors of the cabinets in rough shape and requiring lots of clean-up? A few "yes" answers to questions like these can add up to a significant amount of work and leave you wishing you had put your existing cabinets to rest.
If your existing cabinets are beyond repair, or the layout of your kitchen is in serious need of help, new cabinets are a worthwhile investment. And if you have an interest in woodworking, your next question to answer is likely to be, "Should I buy new cabinets, or build my own?" We advise you to read Rockler's article on making kitchen cabinets before taking the plunge into the demanding project of constructing a kitchen's worth of cabinets.
Options for Updating Your Existing Cabinets
If you're cabinets are in reasonably good shape, on the other hand, and the layout of the kitchen is up to your standards, you are in luck, and have a few reasonably easy courses of action to choose from. Depending on your style and the mount of work you want to put into your cabinets, you may decide to:
Refinish or paint your cabinets
Reface your cabinets
Replace the doors and drawers using Rockler's Custom Door and Drawer Program
In all likelihood, the best solution will be some combination of the above.
Refinishing or Painting Your Cabinets - A good option if affordability is a priority. Refinishing can restore the look of cabinets to like new condition, but can be messy and time consuming. Painting is also a good, time-saving option.
Refacing Your Cabinets - Often easier than refinishing. allows you to cover the most visible surfaces of your cabinets with easy to apply veneer or durable laminate.
Replace the Doors and Drawer Fronts - Rockler's Custom Door and Drawer Front Program supplies you with new doors and drawer fronts custom sized to fit your existing cabinets. Doors and drawer fronts are available in a variety of species and styles, and arrive at your door ready to finish and hang.
Replace Cabinet Knobs, Pulls and Hinges - An excellent way to top off any of the above solutions. Rockler offers a wide variety of cabinet knobs and pulls, along with a huge selection of cabinet hinges.
Your kitchen is one of the most important rooms in your home; it deserves your attention. Fortunately, you don't necessarily have to spend a fortune in time and money to get it back in shape. Read through the resources mentioned above, and choose the course of action that suits your needs and budget. When you're ready to get started, remember that Rockler offers the tools and supplies you'll need whether you project involves a few touch ups or a serious kitchen makeover.