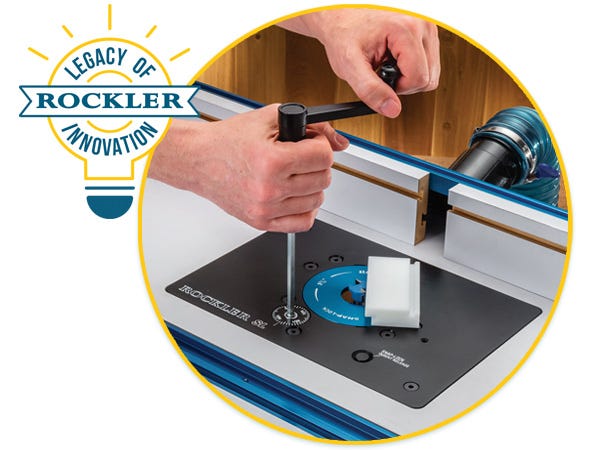 A router table is unlike most other machines in a wood shop because you can customize it just the way you want it. Rockler gives you the most innovative options to create the perfect router table for your shop. There are different kinds of tables, bases, lifts and other router table accessories. Rockler also provides the Router Table Configurator to make your shopping process easier than ever.
Design Your Router Table with Rockler's Router Table Configurator
This new tool makes the shopping process easier than ever. Just go to rockler.com/router-table. You'll be taken to this landing page (photo below). Here, you have the option to either select one of Rockler's popular router table packages OR click the Build Now button to build your own unique router table package, piece by piece.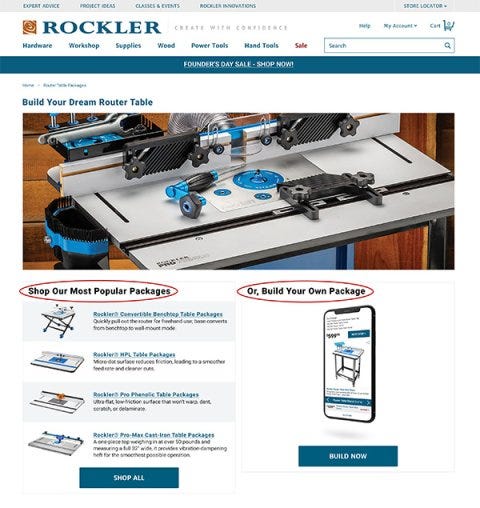 Rockler Router Tables

Choose from three router table tops, including the HPL Router Table Top (left), Phenolic Router Table Top (center) and ProMax Cast Iron Router Table Top (right).
Full-Size Router Table Stands and Cabinets

Rockler full-size router table tops can be configured with three bases, including the Rock-Steady Folding Steel Stand, Router Table Steel Stand and Steel Router Table Cabinet.
Router Lifts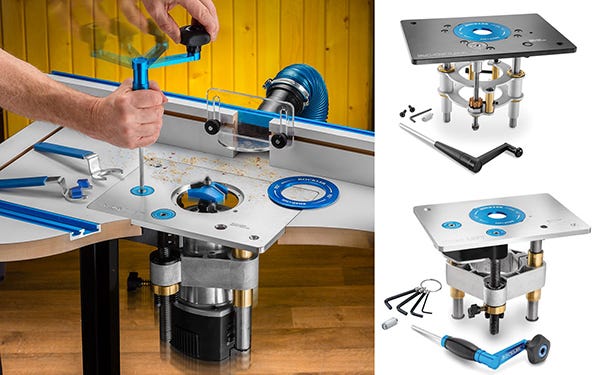 Add a router lift to your router table and you can quickly raise the router to its highest point for easy, above-table bit changes, without having to search for tools or remove screws to get the insert ring out. You can choose between the SL Router Lift or the Pro Lift Router Lift.
Benchtop and Wall-Mounted Router Table

The folding base on our Convertible Benchtop Router Table can be quickly reconfigured for benchtop use, wall-mounted use, or folded up for storage or transport. In addition, the unique router plate (sold separately) lets you quickly remove the router for freehand use, then dock it again for table use—the compact size of the plate makes it light and nimble in freehand applications. rockler.com/router-table.
Five Favorite Router Table Upgrades
Router Table Cabinet Project
Download this Router Table Cabinet Plan